A new proposal introduced as the "Mayor Libby Schaaf Act of 2018" seeks to impose criminal penalties on "sanctuary" city officials who intervene in Immigration and Customs Enforcement operations, as Oakland, California's mayor did when she warned her constituents of planned ICE raids.
Republican Representative Steve King of Iowa introduced the bill on Monday, calling for up to five years of imprisonment for officials who are found to have obstructed the enforcement of federal laws.
"Sanctuary politicians are placing the lives of citizens and law enforcement officers in jeopardy by giving illegal aliens warnings about impending ICE actions in local jurisdictions," King said in a statement.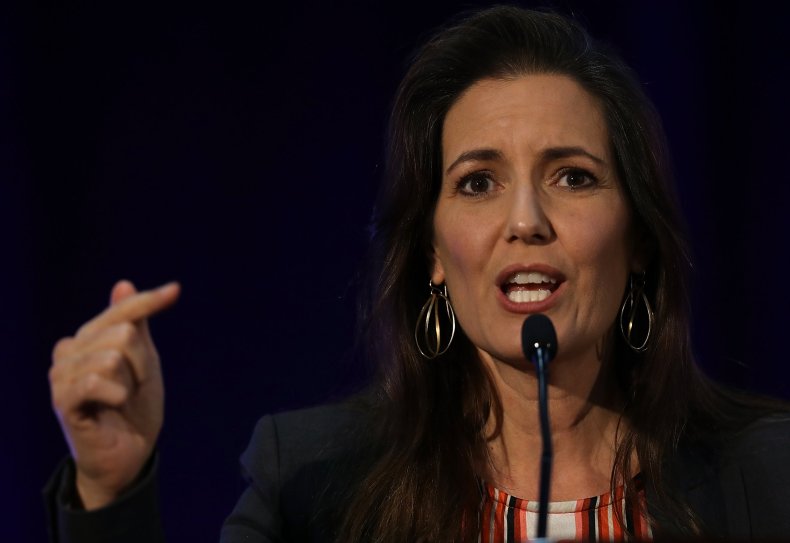 "This is obstruction of justice, and Americans do not have to put up with it. Under my bill, government officials who tip off illegal aliens about imminent federal immigration enforcement efforts could face up to five years in prison," he said. "I want lawless, sanctuary city politicians to hear this message clearly: If you obstruct ICE, you are going to end up in the cooler."
King also tweeted out his proposal to President Donald Trump, writing, "How many rabid, violent MS-13 animals do mayors like Libby Schaaf allow to prey on our citizens when they obstruct ICE raids? Too many!"
King's bill echoes the president's repeated claims that Schaaf's decision to warn constituents ahead of raids that saw more than 150 people arrested was an obstruction of justice.
Just last week, Trump urged Attorney General Jeff Sessions to prosecute Schaaf. "You talk about obstruction of justice, I would recommend you look into obstruction of justice for the mayor of Oakland, California, Jeff," Trump said during a White House roundtable discussion with California elected officials and law enforcement officers.
Schaaf has repeatedly defended her actions, telling CNN on Monday that she will not "let the bullies in Washington, D.C., deter me from doing what I know is right for my community," in response to King's proposal.
"In Oakland, we're very clear about what our values are. We value our immigrant communities. We value diversity. And we will not allow anyone to intimidate us. We will not apologize for these values," the Oakland mayor said.
Schaaf insisted her warning to constituents was completely legal and said it is "not possible" that King's legislation "could be legal."
"That is part of the beauty of American democracy: a balance between state, local and federal power. And I can tell you I know a lot more about what makes my community safe than a Congress member from Iowa," she said.