Could Michael Bloomberg Win the Presidency?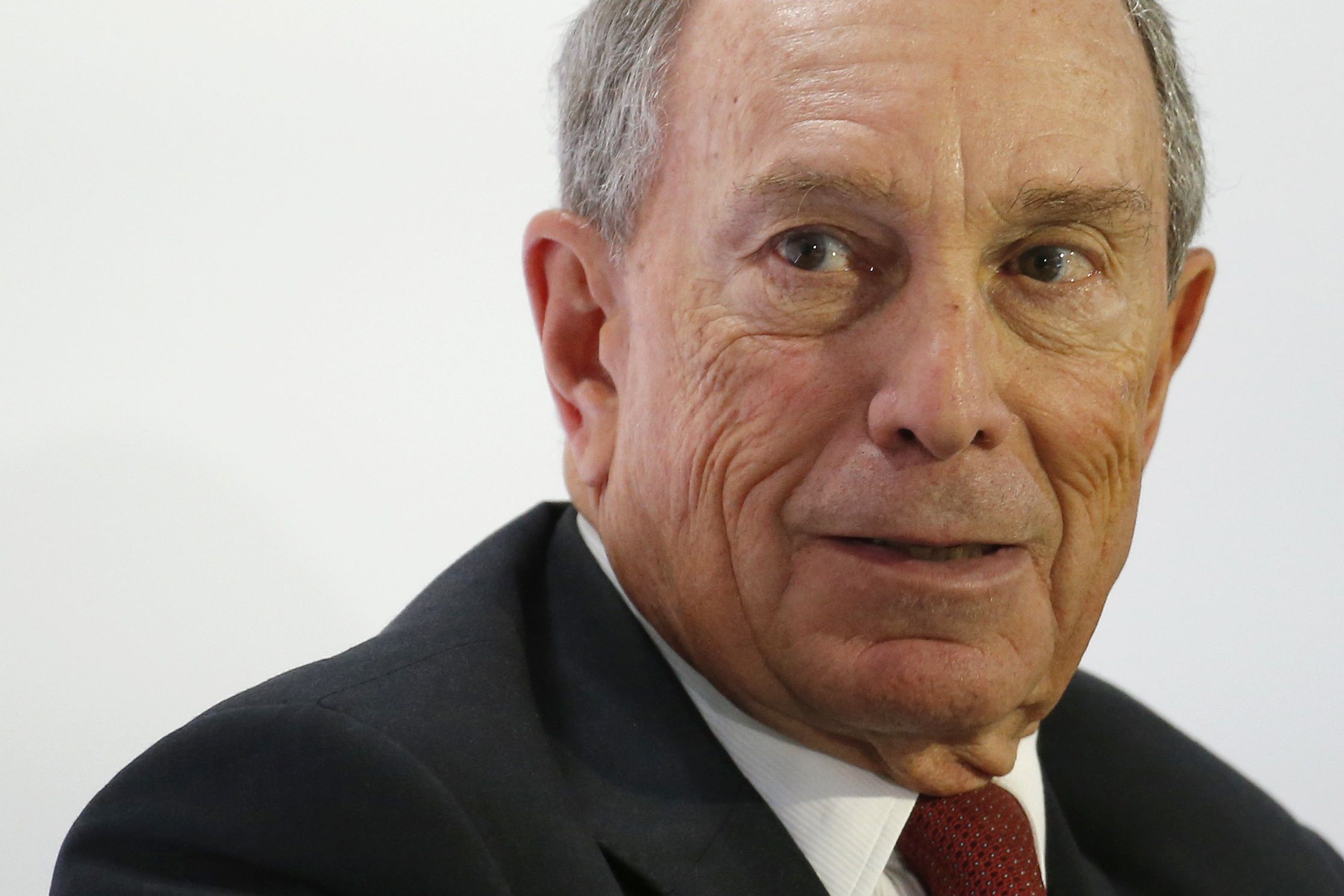 In a hypothetical three-way race, former New York City Mayor Michael Bloomberg would need to triple his appeal to American voters to win the presidency over Republican front-runner Donald Trump or liberal firebrand Bernie Sanders, according to a new survey.
Bloomberg, a political independent and progressive on many social issues, received 12 percent in a recent Morning Consult poll published Sunday, compared with 35 percent for Sanders and 34 percent for Trump. Morning Consult is a technology and media company that produces nonpartisan public opinion polling.
In an earlier poll published January 21, when front-runner Hillary Clinton was the hypothetical Democratic nominee, the results were similar, with Bloomberg at 13 percent, Trump at 37 percent and Clinton at 36 percent. In a two-way race, Clinton beats Trump by a 44 to 42 percent margin. But with Bloomberg in the race, the poll shows that favorability toward Clinton would decline by 8 points, to 36 percent—mostly among independents and adults under 30. Support for Trump would decrease by five points, to 37 percent.
Over the weekend, reports surfaced that the former mayor is weighing a third-party presidential bid if Sanders and Trump—or Texas Senator Ted Cruz—win the nomination in their respective parties. He also has grown increasingly frustrated with what he views as Clinton's move to the left, as she continues to attack Sanders on his gun voting record and health care proposal.
Bloomberg has instructed advisers to start planning for his possible campaign, as Trump continues to dominate the crowded Republican field and Sanders gains steam ahead of the Iowa caucuses on February 1. Both of the Morning Consult polls started before the reports about his potential run surfaced on Saturday.
In recent weeks, underdog Sanders has garnered enthusiasm and has pulled ahead of Clinton in some polls out of the early-voting states of Iowa and New Hampshire. Trump dominates at both the national level and in most states. His recent endorsement from former GOP vice presidential nominee Sarah Palin has pushed him even further to the top of the national conversation, starving other candidates, including Cruz, of attention.
On Meet the Press Sunday, Clinton acknowledged the former mayor is a "good friend" but said a Bloomberg run would be unnecessary because she expected to win her party's nomination.
"The way I read what he said is, if I didn't get the nomination, he might consider it. Well, I'm going to relieve him of that and get the nomination so he doesn't have to," she said.
Speaking on the same show, Sanders later criticized Bloomberg for potentially being another multi-billionaire trying to run for president, alongside Trump, and control the political process. Trump, meanwhile, said he "would love" to see Bloomberg declare a bid because he is confident he would emerge victorious in a matchup against the former three-term mayor.
Bloomberg, 73, a longtime Democrat who was elected to the mayor's office as a Republican in 2001, later ran for his third term as an independent. He is an outspoken gun-control advocate who, among others, pushed President Barack Obama to enact stricter gun laws in the wake of the 2012 deadly mass shooting in Newtown, Connecticut. Obama's public relations campaign ultimately fell flat in the Senate, but about a year later, Bloomberg created Everytown for Gun Safety, a grass-roots organization aimed at motivating legislators and voters to enact stricter laws to curb gun violence.
Aside from his gun views, Bloomberg is criticized by conservatives for his advocacy for abortion rights, immigration reform and public health measures as mayor, including his efforts to ban oversized sodas and smoking in public places.
In the 20th century, third-party candidates helped alter the political landscape but never reached the Oval Office. They included Ross Perot, George Wallace and Theodore Roosevelt. Bloomberg reportedly expects to render a decision by early March to allow him time to qualify to appear on the general election ballots in all 50 states. Texas has the earliest filing deadline, in May, followed by the vast majority in July and August, with a few in early September, notes Richard Winger, editor of Ballot Access News.
Winger says Bloomberg has more time than he might think. "He really ought to wait until April, because I think he and everybody else is completely perplexed about what the major parties are going to do," he tells Newsweek. "It's kind of traditional in U.S. history that these kinds of candidacies don't emerge until the election year."
Bloomberg reportedly would spend at least $1 billion of his own money in the general election. Less than a year after he left office in December 2013, he used his wealth to reassert his leadership in the November 2014 midterm elections by spending more than $20 million to back gun-safety ballot measures and candidates from both parties.
If Clinton pulls ahead and wins in the next few weeks, Bloomberg likely will drop his potential bid. But, as an insider close to Bloomberg told Politico, the former mayor is concerned about the ongoing FBI investigation into Clinton's use of her personal email when she was secretary of state.
Winger says it would be "awkward" for Bloomberg to run against Clinton and instead suggested he wait to launch his campaign when it makes the most sense.
This isn't the first time Bloomberg has thought about running for president. Ahead of the 2008 presidential election, he collected data to analyze his chances of success. He ultimately opted out of a run then, and most recently he did the same during the 2012 election.