Mayor Muriel Bowser Demands Donald Trump Withdraw Federal Forces From D.C., Says Patrolling Should 'Protect the Rights of American Citizens, Not Restrict Them'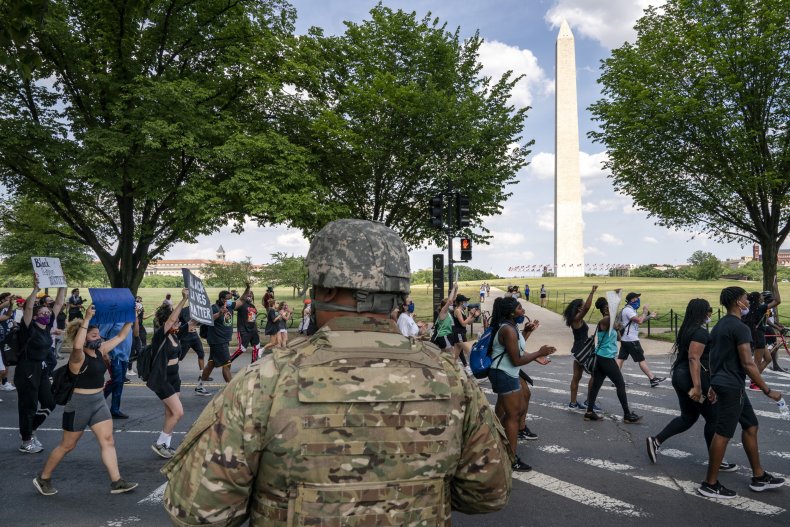 Mayor Muriel Bowser has asked President Donald Trump to withdraw law enforcement and military that's been patrolling the city amid a week of protests against police brutality and has raised concern about "unidentified" federal forces patrolling Washington, D.C.
"The deployment of federal law enforcement personnel and equipment are inflaming demonstrations and adding to the grievances of those who, by and large, are peacefully protesting for change and for reforms to the racist and broken systems that are killing Black Americans," Bowser wrote in a letter to Trump dated Thursday.
A few hours after Bowser publicly released the letter, Trump responded by Twitter, calling Bowser "incompetent."
"(Bowser), who's budget is totally out of control and is constantly coming back to us for 'handouts,' is now fighting with the National Guard, who saved her from great embarrassment over the last number of nights," Trump tweeted. "If she doesn't treat these men and women well, then we'll bring in a different group of men and women!"
The killing of George Floyd, an unarmed black man, in Minneapolis last week triggered a wave of demonstrations across the country after video emerged that showed a police officer pinning Floyd down on the street with his knee at Floyd's neck.
Thousands of demonstrators have marched the streets of D.C., including the area immediately around the White House. The Trump administration responded with increased federal law enforcement presence, and images from the protests have shown armed officers in protective gear wearing uniforms without insignia.
Bowser said that poses "safety and national security risks" and could lead to potential harm for both protestors and officers.
"Our police and incident command have clear channels of communication and roles and it is important to note that these additional, unidentified units are operating outside of established chains of commands," Bowser wrote in her letter to Trump, noting identifying insignia is mandatory in the District. "This multiplicity of forces can breed dangerous confusion, such as when helicopters are used in a war-like tactic to frighten and disperse peaceful protestors."
Lawmakers in recent days, too, have questioned who the enforcers with insignia-free uniforms are. On Thursday, House Speaker Nancy Pelosi also sent a letter to the president demanding answers.
"The practice of officers operating with full anonymity undermines accountability, ignites government distrust and suspicion, and is counter to the principle of procedural justice and legitimacy during this precarious moment in our nation's history," she wrote.
Thursday marked the first night that D.C.'s curfew was raised amid the protests and Bowser lifted her emergency declaration. Bowser noted in her letter that arrests have dropped.
Early in the demonstrations, protestors targeted areas close to the White House. Reports circulated that Trump and his family had been taken to an underground bunker amid the unrest last Friday.
After making his first public speech amid the protests on Monday, Trump defiantly walked across the street from the White House to St. John's Episcopal Church, after law enforcement forcefully cleared the area.
About 4,500 National Guardsmen from D.C. and other states have poured into the District in the past week over Bowser's objections.
"The safety and freedom of the residents and visitors to the District of Columbia is paramount," Bowser wrote in her letter to Trump. "My view is that law enforcement should be in place to protect the rights of American citizens, not restrict them."
Democrats have been raising concerns in particular about the presence of unidentified officers. Representative Don Beyer (D-Virginia) tweeted that he will be drafting legislation because of it.
"Unacceptable for uniformed federal officers policing constitutionally-protected assemblies to refuse to identify themselves to people who pay their salaries," Beyer tweeted Wednesday. "Denying accountability to the public they serve ensures abuses."
Update, June 5, 2020, 2:39 p.m.: This article has been updated with Trump's comments in a tweet supplied by the White House's communications team.