Pete Buttigieg 2020: Meet the South Bend Mayor Looking to Become America's First Millennial President
Mayor Pete Buttigieg wants to be America's first millennial president. At 37, the mayor of South Bend, Indiana, is also the first openly gay person to launch a bid for the nation's highest office.
While some may argue that going from leading a city of about 100,000 residents to governing the world's most powerful country may be a big step, Buttigieg (pronounced BOOT-edge-edge) believes small-town politics and putting the American people first are exactly what a divided Washington needs right now. And as he previously told CBS News, he already has "more experience in government" than President Donald Trump and "more executive experience" than Vice President Mike Pence.
A graduate of Harvard College, Buttigieg went on to study at Oxford University as a Rhodes Scholar and spent a stint working as a consultant at McKinsey. In 2010, he made his entry into politics. And while his bid to become Indiana's State Treasurer proved unsuccessful his political ambitions were undiminished. He set his sights on becoming the mayor of South Bend, and the following year was elected by 74 percent of voters.
While some may doubt his presidential qualifications, Buttigieg's millennial credentials are harder to argue. The cord-cutting mayor says he opts for streaming Netflix over watching cable with his partner Chasten Glezman, a high school teacher who he married last summer. As for what else he brings to the table, Buttigieg can not only play the indigenous Australian instrument the didjeridoo, he also claims to be able to be able to order at least a sandwich in seven languages, even if he says some of his skills have grown a little "rusty."
Among those languages are Arabic and Dari Persian, the latter which he picked up to use while serving for seven months in Afghanistan as a Navy Reserves Lieutenant. As he has previously pointed out, if elected, Buttigieg would have "more military experience than anybody who's arrived behind that desk since George H.W. Bush."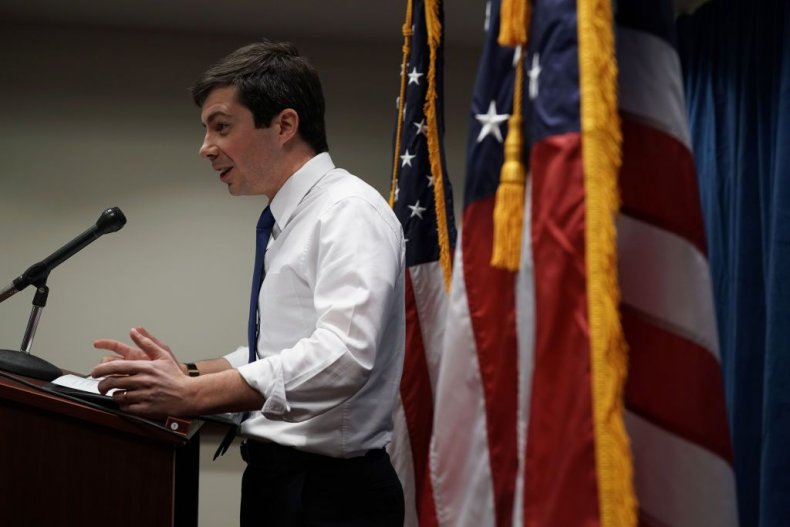 Buttigieg sat down with Newsweek at a cafe in central South Bend last month to talk about his presidential ambitions, his vision for the country and more. The interview was edited for brevity and clarity.
You're joining what is shaping up to be a large field of Democratic candidates. What are your thoughts on those who have declared so far and the fact that so many have already thrown their hat in the ring?
I think what you're seeing is just a moment that's a realignment in American politics. And so there's no obvious place for people to go. There are a lot of interesting candidates or potential candidates emerging, but the fact that you have such a broad and such a deep field demonstrates that people in the party and people in the country want to see a lot of options. But I also think a broad field favors newcomers and underdogs, and I also think the more people there are in this conversation the better.
Who do you think is the toughest competitor that you would face, of those who have announced their intentions so far?
I try not to spend too much energy thinking about the others because everybody brings something different into the conversation, and I think everybody belongs in this conversation. Our focus is on our message of trying to make sure that we reach as many voters and potential voters as possible, with these concepts of freedom, democracy and security through the 21st century, what they mean through a progressive lens and the ideas that are connected to those values.
If you were chosen as the Democratic candidate, what would be your strategy to defeat Donald Trump in 2020?
I think one of the things we did wrong in 2016 is, you know it was so shocking that he had become the nominee to many Democrats, that our entire message became about him. And a lot of people at home, in places like South Bend, were saying, "well who's talking about me?" I think in many ways, while of course we stand up to the president when he does something wrong, we engage in policy debates and most of the battles, for the most part, the message and the competition is not about him, it's about America and where this country is headed. And it's about a vision of what our country is going to look like in the future.
He doesn't seem too interested in the future. But I'm thinking a lot of what will happen in 2054 when I am the current age of the current president, and the kind of world we're building for that moment. It's just a completely different conversation and a completely different set of priorities than what you have coming out of the White House right now.
There seems to be this sentiment that people are desiring new faces in politics, new faces on the national stage. Some say that's why Trump was so successful. Do you hope to capitalize on that? Obviously, you've been in politics for a while, but not on the national stage.
I will say there are some parallels to what it was like here in the city when I first arrived on the local political scene about a decade ago. There was a real desire for something new, and even though I had to answer and settle certain questions about experience and readiness, it was also the case that people really embrace the idea of something and someone they haven't seen before. I am seeing the same dynamic nationally, and I think it's largely resulted in the shift that America is going through, and an awareness that we can't just go back to what we were doing. I think there's a conservative impulse to take us back to the 1950s. There's also a Democratic impulse to take us back to the 1990s. Neither one of those is going to work. And I think there's a gut awareness among Americans that it's time for something very, very different than what we've done before.
What would you say to the people that say: "You should pay your dues first, you should run for Congress, then run for governor, and then put your eyes on the presidency?"
I want to make sure the way I answer this shows enough respect for the U.S. Congress, because the work that goes on there is important, and there are some inspiring people. But I would also argue that there's no reason to assume that being in Congress is more relevant to executive national office than being a mayor of a city of any size. You can be a very senior member of Congress and the most people you've ever managed in your life would number something around a couple dozen.
Here, even in our mid-sized city in the midwest, I'm responsible for the wellbeing of a hundred thousand people, manage a $300 million-plus budget, and get the call on anything from a neighborhood controversy, to an airplane crashing into a neighborhood to an officer-involved shooting. I think that's the kind of executive experience, understanding how to assume responsibility for the well-being of a group of people and the conduct of the administration, that is most relevant to the top jobs in Washington.
You're the first openly gay candidate running for president. Do you have anything to say on the controversy surrounding Tulsi Gabbard's history of homophobic comments?
I think the right thing to do was to apologize. I think now we have to look forward, and the reality is that the LGBTQ community is still under attack in a lot of ways, whether it's the attack on transgender members of the military, coming out of the White House. Or whether it's the persistence of hate crimes in many places in the country, including here in Indiana by the way, where we don't have hate crime legislation. For that matter, we don't have comprehensive civil rights legislation. So, even though we took action locally in South Bend, it remains the case in several parts of Indiana that you can be fired simply for being gay.
This is an urgent matter and equality is not a debate that was settled when marriage equality came. I think any candidate needs to explain what they're going to do to move forward on equality.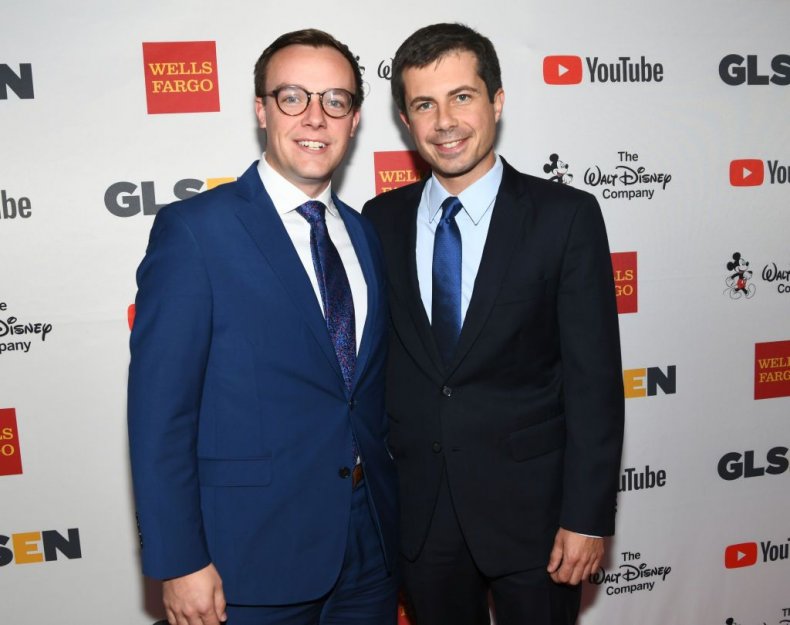 The LGBTQ issue has obviously evolved a lot in society. Are you facing any homophobia since you announced your national run for president? And also what do you think are the next steps for the LGBTQ community?
I think there's always some ugliness online, and it is what it is. But for the most part, I've seen two types of reactions: people who are excited about the historic nature of the first out elected official ever to seek this office, and people who make it pretty clear that they don't care. And that's kind of historic too in some cases. I could do an interview at some length and it doesn't even come up. Things are clearly changing, but we're not there yet.
Moving to the president, do you believe that he should face impeachment proceedings?
I think we have to see what that investigation brings back. Which is why the investigation needs to be protected and its findings made public. I think most Americans understand that. I'm not sure that that's yet been secured though, the way things are going in Washington. Frankly, I think what would be best for the country would be for this president and his style of divisive politics to be rejected at the ballot box. So, the way I would want to see him removed from office ideally is through an election, but it's also possible that these investigations will return things that morally and legally Congress simply cannot ignore [and] impeachment would be appropriate.
As an Afghanistan veteran, what's your perspective about talk of the U.S. withdrawing troops from Afghanistan and negotiating with the Taliban.
I think that it's very clear that we can't be in a generation of endless war. This is a conflict that started in 2001. You can be old enough to be deployed to fight in this war and have not even been alive for 9/11. And we're still functioning off an authorization for use of military force that's driving not only our activities in Afghanistan, but also in Eastern Africa and a lot of other places, because Congress has basically abandoned its war powers, and that's very problematic.
Of course the conflict in Afghanistan has to come to an end, I am concerned though when I see a negotiations process with the Taliban that seems to be leaving the Afghan government out. This isn't going to be sustainable if the Afghan government isn't part of this in some way.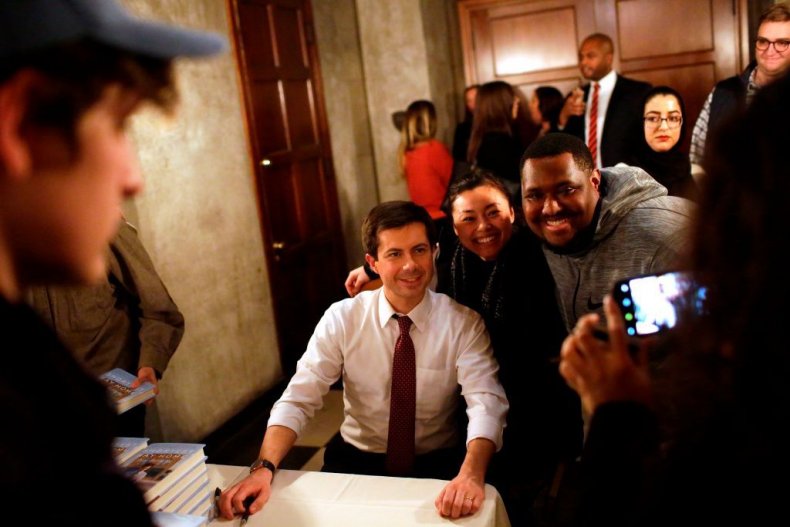 Border security and immigration are a big topic of conversation right now in the country. I believe your father was actually an immigrant?
That's right.
What do you think is the way forward on this issue?
I think the way forward is comprehensive immigration reform. First of all, we've got to make sure that there is the right level of support for lawful immigration. Like what my father did, he came to this country, he went through the process and he became a citizen. There are obviously a lot of people who are outside the system, you need to bring them out of the shadows, give them an opportunity to go through the process to become legally recognized residents or citizens. It's better for the economy, it's better for them. It's better for the rest of us.
Border security alone isn't going to solve this problem. First we need border security, but by the same token a fence or a wall alone isn't going to solve border security. This requires a lot of different pieces, and requires a more rational approach, as opposed to the president's highly emotional and highly divisive approach.
Some in Congress, such as Alexandria Ocasio-Cortez, Bernie Sanders and Elizabeth Warren have released proposals to increase taxes on high earners. Do you share similar sentiments to them?
We're at a stage right now where we're trying to focus on the broadest elements of our values framework and not make the mistake that some in my party have made in the past and leading with a 14-point plan, the binder, and then having the values kind of follow the policy. I want to do this in the right sequence. So over time, you'll be hearing more from us in terms of a policy framework.
But what I will say, when it comes to taxation, I think most Americans think that some are not paying their fair share. I think most Americans think that you can't get something for nothing. And if we want to continue to be the leading nation in the world, if we want to have the infrastructure that we need, the healthcare that we deserve, and the sense of security that a great nation ought to be able to have, not to mention all the other fundamentally important priorities that will drive progress for Americans in the 21st century, you've got to pay for that.
So, how do you pay for that? Well for one thing, taxing work alone and not taxing wealth is pretty backwards. I think we need to change the dial on that, and that does mean taxing wealth, not only work, in the same way that here on the local level we raised a lot of funds through property tax. This is not an exotic idea, and I think if you're one of those people that have benefitted the most from the American system, to the tune that you have tens of millions or billions of dollars, then it's not unreasonable to ask you to kick in one or two percent, or whatever the level is going to be, to help make sure that this is the kind of country where the people that come after you can succeed too.
Along the same lines, Ocasio-Cortez and many others have been pushing the Green New Deal. Do you think that climate change and a Green New Deal are an issue that lawmakers can come together on and actually push forward?
I think it better be, because I belong to a generation that's on the business end of climate change. Right now it is unseasonably warm in South Bend, just 10 days after a polar vortex was starting to come to our community. A year ago something similar happened, the only difference is that there was a lot of snow on the ground. And the consequence was a 500-year flood. That 500-year flood came after what we were told was a 1,000-year rainfall, causing flash floods in the city. So, to me climate change isn't something that's happening over in the Arctic, or in coastal cities or the Pacific islands, it's also something that's happening right here in the American Midwest and it's only going to accelerate.
That means we have to be much more aggressive and much more intentional and show some political will to do something about it. Even as mayors like me, we can't wait for the problem to be fixed, we're also adapting to it, because it's not a question of when will it happen, it's dealing with something that's already begun. Now the elegance of the idea of a Green New Deal is that it also speaks to some of the challenges of the American economy, at the same time once we're trying to fight this climate challenge. And I think that that's really important. In its current form, I think it's accurate to say that the Green New Deal is more a set of goals than it is a fully articulated policy, but I do think it's the right direction for us to go in and I do think everyone who wants to be part of the 2020 conversation will get to bring some particular features to how they think those goals can be met.
On the subject of Alexandria Ocasio-Cortez, she's captured a lot of national attention for bringing something new to Washington that some people like and some people hate. Do you see yourself aligning with her politically? And what do you think millennials want to see from their elected leaders?
First of all, I think she's fantastic. I think her arrival was an important moment, not only for our generation, but for the Congress, and I think her voice is a really important part of our American political dialogue. I'm hoping I'll get to know her better as this process goes on. More broadly, I think we're at this moment of generational change and I think what people in our generation and the youngest voters really want is something that is serious and bold and not nibbling around the edges of what we've done before.
I don't think anybody in our generation thinks we can solve our problems by scrolling back to the 90s or to the 50s. We are in trouble. Presidencies like this don't just happen. They happen when our democracy and our economy are letting people down, so that some people with their eyes wide open walk into the polling booth and vote to rip the house down. We've got to make sure that we're dealing with the fundamental structure of which this presidency, in my view, is a symptom and not a cause.