Mayor Shot Dead by Gang Was Branded 'Narco Politician' by Duterte
A mayor in the Philippines has been shot dead by unidentified gunmen, having been the subject of allegations from President Rodrigo Duterte that he was involved in the illegal drug business.
Mariano Blanco, 59, the mayor of Ronda on the country's central island of Cebu, was shot dead while sleeping in his office at around 1:30 a.m. local time Wednesday, the Philippine Daily Inquirer reported.
Staff Sergeant Dionisio Tagupa of the Ronda police told the newspaper that four armed men pulled up outside the town's municipal hall in a white van, forcing two watchmen to the ground at gunpoint.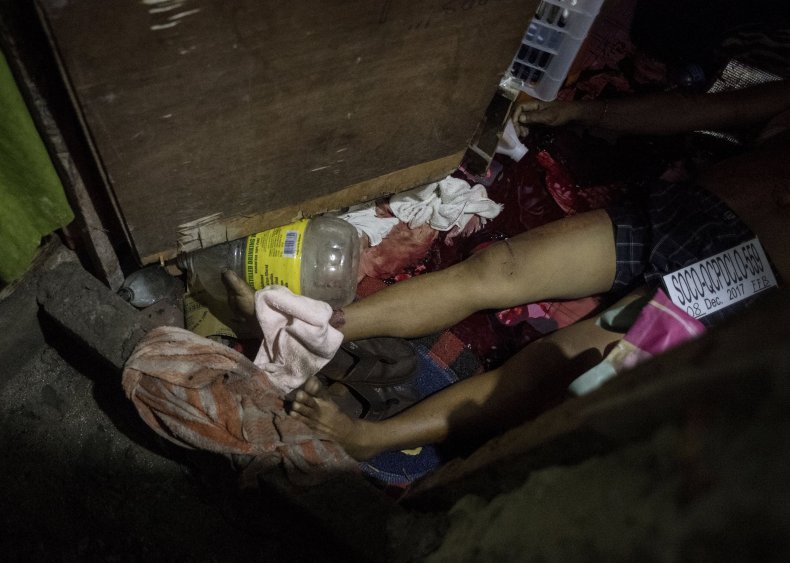 "After a second, a burst of fire was heard from the mayor's office and then the unidentified persons left," Tagupa explained. The employees then rushed to the mayor's office, where they found Blanco dead.
Senior Inspector Jayr Palcon told AFP Blanco was on Duterte's list of politicians with suspected links to the drugs trade. The agency said this was confirmed by a spokesman for the Philippines' Drug Enforcement Agency.
Blanco had reportedly been taking precautions since Duterte publically named him as a narco-politician in 2016, The Inquirer said. Since taking office, the strongman president has waged a brutal war on drugs which has left at least 12,000 people dead, according to Human Rights Watch.
Around 4,000 of these people have been killed by police. The service says all those killed were armed and had resisted arrest but human rights groups say officers are simply executing suspects. The rest of the killings have been carried out by "unidentified gunmen." Duterte has publicly encouraged vigilantism against drug dealers, telling citizens, "Do it yourself if you have the gun—you have my support." The drug war has become a useful way to settle scores with few questions asked.
In an interview with radio station DWIZ last year, Blanco said he feared for his life having been linked to the drug trade. "I'm afraid I might be assassinated. I just hope that they will understand that I had never been involved in illegal drugs," the mayor said. "I'm really shocked. I have been serving the town for 22 years now, and my name was never besmirched until this issue came."
Last year, the country's National Police Commission stripped Blanco of his power to supervise the Ronda police on the basis of his alleged links to drug gangs. This meant he could no longer appoint the town's police chief, inspect units or take any decisions about the force.
At the time, police spokesman Risty Sibay explained Duterte had received "intelligence reports" implicating Blanco in the drug trade, and noted that only the president could return his authority over local law enforcement.
Blanco is the third Philippines mayor to be shot dead in three months. In July, staunchly anti-drug Antonio Halili, the mayor of Tanauan City, was killed by a sniper during a flag-raising ceremony. Just days later, Mayor Ferdinand Bote of the town of General Tinio was killed by a gunman on a motorcycle, shot multiple times while driving his car through Cabanatuan City.
Just seventh months ago, Blanco's nephew and Vice Mayor Jonnah John Ungab was killed by unknown attackers outside Cebu City's courthouse, some 50 miles to the northeast of Ronda. The lawyer was serving as legal counsel to drug kingpin Kerin Espinosa.
According to CNN Philippines, at least 15 mayors and vice-mayors have been assassinated since Duterte took office in 2016. The dead come from both sides of the drug war, whether involved in its prosecution or suspected of links to narcotics gangs.