Mayor Turns in His Own Son to Police For Breaking Coronavirus Curfew
The mayor of a town in Colombia is being praised by residents after turning in his family and friends, including his eldest son, in to the police for breaking current curfews in place to stop the spread of COVID-19.
Juan de Acosta Mayor Carlos Higgins Villanueva tweeted pictures on Monday of himself driving his son, his nephew and another man he called "a great friend" to the police station after the three were caught attending a Father's Day party held during the restricted hours of the imposed curfew.
The party also violated the temporary statewide ban imposed on alcohol sales, which was in place over the weekend.
"My relatives are the first who have to respect these measures," Higgins wrote. "I will not allow them to put the lives of our villagers at risk just because they wanted to have some drinks."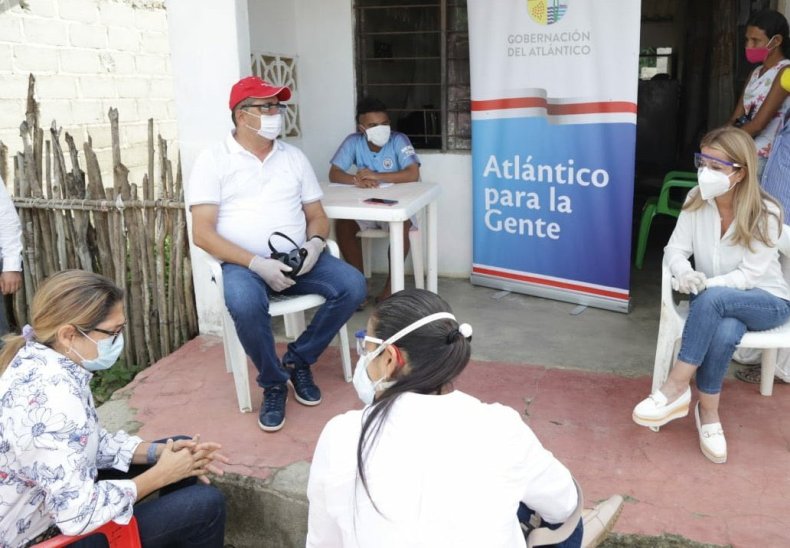 Juan de Acosta is a small town in the northern state of Atlántico, the area with the second-highest number of coronavirus cases in the country after the Capital District.
As of Wednesday, July 1, Atlántico has reported 22,777 confirmed cases of COVID-19 and 1,162 deaths, according to a tracker from Johns Hopkins University.
"My family are the first who have to respect the rules," Higgins tweeted. He added it was important for him to set an example with his eldest son. "I have other younger sons and he could bring the virus home if he caught it," the mayor said. "I wanted to set an example so that the rest of the community respects the rules."
He said he let the police "deal with the rule-breakers as they see fit."
The three were ordered to complete community service as a consequence of breaking curfew, according to a report from the BBC.
Residents of Juan de Acosta applauded the mayor for enforcing lockdown measures and putting into practice the phrase that "the law starts at home."
Other town officials have taken to the mayor's handling of rule-breakers. A recent campaign launched with the motto: "If I see you at a party, drinking, outside your home, visiting or receiving visits or playing soccer, I will tell on you and you will go to the police."
Newsweek reached out to the City of Juan de Acosta for comment but did not receive a response in time for publication.
Colombia imposed one of the strictest coronavirus lockdowns in Latin America with a national quarantine from March 24 to May 31. The country's travel ban, which denied entry to those who are not Colombian citizens, permanent residents, or diplomats, expired on Tuesday.
After beginning a partial reopening on June 1, Colombian President Iván Duque has capped reopened businesses at 30 percent capacity and public transportation at 35 percent capacity. Bars, clubs, churches, and parks remain closed.
Duque's decision to reopen the economy has been heavily criticized by Bogota Mayor Claudia Lopez, who threatened a second lockdown in Columbia's capital city on Monday.
As of Wednesday, Colombia has reported 95,269 cases of the novel coronavirus.