Mayorkas Concerned Haitians Receiving 'False Information' U.S. Border Is Open
Homeland Security Secretary Alejandro Mayorkas said officials are worried that Haitians are getting "false information" about migrating to the U.S.
More than 10,000 people, predominantly from Haiti, have recently crossed the Rio Grande river and are camping out under a bridge in Del Rio, Texas. The size of the camp has grown tremendously over the past few days, overwhelming border officials and local communities.
Mayorkas visited the bridge on Monday, calling the situation "heartbreaking" and "distinct" from the other large movements of migrants the administration has experienced.
"We are very concerned the Haitians who are taking this irregular migration path are receiving false information that the border is open or that temporary protected status is available," Mayorkas told reporters at a press conference. "I want to make sure that it is known that this is not the way to come to the U.S. That is false information."
The secretary also said it's "tragic" that families are being deceived by smugglers for monetary gain.
The Biden administration extended temporary protected status earlier this year for the tens of thousands of Haitians already living in the U.S. But since then, many more migrants have tried to enter the country despite not qualifying for the program.
Mayorkas noted Monday that only individuals living in the U.S. prior to July 29 are eligible for temporary protected status.
Haiti has been consumed by crisis in recent months, including a major earthquake last month that left more than 2,000 people dead and the assassination of President Jovenel Moise in July. The nation's economy is also in turmoil amid the coronavirus pandemic.
But officials believe many of the migrants arriving in Del Rio have been living in South America after the 2010 earthquake.
Mayorkas warned those thinking of making the journey: "If you come to the United States illegally, you will be returned."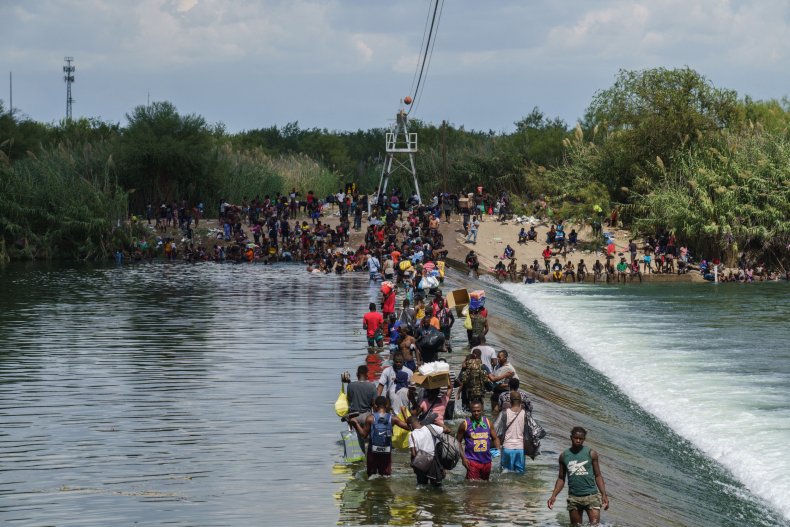 An additional 600 border agents and volunteer personnel from the Department of Homeland Security (DHS) have been sent to Del Rio to address the situation. More personnel will be deployed to the area if needed, Mayorkas said.
The department is also working to secure additional transportation for return flights to Haiti and other countries. Mayorkas anticipates that one to three flights will be conducted per day.
Texas Governor Greg Abbott has requested that the Biden administration declare a federal emergency and provide resources to help officials respond to the border crisis.
"This surge poses life-threatening risks to residents of Val Verde County and is quickly overrunning law enforcement and health care and humanitarian resources which were never intended to be used in this capacity," Abbott wrote in a letter to President Joe Biden. "Even the limited federal resources in the area are strained by the large number of individuals illegally crossing into Texas."
Newsweek reached out to U.S. Customs and Border Protection for comment but did not receive a response before publication.