Mayors Are Not Afraid To Take On the Gun Industry | Opinion
Two scenes unfolded last week on opposite ends of the country, highlighting who truly cares about gun violence—and who looks the other way as our children die from preventable violence at an alarming rate.
America's mayors recently convened in Washington for the annual U.S. Conference of Mayors, where we discussed how to keep communities safe and stop the flow of illegal firearms—the same discussion we have unfortunately had too many times.
As mayors worked to stop bloodshed on our street, the gun industry gathered in Las Vegas for its annual convention, called flagrantly the "SHOT Show," two miles away from the site of the deadliest mass shooting in American history. And just days after the gun industry's show, the nation grieved back-to-back mass shootings in Monterey Park and Half Moon Bay in California—the deadly result of the gun industry's work to attract new shooters, increase sales of assault weapons, and skirt legal responsibility.
Mayors worked to improve mental health services for our children and for America's workforce; meanwhile, the gun industry discussed how "civil litigation often follows suicide" at gun ranges, and how to "significantly enhance the range's defense against civil litigation."
As my administration and our police attend weekly reviews of shootings to save young, particularly Black lives, the gun industry is featuring and promoting thousands of assault weapons and devices like binary triggers that let guns shoot more rapidly and allow shooters to outgun our officers—killing more police and more of our residents.
Mayors discussed how to respond to mass shootings and improve officer retention, at a time of escalating threats of harm to law enforcement. Meanwhile, the SHOT Show hosted sessions about how to implement buy now, pay later options for gun sales, making it easier to obtain an assault weapon than to buy your week's groceries.
The contrast of our widely differing priorities is alarming.
Kansas City ended 2022 with 169 murders and more than 500 additional living shooting victims—a rate of almost two people shot per day in a mid-sized Middle American city. While my residents suffer, Glock, the most frequently used firearm in Kansas City murders and shootings, has a nearly 70 percent profit margin on every firearm sold.
Guns are the leading cause of death for children in the United States. All our voices calling out the gun companies are needed to save our babies' lives.
When I took office, I knew gun violence was the single most important issue facing my community, which is why my administration has prioritized innovative approaches to keep Kansas Citians safe—from investing in community violence intervention, to fostering strong partnerships between local and federal law enforcement agencies, to keeping guns out of the hands of domestic violence offenders, and even taking on the gun industry in court—but this epidemic is still raging, in Kansas City and in communities across our country.
My fellow mayors and I are working to ensure gun companies are held accountable. We partnered with Everytown for Gun Safety to release a new report that names the manufacturers of crime guns recovered in 31 cities, including Kansas City, so there is no secret surrounding which manufacturers make the products fueling the gun violence epidemic plaguing our streets.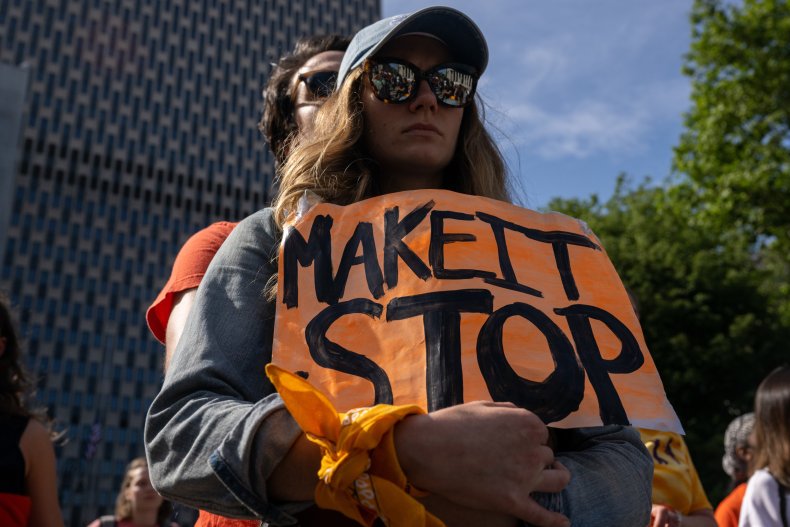 There is no gun violence without a gun. Every gun is made by a company for profit, shaping an industry which only innovates to make its products deadlier, using increasingly reckless marketing tactics while refusing to stop doing business with known rogue gun dealers.
We are not asking for a lot. We just want gun companies to mirror responsible American businesses:
—Gun companies can implement a dealer code of conduct, like your local Ford dealer, to ensure that every store that sells its products is following basic guidelines to ensure guns do not fall into the wrong hands.
—Gun companies can cut off the gun dealers who have repeatedly and disproportionately sold the guns that are used in crimes.
—Gun companies can stop working with dealers who sell guns in settings like gun shows and online marketplaces where it is all too easy to avoid a background check.
No single solution will end all forms of gun violence and we know more work must be done, but ignoring the gun part of gun violence is leading to increasing bloodshed and fear in every American city.
Mayors like me, who are on the frontlines of this crisis, will continue to pray, beg, and fight to ensure the gun industry causing gun violence in our cities will work with us for reasonable solutions to stop the killing of my brothers and sisters in Kansas City and across the country.
Gun industry leaders cheered in Las Vegas over new ways to maximize profit, but America's mayors will continue our work to keep our people alive. Will the gun industry put down their weapons for once and join us?
Quinton Lucas is the mayor of Kansas City, Mo., and co-chair of Mayors Against Illegal Guns, a nonpartisan coalition of current and former mayors that is part of Everytown for Gun Safety.
The views expressed in this article are the writer's own.