Mayors Urge Pelosi, McConnell to Take 'Immediate Action' on Bipartisan Infrastructure Deal
Hundreds of mayors from across the U.S. are urging congressional leaders to take action on the compromise infrastructure deal reached by President Joe Biden and a group of senators last month.
The U.S. Conference of Mayors penned a letter to Senate Majority Leader Chuck Schumer, House Speaker Nancy Pelosi, Senate Minority Leader Mitch McConnell and Rep. Kevin McCarthy to take "immediate action" on the Bipartisan Infrastructure Framework.
The letter sent Tuesday was signed by 369 mayors from all 50 states and the District of Columbia.
"This framework would be the largest long-term investment in our nation's infrastructure and competitiveness in nearly a century – $1.2 trillion over eight years – to help make our economy more sustainable, resilient, and just," the document said.
The group also said the proposal is "crucial to making meaningful progress" on the need for major investments in public transportation, drinking water and wastewater, clean energy, extreme weather resiliency and more.
After weeks of negotiations on infrastructure, Biden and a bipartisan group of senators announced on June 24 they reached a deal on a plan.
The proposal focuses on investments in transportation infrastructure, broadband internet and clean power infrastructure. But it doesn't include any provisions Biden has described as "human infrastructure," such as subsidized child care and home caregiving.
"Let me be clear: Neither side got everything they wanted in this deal," Biden told reporters. "That's what it means to compromise. And it reflects something important. It reflects consensus. The heart of democracy."
According to the White House, the Bipartisan Infrastructure Framework would devote $579 billion to transportation needs for roads, bridges, public transit, airports and waterways. The remaining $266 billion would be put toward priorities like broadband internet, environmental remediation and water infrastructure.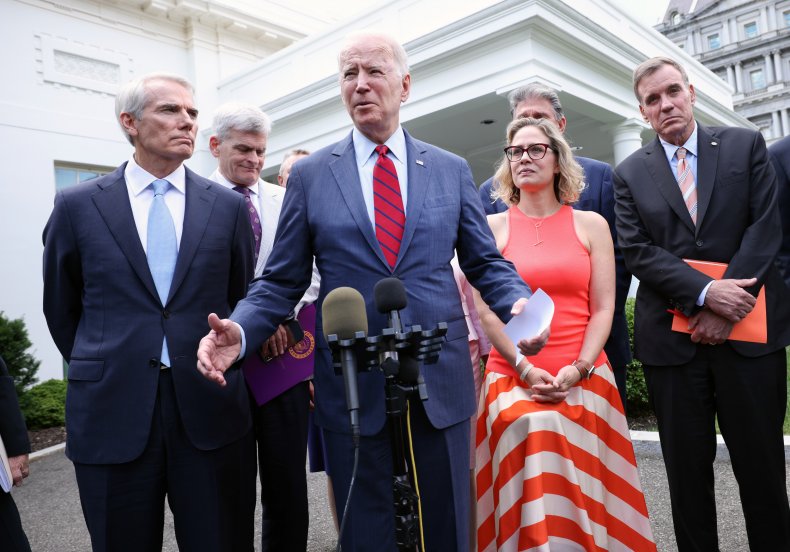 The U.S. Senate returned from recess on Monday, and Schumer said his intention for this session includes the bipartisan infrastructure legislation as well as a budget resolution with reconciliation instructions.
Eleven Republicans initially signed onto the plan, giving Democrats the number of votes needed to break the filibuster in the upper chamber. But several of the lawmakers are now wobbling in their support, according to a report from CNN.
McConnell expressed some optimism last week that the $1.2 trillion package could pass.
"I think there's a decent chance that may come together. All I've said is, I would like for it to be paid for. We've added quite enough to the national debt," the Republican leader said at the Northern Kentucky Chamber of Commerce. "This ought to be credibly paid for. That discussion is underway."
Newsweek reached out to the four congressional leaders for their response to the group's call, but didn't receive a response before publication.