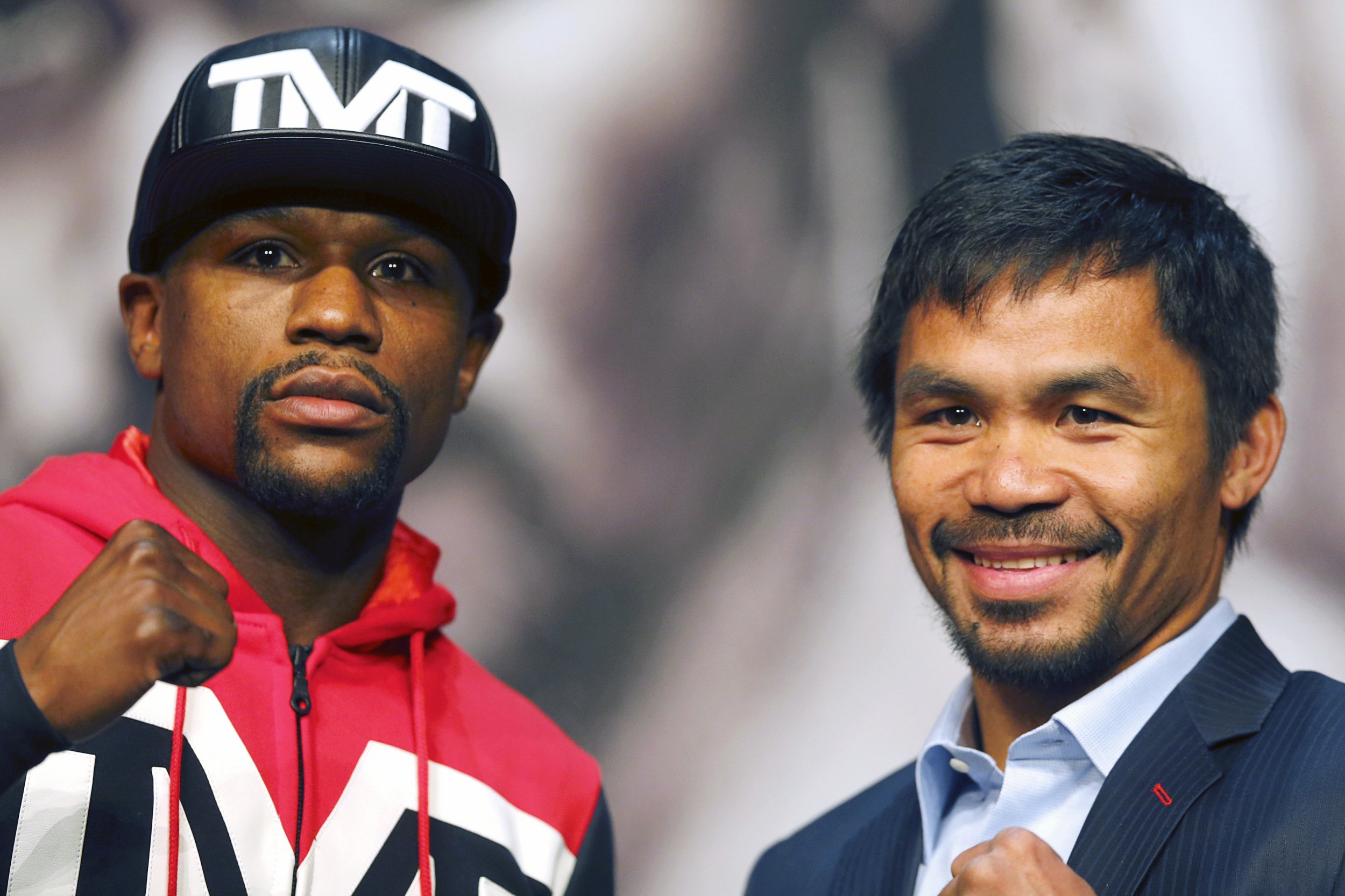 It's a bout. And it's about time.
The HBO documentary that is airing in advance of Saturday's fight between Floyd Mayweather Jr., and Manny Pacquiao at the MGM Grand in Las Vegas is titled, fittingly, At Last. Highly anticipated? Try long overdue.
Mayweather-Pacquiao could gross $300 million to $400 million, making it the most lucrative prizefight in history, as well as the largest payday in the history of sport. But, while it doesn't quite attain the last-hurrah mercenary levels of this summer's Rolling Stones tour (remember when Sucking in the Seventies was an album title by, and not a review of, Mick Jagger and the lads?), this is a shotgun ring ceremony between two fighters who can at last see the cash-window closing on them. Technically, they are welterweights (147-pound limit) but in truth Mayweather and Pacquiao are twilight-weights.
The undefeated Mayweather (47-0), who goes by the nickname "Money," is 38 years old. The Filipino southpaw Pacquiao (57-5-2) is 36 years old. For at least six years the two have been circling one another. Outside the ring. For manifold reasons, these two men, the two most talented pugilists on the planet, have never touched gloves.
Six years to the day before this May 2 bout, Pacquiao defeated Ricky Hatton by a second-round TKO. That same day, Mayweather, who 11 months earlier had retired at the age of 31, announced he was coming out of retirement. It was equal parts showmanship and one-upmanship.
Mayweather-Pacquiao has been the only truly compelling story in boxing, at least to the casual fan, for at least half a decade. Ring magazine declared their failure to climb between the ropes together the "Event of the Year"....in 2010.
In 2012 Mayweather placed a call to Pacquiao, who was in his native Philippines, to discuss terms. "He asked about a 50-50 split, and I told him, 'No, that can't happen, but what can happen is you can make more money fighting me than you have made in your career.'"
They don't call Mayweather "Money" for nothing. Mayweather will garner 60 percent of their take, but both sides will be sated. The pay-per-view rights are selling for $89.95 and $99.95 (for HD). Tickets for the 16,800-seat arena, which sold out in 60 seconds, were originally priced between $1,500 and $7,500. On the secondary market, some ringside seats are being listed for as high as $350,000.
Buyer beware: You are about to spend at least $90 on a chess match as much as a boxing match. Five of each fighter's last six fights have gone the full 12 rounds. Mayweather is one of the most technically superior—and, for his foes, frustrating—boxers who has ever laced up the gloves. He's a defensive tactician who, says Oscar De La Hoya, who lost to each man in the final two years of his career, "beats you with his mind."
We find ourselves in the dawn of a new age, when mixed-martial arts is more popular with the millennial generation than boxing. We live in a year in which the most talked-about fight thus far has been a UFC match between Ronda Rousey and Cat Zingano that lasted all of 14 seconds (Rousey, who won, plans to attend the Mayweather-Pacquiao fight). Given the popular flavor of helmet-free violence, it'll be interesting to see how many ringside patrons are seen peering into their smartphones as this tactical bout stretches on into the later innings.
The surest bets for a fight that will draw plenty of wagers are (1) a win by decision and (2) the specter of controversy. "The smart money is on Mayweather," says De La Hoya, writing for the Los Angeles Times earlier this week. "Look, it's Las Vegas, Mayweather's hometown. His picture's on the side of the MGM. The close rounds are going to go to Mayweather. It's big business. It's no secret."
A close decision. A bout that lasts 12 rounds, one that is tainted with controversy. That not only sounds like a fitting description for Saturday's "Fight of the Century," but a prologue for a rematch. And another gargantuan payday for a sport that has no other heroes waiting in the rings.
Uncommon Knowledge
Newsweek is committed to challenging conventional wisdom and finding connections in the search for common ground.
Newsweek is committed to challenging conventional wisdom and finding connections in the search for common ground.
About the writer
John Walters is a writer and author, primarily of sports. He worked at Sports Illustrated for 15 years, and also at NBC Sports where he won two Sports Emmys for his on-air writing at the Athens and Beijing Olympics. He has also worked at AOL Fanhouse and The Daily, as well as waited at a popular Manhattan steakhouse. Walters is the author of The Same River Twice: A Season With Geno Auriemma and the Connecticut Huskies. He is the founder of mediumhappy.com, a pop culture blog that he updates daily. He holds a B.A. from the University of Notre Dame, where he studied pre-med and rowed crew.