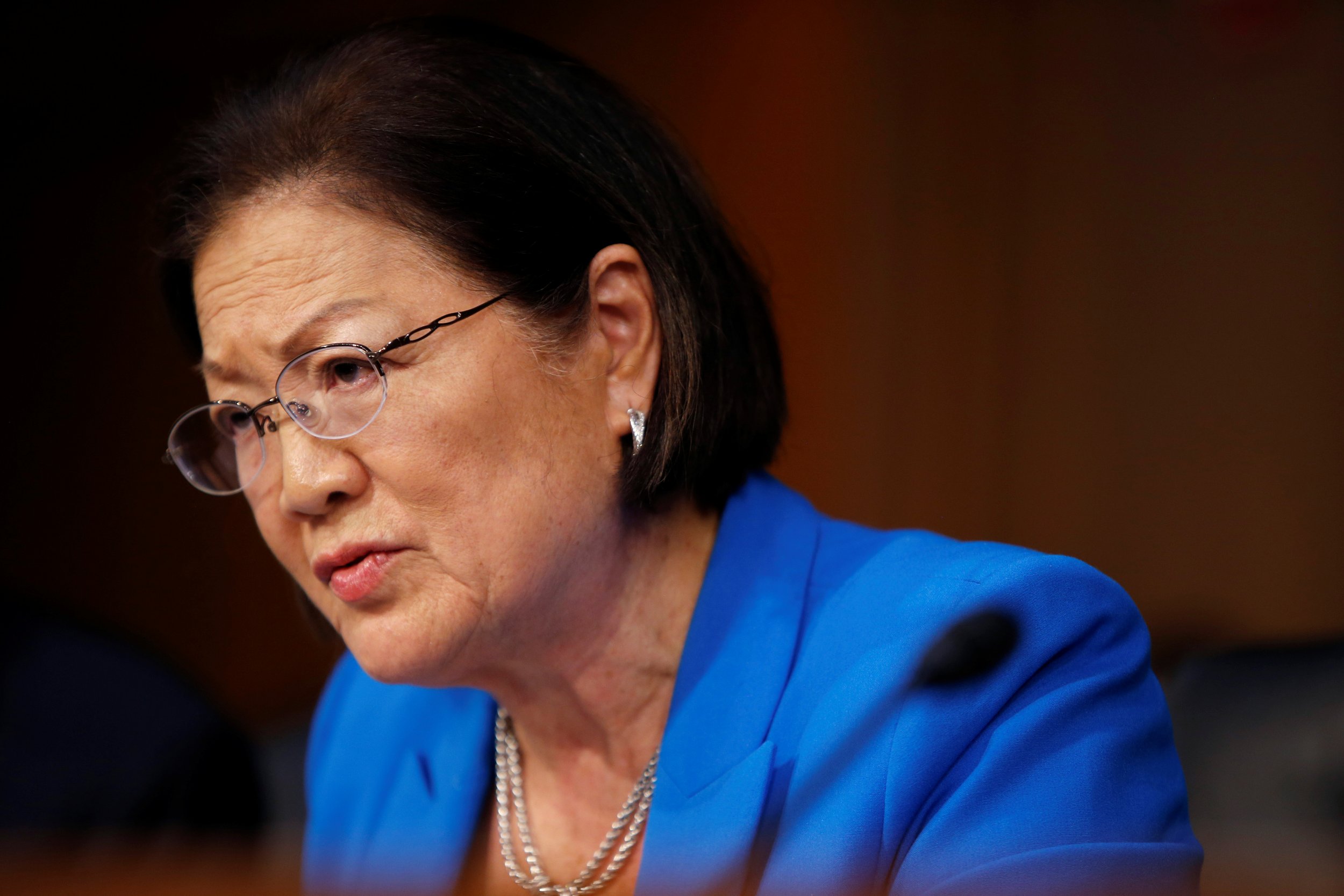 At a raucous hearing on Capitol Hill Monday, a U.S. senator who is fighting Stage IV kidney cancer gave an impassioned plea to her colleagues to reject Republican attempts to repeal the Affordable Care Act, saying health care is not "a commodity that can be bought and sold."
Mazie Hirono, a Democratic senator from Hawaii, was shocked five months ago when she was diagnosed with the disease, which is extremely advanced and often calls for dialysis or a transplant. In Hirono's case, doctors discovered it in May and removed Hirono's right kidney soon after. A few weeks later, she was back in the operating room to have a lesion removed from her 7th rib.
At 69, Hirono is the junior senator from the Aloha State. She was born in Japan to a mother who was an American citizen, and her parents moved to Hawaii to work on a sugarcane plantation. Her father was a compulsive gambler and alcoholic. A graduate of the University of Hawaii and Georgetown Law, Hirono is a fixture in Hawaiian politics, having served in state and federal offices since 1981.
Hirono's emotional testimony on Monday came at a hearing of the Senate Finance Committee to review the latest Republican effort to "repeal and replace" Obamacare. The Graham-Cassidy bill is on life support, with several Republicans saying they'll vote against it or may give it a thumbs-down. All 48 Democratic members of the Senate have said they will oppose the bill, which would cut Medicaid growth dramatically and allow the states to give permission to insurance companies to hike prices for those with pre-existing conditions.
Hirono denounced the GOP effort, saying, "Graham-Cassidy treats health care as a commodity that can be bought and sold." She noted that personal bankruptcies are down because of Obamacare, which was signed into law in 2010. The Honolulu native noted she was happy with her treatment and said she was worried that others wouldn't be able to get the same kind of care. She said, for instance, that insurance companies could reimpose lifetime limits on care under the GOP plan. "I have a complicated illness, and I could reach lifetime limits in a nanosecond."
Senators' feelings toward Hirono were palpable. Chairman Orrin Hatch, a Utah Republican, said he wished her the best of health. But the hearing was marked by loud protests from those opposing the Graham-Cassidy legislation, including a wheelchair-bound protester who had to be dragged from the hearing room by Capitol Police.
It's unclear if the Graham-Cassidy bill will come up for a vote this week. Republican Senators John McCain and Rand Paul have said they oppose the bill, but Paul has reportedly suggested he could be swayed if its costs are cut. Senator Susan Collins, a Maine Republican, has said she cannot see herself voting for the bill without more funding for Medicaid.
Senator Ted Cruz of Texas has said he's not sold either and indicated that a fellow staunch conservative, Senator Mike Lee of Utah, might join him in opposing the measure. Alaska's senior senator, Lisa Murkowski, an Independent who caucuses with Republicans, has not said if she'll vote for the bill. Republican Senate leaders have until September 30 to pass the bill with a simple 50-vote majority. After that, they would need to overcome a Democratic filibuster with 60 votes.​