McDonald's Retro Happy Meal Toys: Tamagotchi, Beanie Babies, Hot Wheels Cars Brought Back for November 2019
McDonald's is bringing back retro Happy Meal Toys for November 2019 — but you have to be quick if you want to get your hands on a Tamagotchi, Beanie Baby, or a Hot Wheels Car. The nostalgic toys will be included in Happy Meal orders from Thursday, November 7 through Saturday, November 11.
This year, McDonald's is celebrating 40 years of the Happy Meal. The fast-food chain is celebrating by re-releasing the most popular toys from the last four decades.
The full line up of Retro Happy Meal Toys are Cowboy McNugget (1988), Fireman McNugget (1988), Mail Carrier McNugget (1988), Hamburger Changeable (1989), Grimace (1990), Dino Happy Meal Box Changeable (1991), McDonald's Hot Wheels Thunderbird (1993), Hamburglar (1995), Power Rangers (1995), Space Jam Bugs Bunny (1996), Patti the Platypus Ty Beanie Baby (1997), 101 Dalmatians – U.S. Exclusive (1997), Tamagotchi (1998), My Little Pony (1998), Furby (1999), Sorcerer's Apprentice Mickey – U.S. Exclusive (2002), and Hello Kitty (2013).
The Happy Meals with retro toys will be available at participating McDonald's restaurants in more than 90 countries and will be available through November 11 while supplies last.
Customers can download the McDonald's app to play a Happy Meal trivia game and to order a Surprise Happy Meal to find out which toy they will get.
Steve Easterbrook, who until recently was McDonald's CEO, said in a statement: "Since the Happy Meal was introduced on the menu, it quickly became synonymous with our brand. Today, this iconic red box creates lasting memories for billions of families annually across the world."
Colin Mitchell, McDonald's Senior Vice President, Global Marketing, added: "Parents tell us how fondly they recall their favorite toys. So, unboxing the Surprise Happy Meal together creates a real moment of bonding with their children. We hope these toys are something that they will treasure and remember."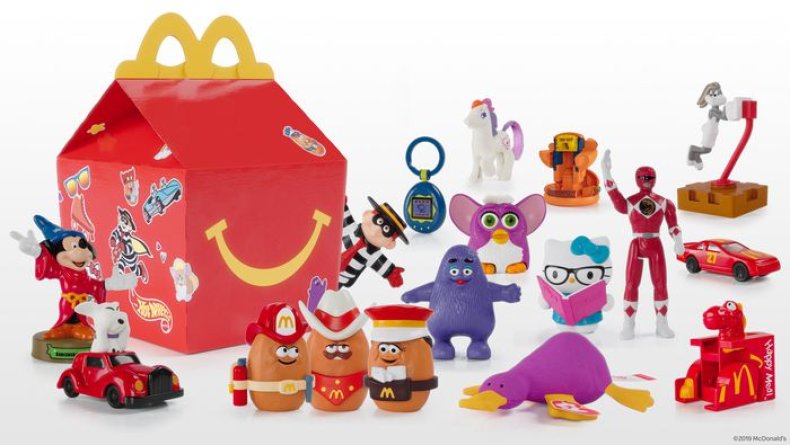 The Happy Meal toys have been controversial in past years as the movement to reduce single-use plastic continues to grow. McDonald's restaurants in the UK and Ireland announced in September 2019 that it would soon be offering customers the option to swap out the toy for a fruit bag. Additionally, McDonald's UK and Ireland will trial swapping out toys for books in early 2020.
Paul Pomroy, CEO of McDonald's UK and Ireland, said in a statement: "We care passionately about the environment, and we have a commitment to reducing plastic across our business – that includes the Happy Meal.
"We recognize that some people may not want a plastic Happy Meal toy, but we also know that the gifts provide fun for many families and children. That's why we'll be running these trials, in order to give our customers a choice; they also can choose not to have a toy or gift at all."