McAuliffe Campaign Disputes Claim He 'Abruptly Ended' Interview With Local Journalist
Terry McAuliffe's campaign is disputing claims the Democrat "abruptly" ended an interview with a Washington, D.C.–based television news station after clips of the interview's conclusion began circulating on social media.
The video interview, aired Tuesday by WJLA-TV, lasted for about 11 minutes and was shared on the station's website as part of a set of interviews the station conducted with Virginia's top two gubernatorial candidates. While McAuliffe's October 13 interview segment clocked in at around 11 minutes, WJLA's October 14 interview with Republican Glenn Youngkin lasted more than 20 minutes.
An article published online to accompany the interviews said the station offered each candidate a 20-minute interview.
"In a text message to [reporter] Nick Minock, Terry McAuliffe's campaign only agreed to 10 minutes. McAuliffe abruptly ended the interview and told the reporter he should have asked better questions," the station's article said.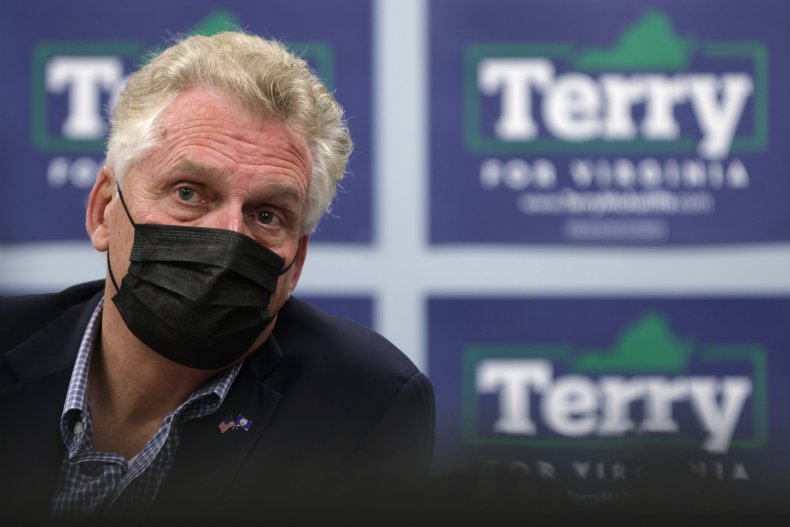 Right before the McAuliffe interview ended, someone out of the camera's view could be heard telling McAuliffe the interview had exceeded 10 minutes.
"All right, we're over. That's it. Hey, I gave you extra time," McAuliffe said as he stood up and walked out of the camera's view. The Democrat could then be heard saying offscreen, "You should have asked better questions early on. You should have asked questions your viewers care about."
After the station shared the interview Tuesday evening, Youngkin's campaign posted a video clip on Twitter in which one of the station's anchors explained to viewers why the interviews had different durations.
"We do want to point out that the Terry McAuliffe interview is shorter than our interview with Glenn Youngkin. That was not by our doing," the anchor said. "Nick offered both candidates 20 minutes exactly to be fair for the interviews. McAuliffe abruptly ended 7 News' interview after just 10 minutes and told Nick that he should have asked better questions, and that Nick should have asked questions 7 News viewers care about. That's what he said."
"WATCH: Terry McAuliffe cut off an interview and berated a reporter for asking tough questions," Youngkin's campaign wrote in a caption accompanying the video.
On Wednesday morning, McAuliffe campaign spokesperson Renzo Olivari on Twitter disputed the station's claims that the interview "abruptly ended."
"It's really unfortunate to see @7NewsDC mislead viewers by saying Terry 'abruptly' left an interview that was ALWAYS scheduled to be 10 mins long, which @NickMinock agreed to beforehand," Olivari wrote. "And in the video you can see how lighthearted and joking Terry was after the interview."
Accompanying Olivari's tweet was a screenshot of a text exchange from October 11, two days before the station's interview, that Olivari said was with Minock. In the exchange, McAuliffe's campaign said McAuliffe would have only 10 minutes free to participate in the interview.
Olivari separately confirmed with Newsweek McAuliffe's campaign was offered 20 minutes but told the reporter the candidate would only be available for a 10-minute interview. Olivari directed Newsweek to his Wednesday morning tweet when asked for further comment.
Newsweek reached out to WJLA-TV for comment and will update this article with any response.