McAuliffe, Youngkin Tied in New Poll Less Than 2 Weeks Before Election
Monmouth University pollsters released the results of a new voter survey on Wednesday that showed Virginia's top two gubernatorial candidates tied with less than two weeks remaining until the November 2 election.
Other recent polls among registered voters have found the race to be close, though polling averages have suggested Democrat Terry McAuliffe is slightly ahead of Republican Glenn Youngkin. In the latest poll from Monmouth, pollsters noted Youngkin has experienced an uptick in voter support since the university's last poll was released in late September.
Pollsters identified independents as the voting bloc with the biggest shift toward Youngkin over the last month, though they added McAuliffe's lead among women has also dipped in recent weeks.
When registered voters were asked which of the candidates they would vote for if the election were held on that day, 46 percent selected McAuliffe and 46 percent selected Youngkin. Two percent of respondents said they would pick another gubernatorial candidate—Liberation candidate Princess Blanding also appears on the ballot—and 7 percent said they were undecided.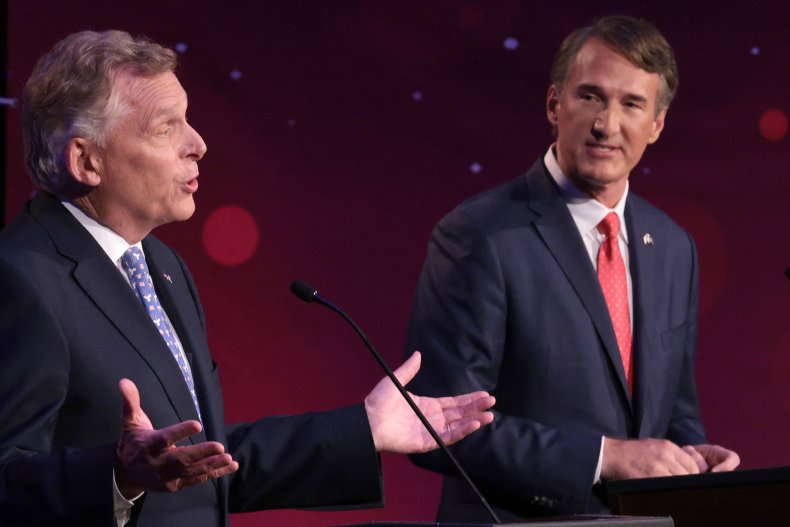 Pollsters said the survey was conducted between October 16 and 19 among 1,005 registered Virginia voters with a 3.1 percent margin of error.
In its assessment of the survey's results, Monmouth pollsters credited the "enthusiasm gap and shift in voter priorities" as providing a "boost" to Youngkin's campaign.
"Youngkin's improved position comes from a widening partisan gap in voter engagement and a shift in voters' issue priorities, particularly around schools and the pandemic," pollsters wrote. Jobs and the economy ranked as the most important issue in choosing a governor among the greatest percentage of voters surveyed, with education and schools coming in second. The coronavirus pandemic ranked third, followed by abortion, taxes, race relations and police issues.
In last month's Monmouth poll, voters ranked the pandemic as second on the list of issues most important to deciding their vote for governor, with education and schools coming in third. That September poll also suggested McAuliffe was 5 points ahead of Youngkin among registered voters.
"McAuliffe's sizable edge on handling COVID and his competitiveness on economic issues last month helped put him ahead in this race, but Youngkin has been able to change the terms of the debate, by using his opponent's words on parental involvement in the school curriculum to shift voter attention on that issue," Monmouth University Polling Institute Director Patrick Murray said in Monmouth's assessment for its latest poll.
As of Tuesday, more than 480,000 voters had already cast ballots in Virginia's election, according to state ballot return data compiled by the nonprofit Virginia Public Access Project. State election officials reported a total of 5,945,556 registered voters in Virginia as of October 1.
Of the voters surveyed, 58 percent said they intended to vote in person on Election Day, with an additional 19 percent saying they planned to vote in person at an early voting location and 7 percent saying they planned to cast their ballot by mail. Thirteen percent of voters surveyed said they had already voted early.
With Monmouth's latest polling results factored in, FiveThirtyEight's polling averages for Virginia's gubernatorial election showed McAuliffe with a 2.2-point lead, a slight decline from the 2.9-point lead McAuliffe held as of October 15. Polling averages compiled by RealClearPolitics and last updated Wednesday showed McAuliffe with a narrower lead of 1.8 points.