McCabe, FBI Knew About More Clinton Emails Well Before Comey's Announcement In 2016, Report Says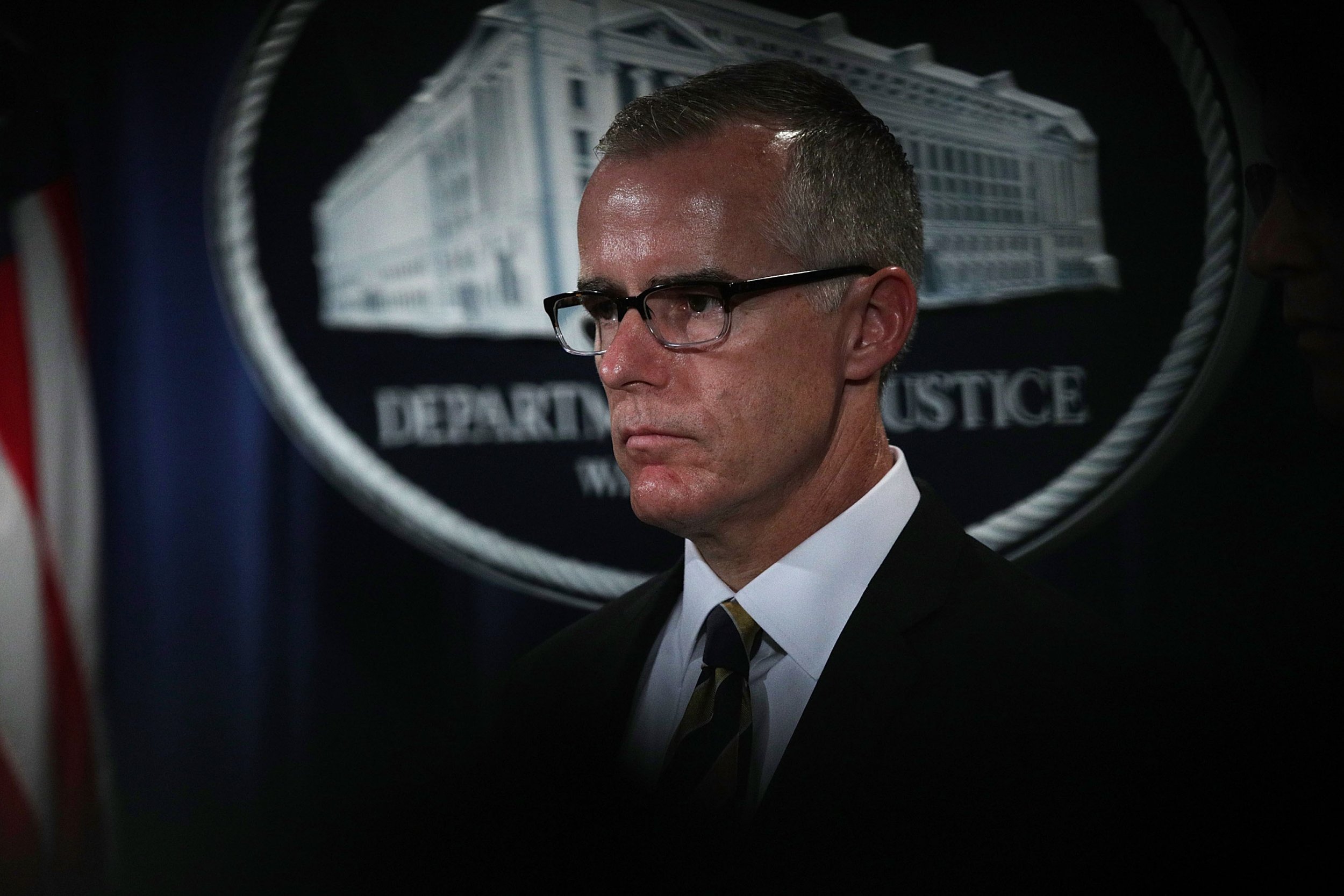 Outgoing FBI Deputy Director Andrew McCabe and other top FBI officials knew about thousands of more emails for the investigation into Hillary Clinton's private server weeks before notifying Congress ahead of the 2016 presidential election, according to a report Wednesday.
A report by The Wall Street Journal cited text messages exchanged by FBI agent Peter Strzok, who headed up the Clinton email probe, and FBI lawyer Lisa Page. Strzok said he met with McCabe to discuss emails discovered on a laptop belonging to Anthony Weiner, the husband of Clinton aide Huma Abedin who was being investigated for sexting with a teenager.
"Got called up to Andy's earlier," Strzok wrote in a September 28, 2016 text to Page, referring to McCabe.
He went then wrote about how the U.S. attorney's office for Southern District of New York (SDNY) had unearthed the new emails: "hundreds of thousands of emails turned over by Weiner's atty to sdny, includes a ton of material from spouse. Sending team up tomorrow to review ... this will never end ...." he wrote.
In other messages sent by Strzok to Page, he told her he and other agents had split up about 3,000 emails to scan for any potential classified material. However, Strzok later wrote that "no new classified" emails were found.
The revelation comes while the bureau deals with attacks and allegations of bias by Republicans and President Donald Trump.
McCabe announced a leave of office this week and will officially retire from the FBI in March. He reportedly felt pressure by new FBI Director Christopher Wray to step down. Wray took issue with an internal report from the bureau's inspector general office about how the FBI handled the Clinton investigation. The report specifically targeted why McCabe did not take action sooner, according to The Washington Post.
The texts sent on September 28 are key to the report since former FBI Director James Comey did not tell Congress about the freshly discovered messages until October 28, 2016, less than two weeks before Election Day.
Comey reopened the investigation but closed it days later after the emails were vetted. In July 2016, he had announced the Clinton probe ended and that he would not be recommending charges against the former first lady and secretary of state.
Comey's revelation has often been cited as a top reason for why Trump defeated Clinton, especially by the former secretary of state herself and many Democrats. On the campaign trail, Trump railed against Clinton and demanded she release the emails.