McCabe Lawyer Slams Trump Over 'Childish' And 'Defamatory' Tweets: We Won't Respond
A lawyer for dismissed FBI Deputy Director Andrew McCabe has blasted tweets by Donald Trump as "childish" and said there would be no response to individual tweets from the president.
McCabe was fired by Attorney General Jeff Sessions on Friday in a move that Sessions claimed was the result of leaked information by McCabe, and which McCabe said was politically motivated.
On Sunday, Michael Bromwich, a lawyer for McCabe, tweeted, "We will not be responding to each childish, defamatory, disgusting & false tweet by the President.
"The whole truth will come out in due course. But the tweets confirm that he has corrupted the entire process that led to Mr. McCabe's termination and has rendered it illegitimate," he added.
Following McCabe's dismissal, which came just days before he would have been eligible to retire with pension rights, Trump tweeted in support of the decision and lashed out at both McCabe, who stepped down as deputy FBI director in January, and former bureau Director James Comey.
"Andrew McCabe FIRED, a great day for the hard working men and women of the FBI - A great day for Democracy," he wrote on Friday.
"Sanctimonious James Comey was his boss and made McCabe look like a choirboy. He knew all about the lies and corruption going on at the highest levels of the FBI!" he added.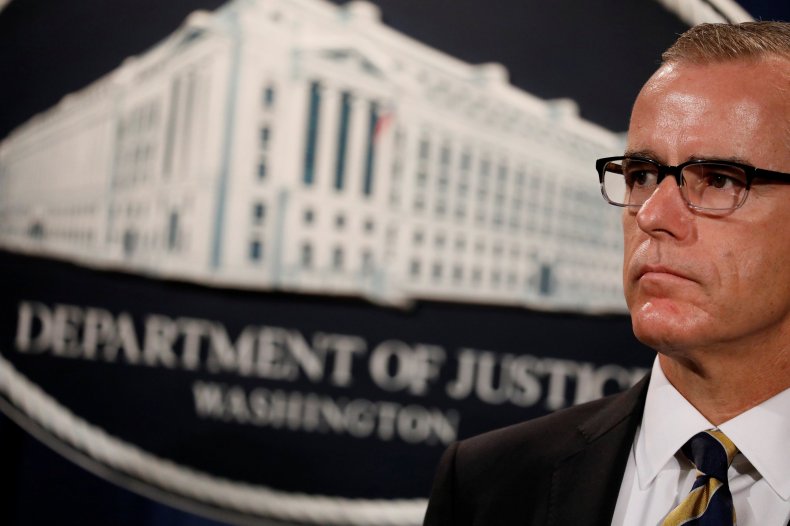 The president has long been critical of McCabe, who was involved in the investigation into Hillary Clinton's emails, as well as the Russia probe. In December, Trump sent a tweet suggesting McCabe was just attempting to last until retirement.
"FBI Deputy Director Andrew McCabe is racing the clock to retire with full benefits. 90 days to go?!!!" Trump wrote.
The investigation that resulted in McCabe's dismissal was described by Sessions as "extensive and fair," the BBC reported. But McCabe insisted he was being singled out.
"Here is the reality: I am being singled out and treated this way because of the role I played, the actions I took, and the events I witnessed in the aftermath of the firing of James Comey," McCabe said in a statement.