Robert Mueller Probe 'at Risk' If Rod Rosenstein 'Rumors' Are True, Andrew McCabe Says
Former FBI Deputy Director Andrew McCabe said Monday that special counsel Robert Mueller's Russia probe could be "at risk" if Deputy Attorney General Rod Rosenstein is leaving his position.
McCabe, who was fired by Attorney General Jeff Sessions in March, was responding to several media reports about Rosenstein either resigning or being fired. Following Sessions's recusal last year from any investigation involving Russia's interference in the 2016 election, Rosenstein has been charged with overseeing Mueller's probe and signing off on any charges.
McCabe denied Monday being the source of any stories about Rosenstein. The deputy attorney general has been accused of suggesting to Justice Department and FBI officials that he could secretly record Donald Trump or speak to Cabinet members about invoking the 25th Amendment to remove the president from power.
"There is nothing more important to the integrity of law enforcement and the rule of law than protecting the investigation of Special Counsel Mueller," McCabe said in a statement released through his spokesperson.
"I sacrificed personally and professionally to help put the investigation on a proper course and subsequently made every effort to protect it. To be clear, I had no role in providing information of any kind to the media stories about events following Director Comey's firing. If the rumors of Deputy AG Rosenstein's departure are true, I am deeply concerned that it puts that investigation at risk," the statement added.
McCabe was fired following allegations of "misconduct" by the Department of Justice's Office of the Inspector General, according to Sessions. But McCabe issued a statement in March saying his dismissal pertained to "this Administration's ongoing war on the FBI and the efforts of the Special Counsel investigation."
Trump has often blasted Mueller's investigation as a "witch hunt" created by Democrats angry over Hillary Clinton's 2016 election loss. The president has repeatedly denied any collusion took place between his campaign and Russia.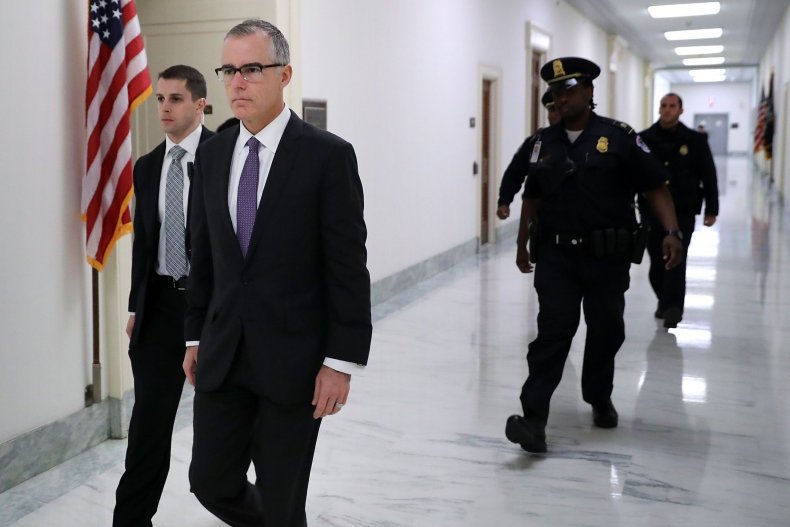 Speculation about how or whether Trump could hinder, obstruct or even end Mueller's probe has often revolved around the possibility of the president firing Sessions and Rosenstein and appointing replacements who could end the investigation.
It remains unclear if Rosenstein has officially resigned or been fired. But Democratic Senator Patrick Leahy of Vermont has already compared Rosenstein's potential ouster to the infamous "Saturday Night Massacre" during President Richard Nixon's administration. In October 1973, Nixon ordered several top Justice Department officials to fire the special prosecutor in an attempt to end the Watergate investigation.
"Saturday Night Massacres don't need to happen on a Saturday. If President Trump fires DAG Rod Rosenstein or forces his resignation, he will come one giant leap closer to directly meddling with the Special Counsel's Russia investigation," Leahy tweeted Monday, as reports about Rosenstein swirled.