McCabe Says 'Gang of Eight' Congressional Chiefs Raised No Objections to FBI Trump Probe
Former Acting FBI Director Andrew McCabe has said that no one in a bipartisan group of senators objected when the FBI informed them that it was planning to launch a counterintelligence probe into President Donald Trump.
Speaking to NBC's Savannah Guthrie Tuesday morning, McCabe said that when the FBI informed the so-called Gang of Eight group of lawmakers that it intended to place the president under investigation following the May 2017 firing of FBI Director James Comey, none expressed opposition.
"The purpose of the briefing was to let our congressional leadership know exactly what we'd been doing. Opening a case of this nature—not something an FBI director, not something an acting FBI director [would] do by yourself, right?" McCabe said when asked if he told Congress about the investigation.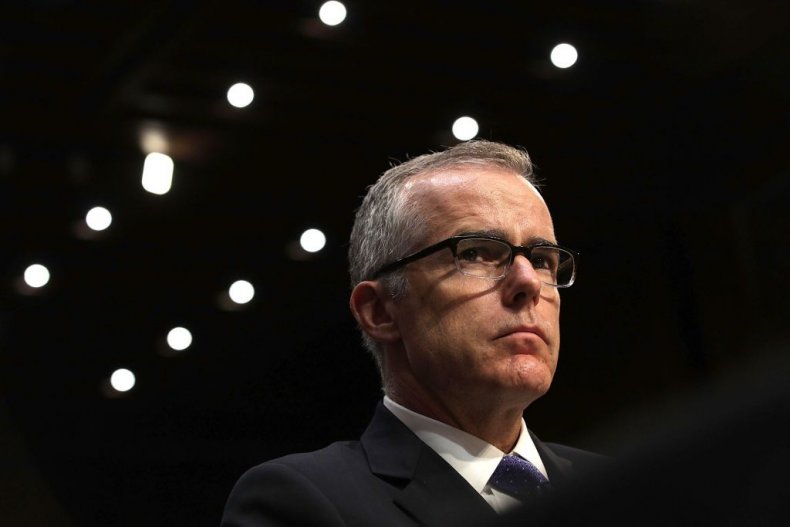 "This was a recommendation that came to me from our team. I reviewed it with our lawyers, I discussed it at length with the deputy attorney general, and I told Congress what we had done," McCabe continued.
"No one objected," McCabe said of the lawmakers' reactions. "Not on legal grounds, not on constitutional grounds, and not based on the facts."
The Gang of Eight is a bipartisan group of congressional leaders of both parties briefed on classified information by law enforcement and intelligence agencies.
At the time of being briefed about the Trump counterintelligence probe, members included Senate Majority Leader Mitch McConnell, Senate Minority Leader Chuck Schumer, then–House Speaker Paul Ryan and then–Minority Leader Nancy Pelosi. It also included the chairmen and ranking minority members of the House and Senate intelligence committees.
It was in January that The New York Times, citing former law enforcement officials and others familiar with the investigation, reported that the president's behavior caused such concern in the FBI following the firing of Comey that an investigation was launched to establish if he was working for Russian interests.
The investigation was passed to special counsel Robert Mueller's team after his appointment in May, and it is not known if it still forms a part of the ongoing probe.
In an interview with CBS's Scott Pelley on 60 Minutes on Sunday, McCabe outlined the reasons Trump had been placed under investigation, saying FBI officials were concerned by the president's "own words."
The president has launched a series of attacks against McCabe on Twitter, accusing him of illegal and treasonous acts, after he revealed that he had discussed invoking the 25th Amendment to remove the president with Deputy Attorney General Rod Rosenstein.
In Tuesday's interview, McCabe said the president's attacks did not concern him.
"I don't think really anybody takes those tweets by the president very seriously," he said. "I certainly don't at this point. He's been attacking me and my family and lying about us for two years now so it's just really more of the same."