Cory Booker Confronts Meghan McCain, Says Guns Have Killed More Americans 'In My Lifetime Than in Every Single War Combined'
Democratic presidential candidate Cory Booker's appearance on The View Wednesday morning quickly devolved into a gun control debate with host Meghan McCain after the Republican co-host pressed the New Jersey senator on his support for mandatory gun buybacks.
Defending his calls for stricter gun control policy, Booker told McCain, "We've had more people die in America in my lifetime than in every single war combined."
After calling mandatory gun buybacks "a left-wing fever dream," McCain asked Booker how he planned "to go into red states, and go to my brother's house and get his AR-15s," She added, "He's not giving it back."
McCain's remarks referenced another Democratic candidate, Beto O'Rourke, who has taken a hard line stance on gun control measures since two mass shootings rocked his home state in August. O'Rourke created a great deal of buzz when he announced, "Hell yes, we are going to take your AR-15s, your AK-47" during the third Democratic primary debate. The host called O'Rourke "crazy" and said, "He was very nasty to me."
Differentiating himself from his opponent, Booker told McCain, "I'm not where Beto is," but he also chided the host, "Just because somebody does something to us, doesn't mean we show the same back to them."
McCain responded, "I'm not running for president, with all due respect."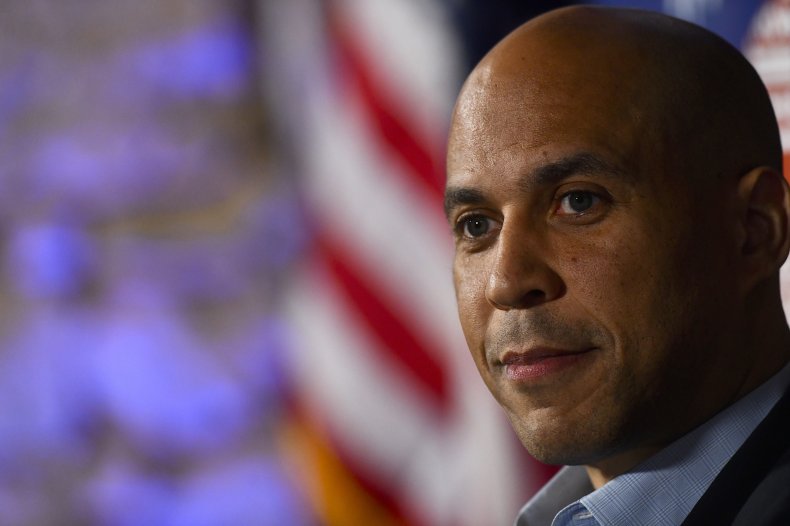 Getting into his own plan for stricter gun control, Booker told the host, "Machine guns—we don't have them on the streets anymore, because in the 1980s, we banned them. We had a practical way to do that." He also noted, "From Australia to New Zealand, they banned them, and they got them off the street." Booker also asked, "Why are we playing into fearmongers that want to make this vision that there's going to be people showing up at your house and taking your guns away?"
Booker also spoke about the shooting death of New Jersey teenager Shahad Smith as one of the reasons he adamantly fights for gun control. He told the morning show, "Shahad Smith was killed on my block by an assault rifle last year. The police officer described it to me that he wasn't shot, his head exploded."
After remarking on the death toll of gun violence, he said, "All Americans agree on gun licensing, 70 to 80 percent do, agree on background checks. We're a bigger country than this."
Booker also discussed the increase in safety drills in schools and said, "The strongest nation on the planet Earth has told our children, 'I can't protect you so I'm going to teach you how to hide.'" Booker said that children's safety is one of his primary concerns, and he feels there is bipartisan support for gun control. He told the hosts, "I'm not letting ourselves be divided by false arguments."
McCain managed a final retort before the show cut to commercial. "There's a big difference between saying you're for background checks and you're for mandatory gun buybacks and again, it sounds one way in this room. I'm telling you how it sounds in Arizona," the co-host said.