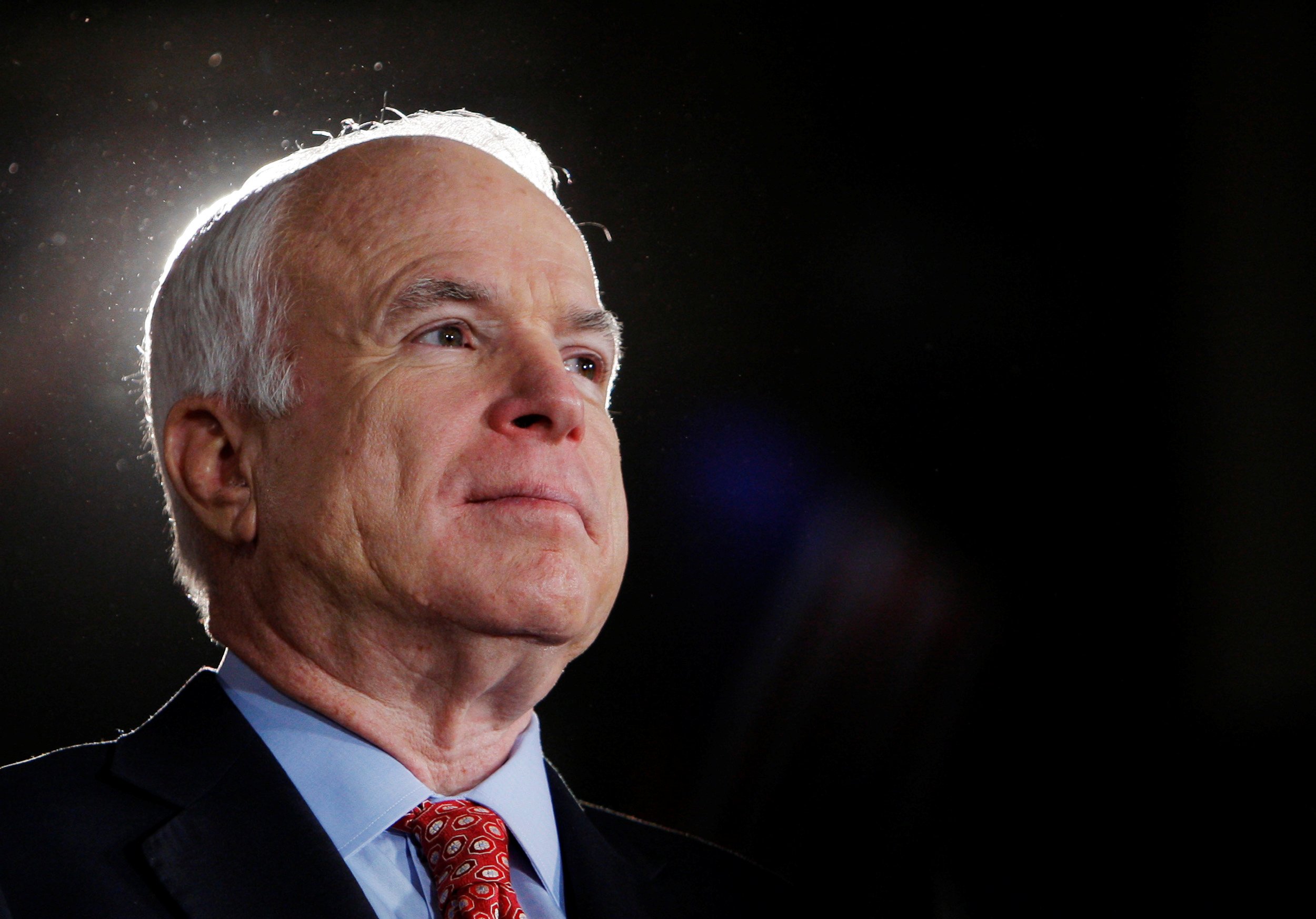 Most Americans met Wednesday night's news that Arizona Senator John McCain was facing a dire diagnosis of brain cancer with shows of respect for the elder statesman and former prisoner of war. But to some on the extreme right, the longtime Republican is a traitor worthy of scorn, presumably because of his willingness to work with Democrats, as well as his criticism of President Donald Trump.
The attack on McCain--a war hero who spent more than five years in a North Vietnamese prison—is faintly reminiscent of the early days of Trump's presidential campaign. During a family values summit in Iowa in the summer of 2015, just a month after he'd announced his seemingly quixotic bid for the White House, Trump lashed out at McCain: "He's not a war hero. He was a war hero because he was captured. I like people who weren't captured."
At the time, Trump was angry because McCain had complained that Trump "fired up the crazies" during an anti-immigration rally in Phoenix.
Trump has in no way endorsed or encouraged the alt-right's attacks on McCain, which have thus far been limited to the fringes of digital discourse. Trump sent a statement of support for McCain on Wednesday. "Senator John McCain has always been a fighter. Melania and I send our thoughts and prayers to Senator McCain, Cindy, and their entire family. Get well soon," that statement said.
The attacks came regardless.
"The last president for McCain will be Trump. There's some godly justice right there," wrote one user on the "Politically Incorrect" message board of social media network 4chan, a hothouse of right-wing memes.
"I'm pretty sure that God is punishing him," wrote another 4chan user. "God made it pretty clear that he supports New Right now."
"John McCain = a war mongering, never Trumper whom I dislike," wrote a user on Gab, another social media network popular with the alt-right.
The attacks, for the most part, focused on McCain's willingness to work with Democrats during his three decades in the Senate. Those attacks, some of which are too tasteless to mention here, speak to the utter debasement of civic discourse, particularly on the internet.
On Twitter, some called McCain a cuck.
Cuck is short for cuckservative, a portmanteau that combines cuckold and conservative. As the Southern Poverty Law Center explained, the imprecation "aims to depict conservatives who don't kowtow to ultra-right political views as inept traitors to the conservative base that elected them."
"Any death of a genuine eternal cuck should be celebrated. John McCain's passing, assuming he passes, will do our race a lot of good and that's what matters," wrote a user on Reddit.
The vitriol against McCain seems especially striking given his record of military service, as well as his leadership of the Republican Party. The attackers, it would seem, have more fealty to alt-right mascot Pepe the Frog than to the GOP's iconic elephant.
Mike Cernovich, among the most vociferous members of the alt-right, implicitly defended such attacks on McCain with a tweet:
"He's a traitor and a psychopath," one responder said. "His interests are of the globalists. They all need to die, faster the better. Then we straighten things out."