McCain Goes After Trump's 'Half-Baked, Spurious Nationalism' at Liberty Medal Ceremony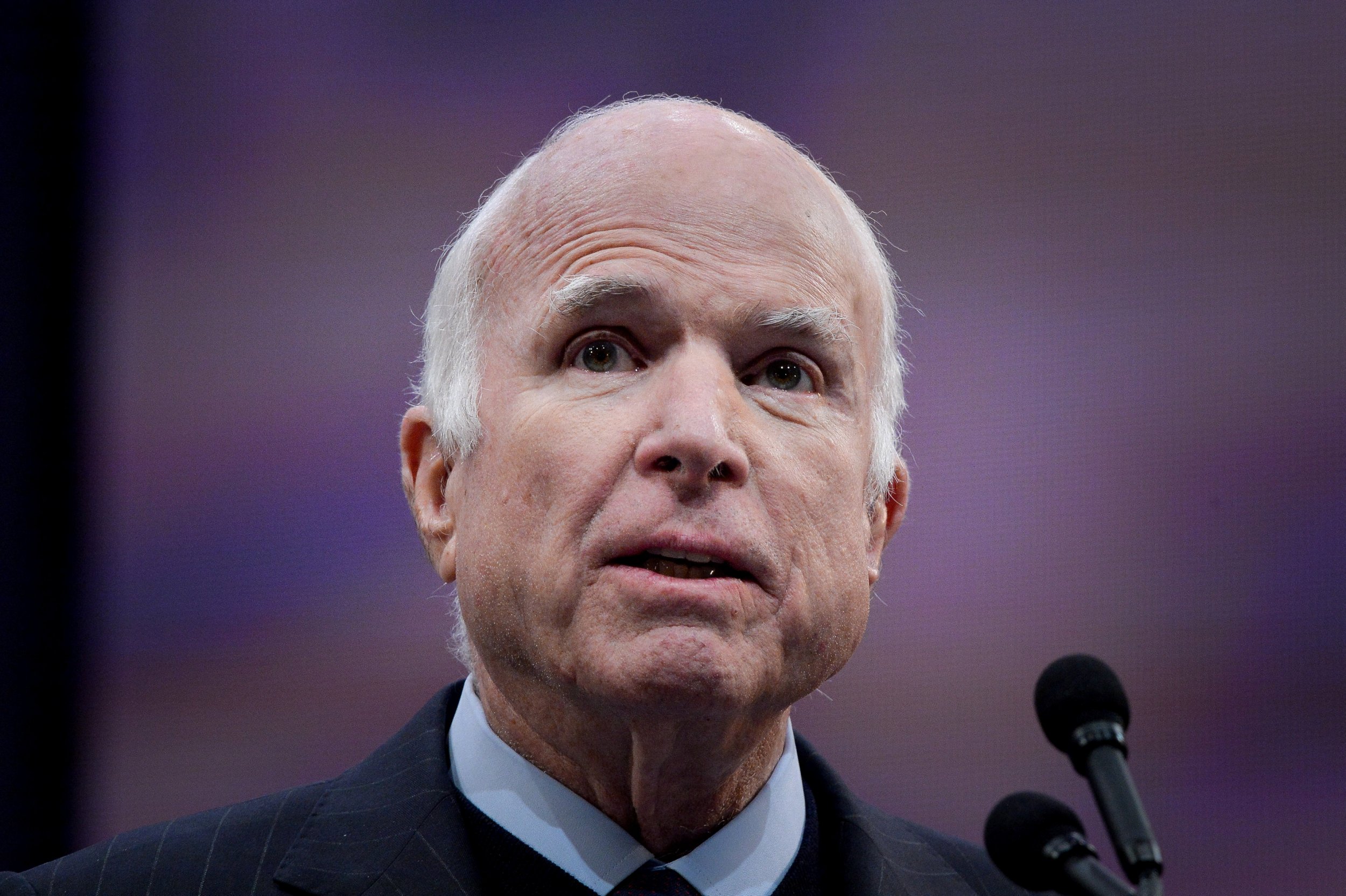 Republican Senator John McCain condemned rising nationalism and isolationism in the U.S. that has gone hand in hand with Donald Trump's presidency during an awards ceremony Monday.
"We live in a land made of ideals, not blood and soil," McCain said, after he was introduced by former Vice President Joe Biden while being honored with the Liberty Medal at the National Constitution Center in Philadelphia.
McCain's use of the phrase "blood and soil" echoed a neo-Nazi slogan shouted during a white supremacist rally in Charlottesville in August.
McCain and other Republicans were critical of Trump for equivocating in his condemnation of the Charlottesville rally, which left one counter protester dead and 19 injured after they were rammed by a car police said was driven by a white supremacist.
Trump condemned the groups, but said there was "blame on both sides" for the violence in a response that was praised by white supremacists.
Without mentioning the president by name during his speech, McCain—who has served in Congress since 1982—laid into Trump's presidency and his politics. He targeted Trump's leadership on the world stage and his "America First" slogan.
Read more: Trump performs mocking impersonations of John McCain and Mitch McConnell in private
"To fear the world we have organized and led for three-quarters of a century, to abandon the ideals we have advanced around the globe, to refuse the obligations of international leadership and our duty to remain 'the last best hope of earth' for the sake of some half-baked, spurious nationalism cooked up by people who would rather find scapegoats than solve problems," McCain said, "is as unpatriotic as an attachment to any other tired dogma of the past that Americans consigned to the ash heap of history."
During his election campaign and presidency, Trump has targeted immigrants and Muslims, blaming them for stealing jobs and making America unsafe. In September he moved to dismantle a program that allows illegal immigrants who were brought to the U.S. as children to work legally. He has also banned people from six Muslim-majority nations from entering America, and vowed to cut legal immigration as well.
Trump questioned the 70-year-old North Atlantic Treaty Organization, calling it "obsolete"—worrying America's allies—before changing his mind and committing to the alliance. He has pulled the U.S. out of the Paris Climate accord, a global initiative to fight climate change spearheaded by the U.S., in opposition to America's allies. And last week the president moved to scrap the Iran nuclear accord, an agreement U.S. allies say is key to keeping the world safe.
Under Trump, the State Department lead by Secretary of State Rex Tillerson has also reversed its emphasis promoting human rights and democracy around the world. During a speech in May Tillerson called advancing American values an "obstacle" to getting what the country needs.
"We will not thrive in a world where our leadership and ideals are absent," McCain warned as he accepted the award, which is given out to recognize leadership in the pursuit of freedom.
In July, McCain was diagnosed with an aggressive form of brain cancer. Before becoming a Congressman, he served as a pilot during the Vietnam War, becoming a prisoner of war after being shot down over Hanoi in 1967. He currently chairs the Senate's Armed Services Committee.
"We are living in the land of the free, the land where anything is possible, the land of the immigrant's dream," McCain insisted during his speech. "We have a moral obligation to continue in our just cause, and we would bring more than shame on ourselves if we don't."