John McCain Pulls Support, Won't Vote For Trump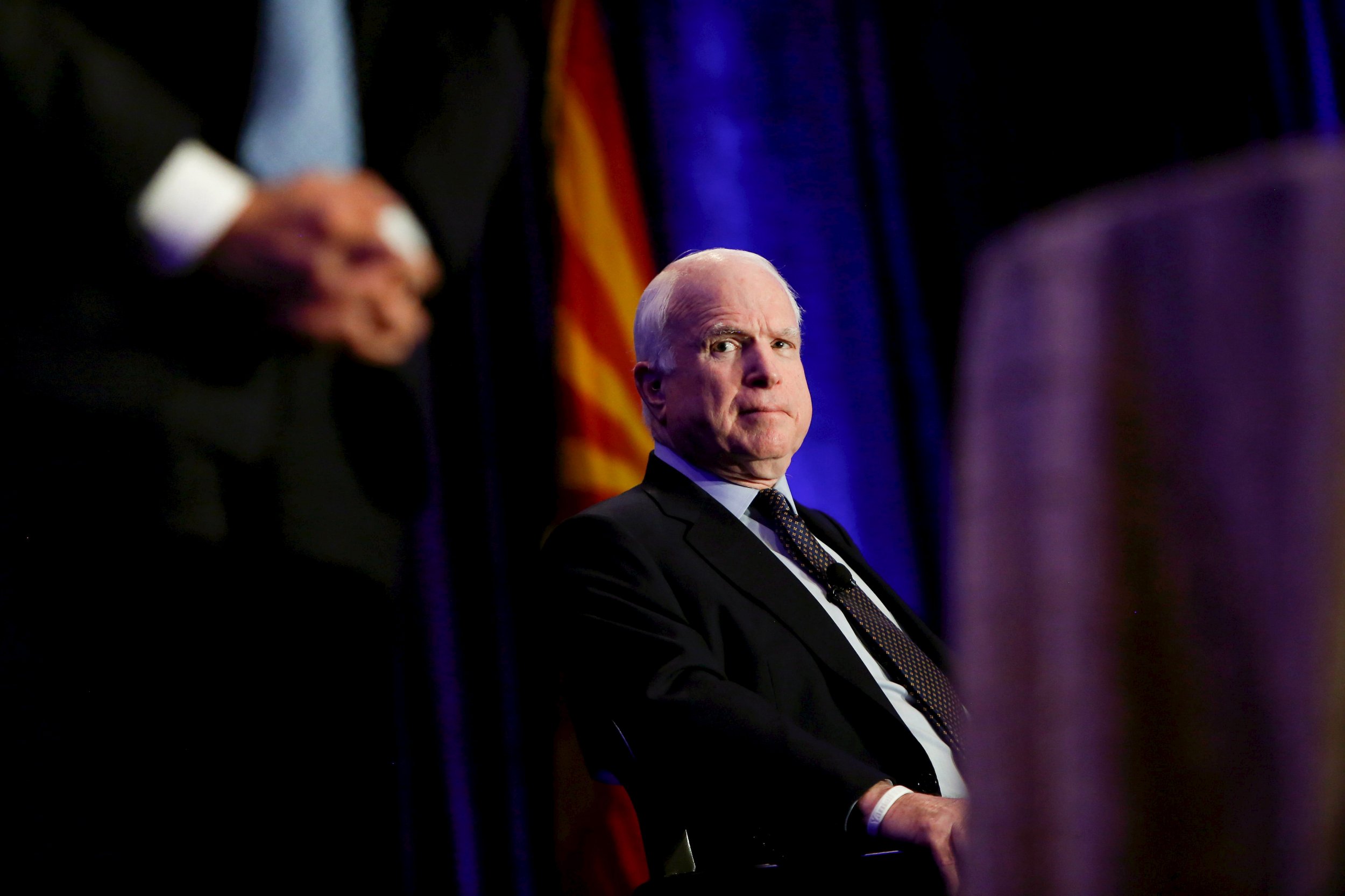 Arizona Senator John McCain has withdrawn his support for Donald Trump and will write in a "good conservative Republican" at the polls next month.
McCain, a former presidential candidate, is perhaps the highest profile elected official to flee Trump, who has said he will not withdraw from the race for president despite increasing calls to do so from across the political spectrum after audio tapes emerged Friday showing Trump making demeaning comments about women.
"I have wanted to support the candidate our party nominated. He was not my choice, but as a past nominee, I thought it important I respect the fact that Donald Trump won a majority of the delegates by the rules our party set. I thought I owed his supporters that deference," McCain told Politico.
"But Donald Trump's behavior this week, concluding with the disclosure of his demeaning comments about women and his boasts about sexual assaults, make it impossible to continue to offer even conditional support for his candidacy. (Wife) Cindy, with her strong background in human rights and respect for women, fully agrees with me in this."
The 2005 audio tapes capture a conversation between the GOP nominee and "Access Hollywood" host Billy Bush in which Trump brags about his ability to "do anything" to women and appears to condone sexual assault.
"You know, I'm automatically attracted to beautiful—I just start kissing them. It's like a magnet. Just kiss. I don't even wait. And when you're a star, they let you do it. You can do anything," Trump says. "Grab 'em by the pussy. You can do anything."
Trump issued a videotaped apology Saturday in which he admits to having "said and done things I regret...I said it, I was wrong, and I apologize." His words couldn't stem the flood of denunciations from politicians from both sides of the aisle, as well as from his own wife and running mate.
Melania Trump called her husband's words "unacceptable and offensive," while vice presidential candidate Mike Pence said, "As a husband and father, I was offended by the words and actions described by Donald Trump."
A former pageant owner told Newsweek Saturday that Trump harassed and groped her in the 1990s, in much the same manner as he would later describe on the audio tape. Jill Harth, whose allegations are denied by the Trump campaign, says Trump relentlessly harassed her and groped her "intimate private parts" during a meeting at a restaurant.
McCain has been highly critical of Trump at various points in the campaign but, like most Republicans, had continued to offer his support despite the candidate's repeated scandals and offensive remarks. The longtime senator is locked in a tough re-election battle with Democrat Ann Kirkpatrick, who said Saturday that McCain's action on Trump is "nothing more than political calculation.
"It's been more than 24 hours since Trump's comments were released. If it takes a full day for McCain to decide something is inappropriate, then he clearly doesn't have the leadership Arizonans need. He has abandoned his principles and changed his positions whenever he thought it would help prolong his 33-year career in Washington. For more than a year, McCain stood by Donald Trump, pledging his support more than 60 times...He missed the chance to show political courage and lead."
The list of Republicans announcing they would not vote for Trump or calling on him to step aside grew on Saturday: Senators Kelly Ayotte, Mark Kirk, Jeff Flake, John Thune, Mike Crapo, Shelley Moore Capito and Mike Lee; House members Jason Chaffetz, Mia Love, Joe Heck, Bradley Byrne, Martha Roby and Barbara Comstock; and Governors John Kasich, Dennis Daugaard and Gary Herbert. Additionally, former presidential candidates Mitt Romney and Carly Fiorina also called on Trump to quit.
Chaffetz of Utah, one of Hillary Clinton's fiercest critics, retracted his endorsement of Trump, telling CNN he would not be able to look his 15-year-old daughter in the eye if he voted for him.
The Democratic National Committee in a statement Saturday mocked Republicans who are rescinding endorsements, saying they enabled his rise to prominence.
"The latest revelations of Donald Trump's disgusting and demeaning treatment of women is finally encouraging establishment Republicans to abandon their support for him. But what about everything else he's said? Those same Republicans supported him when they knew he called women "fat pigs" and "slobs," and attacked a former Miss Universe over her weight. They supported him when they knew he started his campaign by attacking immigrants. They supported him when they knew he wanted to ban members of an entire religion from entering the country. There's one Donald Trump, and the rank and file Republicans running away from him now helped make him the standard-bearer of their party."
Reuters contributed to this article.