McCain's Death Creates a Foreign Policy Void
With the passing of John McCain, the Republican Party has lost its most powerful bulwark against President Donald Trump's constant attacks on America's European allies, foreign policy and political experts worry.
"Senator McCain is irreplaceable," retired Admiral James Stavridis, a former supreme commander of the North Atlantic Treaty Organization (NATO), said of the late former Navy pilot and Arizonan who chaired the Senate Armed Services Committee.
"Other voices" may rise in the Senate to fill the Republican foreign policy void, Stavridis said, singling out McCain's close friend and fellow Russia hawk Lindsey Graham and a few others.
But "McCain is irreplaceable," agreed former State Department Ambassador-at-large Daniel Benjamin, "because of his stature and outsize personality."
"It's undoubtedly a loss, given his willingness to travel widely...and to actively engage on international issues to a degree that few senators do," said Brian McKeon, a former chief counsel for Senate Foreign Relations Committee Democrats, now senior director of the Penn Biden Center for Diplomacy & Global Engagement.
McKeon noted that McCain is "not the only prominent Republican voice on these issues," mentioning Senator Bob Corker, chairman of the Senate Foreign Relations Committee, who "is a pretty strong advocate of the Alliance and protecting against Russian attempts to subvert the Euro-Atlantic institutions." But the Tennessean is retiring in January.
On the Democratic side, there are several senior internationalists—Benjamin singled out Jack Reed of Rhode Island, a West Point graduate and onetime paratrooper with a degree from Harvard Law School. And there are others of greater prominence, like Mark Warner of Virginia, who's logged plenty of TV time over the past two years as vice chair of the intelligence committee. But as long as the Republicans maintain control of the Senate, their influence will be limited.
Senator James Inhofe of Oklahoma, 81, a fervent Trump supporter and notorious climate-change science denier, is in line to succeed McCain atop the armed services committee. Before Trump's Helsinki summit with Russian President Vladimir Putin, he said, "If this were any other president I would be concerned...He is reestablishing America as the leader of the free world."
McCain called the summit "a tragic mistake." Few other Republicans have spoken out with such force and effect.
"I expect Lindsey Graham will seek to replace McCain as the standard-bearer of Republican internationalism," said Benjamin, who now heads the John Sloan Dickey Center for International Understanding at Dartmouth College. But Graham's stature among centrist Republicans (not to mention Democrats) has steeply eroded over his unwillingness to confront Trump on a wide range of issues, leaving the stage empty of a powerful Republican defender of NATO, longtime observers say.
Veteran Washington Post political columnist E.J. Dionne likewise dismissed Graham as a ready replacement for McCain. And no other Republican seems ready to saddle up.
"Almost anyone you might think of has thrown in with Trump, notably Lindsey Graham," said Dionne, also a fellow at the Brookings Institution. Thus "the most likely" candidate to succeed McCain is Marco Rubio, "who has spoken up a fair amount" against Trump. The Florida Republican, another NATO booster, however, has struggled to recover from the "Little Marco" label Trump slapped on him during the 2016 campaign.
Should Rubio or any other congressional Republican decide to take a star turn in confronting Trump, they will find plenty of support in both parties—and the public at large.
"McCain was an extraordinary fighter for NATO and against Russian malfeasance," Rose Gottemoeller, deputy secretary general of the alliance, told Newsweek. But she also noted that "both sides of the aisle" in the Senate and House voiced their "unequivocal support for NATO" in the National Defense Authorization Act. "So in that respect, I can't say McCain was unique," she said. Indeed, in July the Senate took a swipe at Trump by passing a resolutionin support of NATO by 97 to 2. In the wind tunnel of American politics, however, not many people noticed—or cared. Trump's daily Twitter tirades, and developments in Special Counsel Robert Mueller's investigations, drowned it out.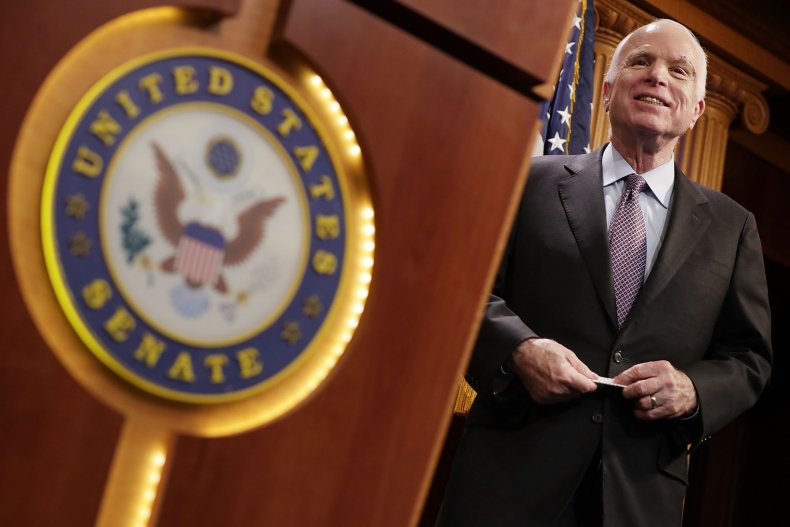 McCain's personal disgust reached an apex the same month, when he called Trump's joint news conference with Putin "one of the most disgraceful performances by an American president in memory...No prior president has ever abased himself more abjectly before a tyrant."
But the Arizonian had longer-term worries about the future beyond Trump: The president and his ideological allies, from his erstwhile White House aide Steve Bannon to his politically appointed ambassadors, were openly encouraging the rise of far-right, pro-Russia, "blood and soil" parties and politicians in Europe.
McCain was alarmed. He had long embraced NATO precisely because it had kept a lid on such nationalist instincts for nearly 75 years—a record in the continent's bloody history—and had kept Europe from pulling the world into another inferno. Trump's leadership threatened to undo all that. Another world war was no longer unimaginable.
NATO's founders, McCain said at the February 2017 Munich Security Conference, would be "alarmed by the growing inability, and even unwillingness, to separate truth from lies." But "what would alarm them most," he added, "is a sense that many of our peoples, including in my own country, are giving up on the West."
The irony here, like so many in the era of Trump's u-turns on long running American foreign policies, is that there is wide support for the Atlantic alliance, at least as of last year. According to a 2017 survey by the Chicago Council on Global Affairs, 69 percent—including 54 percent of core Trump supporters—said NATO was "essential" to U.S. security, a Washington Post editorial pointed out.
Without another Republican of McCain's stature to speak up for them, however, the future may be up for grabs. Benjamin, for one, is not optimistic.
"At a time when much of the Republican base—evangelicals above all—have increasingly positive feelings about Russia...as the guardian of traditional Christian values," he said, "the absence of McCain's pro-Western sentiment and deep antipathy to Russia will be powerfully clear."
Jeff Stein writes SpyTalk for Newsweek from Washington. Contact him securely via spytalk@hushmail.com.