McCarthy Accuses Pelosi of 'Being a Hypocrite' for Endorsing Joe Biden After Tara Reade Sexual Assault Allegation
House Minority Leader Kevin McCarthy (R-Calif.) called House Speaker Nancy Pelosi (D-Calif.) "a hypocrite" for stating that she's satisfied with presumptive Democratic presidential nominee Joe Biden's response to sexual assault allegations made by Tara Reade, Biden's former aide when he served as Delaware's senator during the 1990s.
McCarthy argues that Pelosi is applying a different standard to Biden than she did when Supreme Court Justice Brett Kavanaugh was accused of sexual assault during his September 2018 confirmation hearing.
"She is being a hypocrite," McCarthy said on a Thursday call with reporters. "Has she talked to Tara Reade? Has she ever looked into it? Joe Biden has not responded to this."
"You can't say one thing about every other time she has commented about any accusation and now say it is OK. She endorsed Joe Biden after knowing the Tara Reade situation," McCarthy continued.
His criticisms followed comments made by Pelosi during a Thursday interview with CNN's New Day.
"I have great sympathy for any women who bring forth an allegation," Pelosi said. "I'm a big strong supporter of the #MeToo movement. I think it's been a great contribution to our country, and I do support Joe Biden. I'm satisfied with how he has responded. I know him. I was proud to endorse him on Monday."
In early April, Reade accused Biden of pushing her against a wall and penetrating her with his fingers in 1993. Reade filed a criminal complaint with the Washington Metropolitan Police Department in regards to the matter.
Although Biden has never publicly addressed Reade's allegations, his campaign has denied them.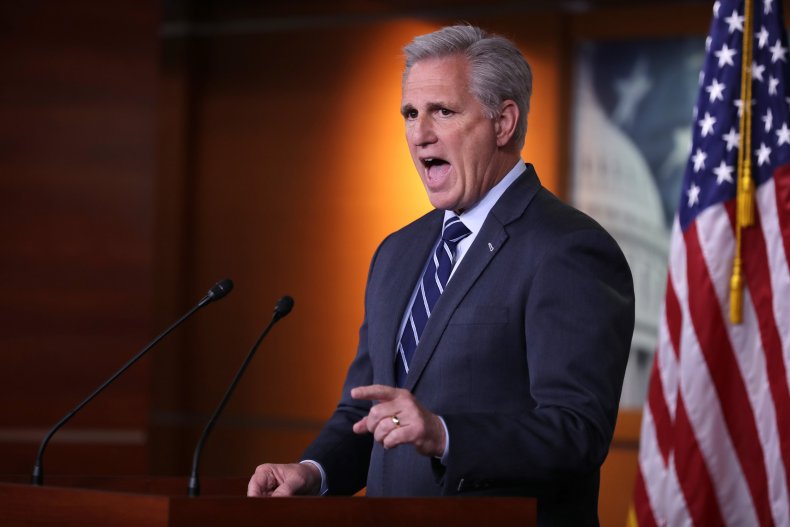 In September 2018, shortly after Kavanaugh's Senate hearings, Pelosi praised his accuser.
"I applaud the courage of Dr. Christine Blasey Ford to come forward to share her story," Pelosi said in a statement. "There must be an acknowledgment of the life-long impact of this episode, the cost to the family of coming forward and the gravity of a lifetime Supreme Court nomination."
"Failure to postpone [Kavanaugh's confirmation] vote without due process and a thorough investigation into these serious and credible allegations would be a dereliction of Congress' duty to demand zero tolerance of sexual harassment and abuse."
After Kavanaugh was confirmed by Senate to the Supreme Court in September 2018, Pelosi said, "Today is a profoundly heart-breaking day for women, girls and families across America."
"Courageous women risked their safety and well-being to speak truth about this nomination," Pelosi wrote. "Tens of thousands more joined them to share their own harrowing stories of sexual assault, at great personal risk. Yet, Senate Republicans chose to send a clear message to all women: do not speak out, and if you do – do not expect to be heard, believed or respected."
At a Thursday press conference, Pelosi was asked by Washington Examiner reporter Kerry Picket how "Democrats square with the idea that they're essentially standing by Biden but used a comparatively different standard with Justice Kavanaugh when you demanded an investigation against Kavanaugh when a similar allegation came out against him."
Pelosi answered, "I respect your question, and I don't need a lecture or a speech. I have a complete respect for the whole #MeToo movement.
She added. "I have four daughters and one son. And there's a lot of excitement around the idea that women will be heard and be able to be listened to."
Both New York Democratic Representative Alexandria Ocasio-Cortez and the Washington Post editorial board have said that the Democratic party should more thoroughly investigate and discuss Reade's accusations against Biden.
Biden is expected to appear on Friday morning's episode of Morning Joe on MSNBC to address the allegations.