McCarthy Hired Trump Official Who Asked Mo Brooks to Speak at Rally Preceding Capitol Riot
House Minority Leader Kevin McCarthy (R-Calif.) hired Brian Jack, a top adviser to former President Donald Trump, months after Jack helped organize the "stop the steal" rally that immediately preceded the January 6 riot at the Capitol.
Jack, who was hired by McCarthy in March, was "directly involved in helping set up the rally that preceded the attack on the Capitol," according to Tuesday report from Charlie Sykes, editor of the conservative anti-Trump website The Bulwark. Rep. Mo Brooks (R-Ala.), a stalwart Trump supporter who spoke at the rally, identified Jack as the person who asked him to speak at the rally.
A person familiar with the situation told Newsweek that Jack did not plan or organize the rally, noting that he acted as Trump's congressional liaison during his time in the White House and had been asked by the event's organizers to pass along the invitation to Brooks. The person also made it clear that McCarthy was proud to hire Jack.
"Per my cell phone records, on Tuesday morning, January 5, I had a telephone call with Brian Jack, White House Political Director," Brooks wrote in a statement on January 12. "He asked me to speak at the Trump rally the next day, Wednesday morning."
"I had never attended a Trump rally in my life but had seen many on TV, and thought it an honor for the White House to invite me to address Trump volunteers and supporters, so I readily agreed," he added.
McCarthy's views on Trump's role in the January 6 riot, particularly regarding Trump criticism from Rep. Liz Cheney (R-Wyo.), appear to have shifted considerably over time. Although McCarthy initially defended Cheney, he has recently called for her to be replaced as the third-most powerful House Republican, with a vote to oust her expected on Wednesday.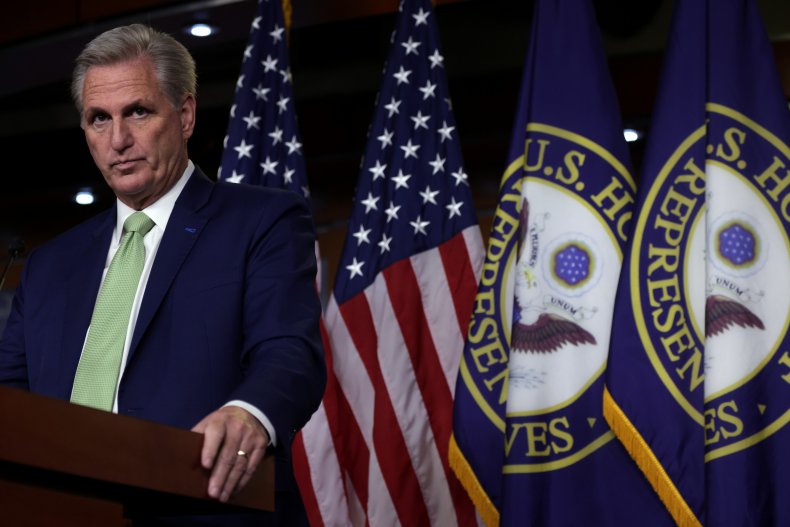 On January 13, McCarthy voted against impeaching Trump for inciting the riot but said the former president "bears responsibility" for the "attack on Congress by mob rioters." A little over a week later, just after President Joe Biden took office, McCarthy reversed course and told reporters that he did not believe Trump "provoked" the attack.
Cheney's position on Trump's role in the attack has not changed. She was one of only 10 House Republicans who voted in favor of impeaching Trump, sparking a previous effort to remove her as the chair of the House Republican Conference. McCarthy defended Cheney initially and opposed the February 4 vote to remove her, which she easily survived.
However, divisions between McCarthy and Cheney became apparent within weeks. During a press conference on February 24, McCarthy told reporters that he believed Trump should speak at the upcoming Conservative Political Action Conference, while Cheney said that she believed the former president should not "be playing a role in the future of the party or the country."
Cheney continued to criticize Trump, while McCarthy appealed to Trump and his loyalists. By last week, when McCarthy was recorded saying he had "lost confidence" in Cheney during a Fox News taping, it was clear that the minority leader would no longer support Cheney in a leadership role. On Sunday, he endorsed Trump loyalist Rep. Elise Stefanik (R-N.Y.) to replace her.
McCarthy has also clashed with Cheney over her support for a 9/11-style commission to exclusively investigate the Capitol riot, something he opposes. Such an investigation could potentially target Jack for his activities in helping to organize the pre-riot rally. It could also target McCarthy himself, who supported Trump's false claims that the 2020 election was "stolen" from him and spoke to the former president over the phone during the riot.
Update 5/11, 9:42 p.m.: This article has been updated to include a statement from a person familiar with McCarthy's hiring of Brian Jack. The headline has been changed to indicate that Jack "asked Mo Brooks to speak" at the January 6 rally, rather than helping to organize the event.