McCarthy Joins Pelosi in Advising Members of Congress to Avoid Travel to Afghanistan
House Minority Leader Kevin McCarthy is joining House Speaker Nancy Pelosi in advising members of Congress to avoid traveling to Afghanistan amid the evacuation efforts there.
At a Wednesday press conference, McCarthy echoed his Democratic counterpart, saying that "it's not the best idea to go there" after two congressmen made an unexpected trip to the capital city of Kabul a day earlier.
"I think [going to Afghanistan] creates a greater risk. You've got enough Americans over there," the Republican said. "They'd be held hostage, they'd make a point out of a member of Congress. I think you'd take the military away from doing their job of getting as many Americans out [as] we can."
He went on, "I don't think it's smart for others to go. You put not yourself in harm's way, but you're putting Americans in harm's way if the military has to protect you, which they will do and they should not."
On Tuesday, Republican Representative Peter Meijer and Democrat Representative Seth Moulton took an unauthorized and undisclosed charter aircraft to Kabul's airport, which has been a chaotic scene as Afghans try to flee the country.
McCarthy said Meijer never talked to him about the trip, nor did he ask for approval or an opinion from the GOP's House leader.
Meijer and Moulton, who are both military veterans with experience in the region, have been scrutinized by Biden administration officials, who argued the trip would take away resources from those desperately trying to evacuate the country.
Pelosi issued her statement on Tuesday, warning other members of Congress to refrain from making similar travel plans.
"Member travel to Afghanistan and the surrounding countries would unnecessarily divert needed resources from the priority mission of safely and expeditiously evacuating Americans and Afghans at risk from Afghanistan," Pelosi wrote in a letter.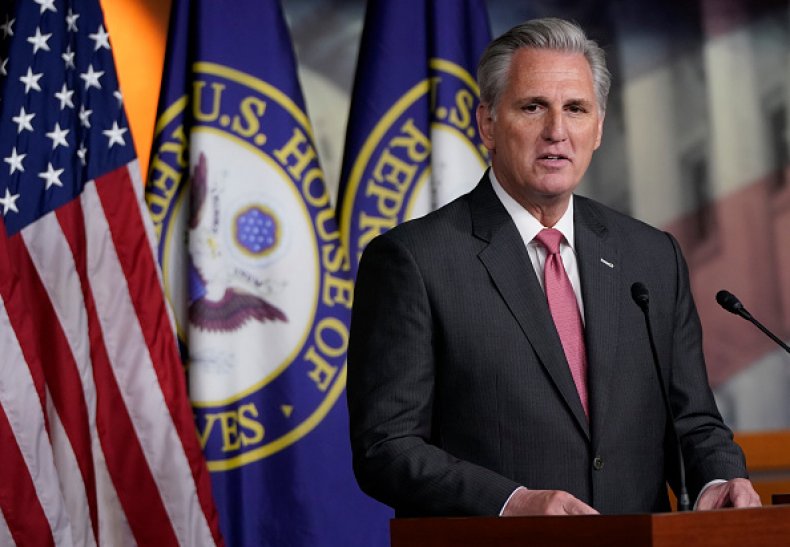 McCarthy said he would press other lawmakers to not do what Meijer or Moulton did, but he added that he understands why the two went to Kabul.
"I understand their frustration of why they would want to go—by the lack of answers they were getting, the time they served their nation, the individuals they knew over there, the calls—all members are getting calls of people stuck there. They're frustrated trying to work with the State Department, can't get answers," the McCarthy said.
"They realize it's life and death," he added. "So yes, they made a decision to try to do something on their own."
Although he sent a message much like Pelosi's—urging House members not to go—McCarthy also criticized the House speaker for her statement, saying it was "the most time she spent on Afghanistan all week."
Newsweek reached out to Pelosi's office for comment but did not hear back by publication time.
McCarthy also said he doesn't think other elected officials will have an opportunity to go to Kabul "since everything's being pulled out."