McCarthy to Be 'Respectful' at State of the Union Amid Pelosi Payback Calls
Speaker of the House Kevin McCarthy says that he will be "respectful" during President Joe Biden's upcoming State of the Union address, despite Republican calls for payback over former Democratic Speaker Nancy Pelosi's protest in 2020.
McCarthy will be seated behind Biden and next to Vice President Kamala Harris on Tuesday night as the president delivers his second State of the Union, marking the first time a Republican has served as speaker during the address since 2018.
Pelosi, who continues to represent California's 11th Congressional District after McCarthy replaced her House role last month, famously tore apart a copy of former President Donald Trump's State of the Union speech while standing above the podium in 2020.
Some conservatives have suggested that the current House speaker should return the favor by tearing up Biden's speech on Tuesday or performing a different stunt that would show disrespect to the current president.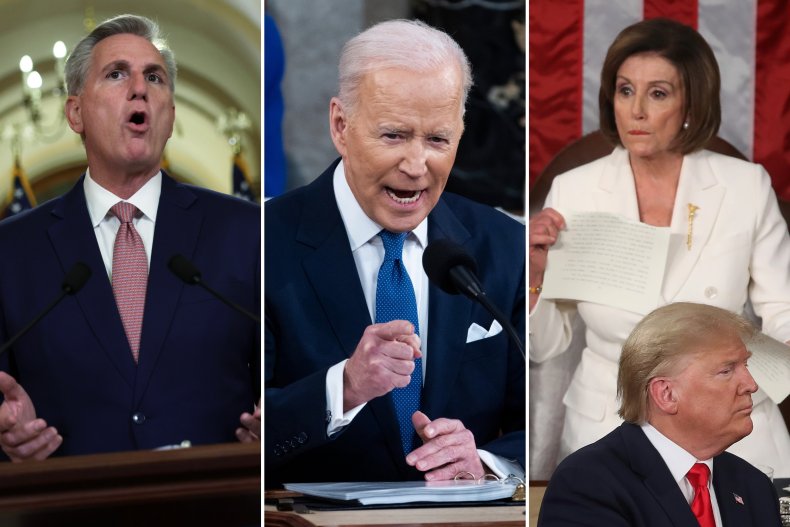 McCarthy rejected the suggestions on Monday, telling reporters that he intended to be "respectful" at the address, while taking shots at Pelosi by saying he would not "tear up the speech" or "play games," according to a tweet from CNN political reporter Alayna Treene.
A spokesperson for Pelosi declined Newsweek's request for comment.
Earlier in the day, Trump supporters on Twitter encouraged McCarthy to lash out at Biden as he addresses the nation.
"Congresswoman Mary Miller is boycotting Biden's State of the Union. I love that," conservative author and anti-Muslim activist Brigitte Gabriel tweeted. "But I would REALLY love to see Kevin McCarthy rip up Joe Biden's speech afterwards."
"Kevin McCarthy should tear Joe Biden's speech in half," tweeted conservative podcaster Graham Allen.
"@SpeakerMcCarthy If I watch the Biden SOTU then I better hear some Boos!" user @Clark67433879 tweeted. "Will you tear up his speech if we ask?"
"Who else thinks Republicans should walk out of the State of the Union Address after Biden tells his first lie?" tweeted @The_Trump_Train.
"Democrats were rude and disrespectful to Trump including Pelosi," @Smitty01864205 tweeted. "Even though you shouldn't do the eye for eye payback, it's hard to not want to see republicans take a bold public stand."
One of the most popular conservative suggestions for anti-Biden theatrics was a plea for McCarthy and other GOP lawmakers to bring balloons to the address in protest of the Chinese spy balloon that flew over the country last week before being shot down off the Atlantic Coast.
"Remember Nancy ripping up President Trump's SOTU speech?" former Trump adviser Sebastian Gorka tweeted. "I've got an idea for Kevin McCarthy It involves a balloon Thoughts?"
"Every Republican needs to show up to #SOTU with a bunch of white helium balloons so every time Joe Biden lies, someone should pop a balloon ... or two ... or three," tweeted @Justine_Brooke. "OR just let them float around the House."
"Bring a balloon tomorrow to the SOTU speech tomorrow night and release them at start of speech," @Diogenescaper tweeted at McCarthy.
"@RepMTG Please, Please, PLEASE bring balloons to the SOTU tomorrow night!" @RevolverHorendo tweeted in an appeal to GOP Representative Marjorie Taylor Greene. "Only you have the BALLS to do it!"
Although McCarthy said he would refrain from stunts at the speech on Tuesday, he did offer preemptive criticism of Biden and his policies in his own address to the nation on Monday night.
Biden called for civility between Democrats and Republicans while speaking at the National Prayer Breakfast on Thursday, promising that he and McCarthy would "start treating each other with respect."
Newsweek has reached out to the White House for comment.
Update 2/7, 12:15 a.m. ET: This article has been updated to reflect that Pelosi's office declined comment.