McCloskeys Give Viral Gun-Holding Photo Holiday Card to Protester Yelling 'Abolish the Suburbs'
The McCloskeys, the infamous St. Louis couple who waved guns at Black Lives Matter (BLM) protesters, created a holiday card using their viral gun-holding photo and gave a signed version to a protester yelling "abolish the suburbs" at them, according to a viral tweet.
In a video of the exchange tweeted on Monday, Mark and Patricia McCloskey are seen exiting a local printing shop in University City, Missouri, while the protester yells "abolish the suburbs," a reference to a remark they made at the Republican National Convention in August. The couple warned then that Democrats want to abolish the suburbs.
The protester, who shot the video, can also be heard saying, "You are terrorists. You think pointing guns at protesters is nice, it's fun? You think it's cool?"
The protester, who preferred to stay anonymous, told Newsweek that she encountered the couple while printing protest flyers with a friend. She said the McCloskeys came out of the shop with what looked like 1,000 prints of a holiday card with the viral photo on full display, which she said felt extremely disrespectful.
"They think that they have some type of celebrity status because they traumatized Black and brown folks out in the street," she said. "They think they're heroes. They have absolutely no remorse whatsoever and are pushing that narrative and are advertising it."
She added: "I think that every single time they are in public, people should really just, like, be protesting them because they feel safe, they are just living their lives. They see what they did as a very positive thing."
Later in the video, the protester tells the couple "F*** you and your guns," and Mark proceeds to reach into the car for something and starts walking toward her. The protester described the situation as "very scary."
"I was like, Just don't come near me," she said.
She recalled him saying, "Here's a souvenir," before giving her a signed copy of the holiday card. The couple can be seen driving off in their SUV afterward.
The video has been viewed more than 800,000 times on the platform and has over 3,000 retweets.
The card, tweeted out by the protester a few minutes after her video was posted, displays text saying: "Mark and Patricia McCloskey v. The Mob, June 28, 2020." It also contains a written message at the top thanking a person named Kathy, along with the McCloskeys' signatures. On the back is a photo of the couple below an American flag and the words "Still Standing."
The McCloskeys first made national news on June 28 after they were recorded waving guns at BLM protesters outside of their mansion in St. Louis. They stood side by side, with Patricia pointing a pistol while Mark held an AR-15.
The couple, who are personal injury attorneys, said they felt "threatened" by the protesters, who were marching on the private street Portland Place while on their way to demand St. Louis Mayor Lyda Krewson's resignation at her nearby home. The protest came after Krewson publicly released the names and addresses of protesters calling to defund the police.
After the incident, the McCloskeys were each charged in July with one felony count of unlawful use of a weapon and quickly became symbols of a reaction against BLM demonstrations. In September, nine protesters were issued trespassing summonses for marching on private property in connection with the June incident involving the McCloskeys.
The couple were later reintroduced to the public at the GOP convention in an unexpected prime-time appearance. Their speech warned Americans of the "anarchy and chaos" on the streets and encouraged the idea that the American people need to defend themselves against a perceived threat from protesters.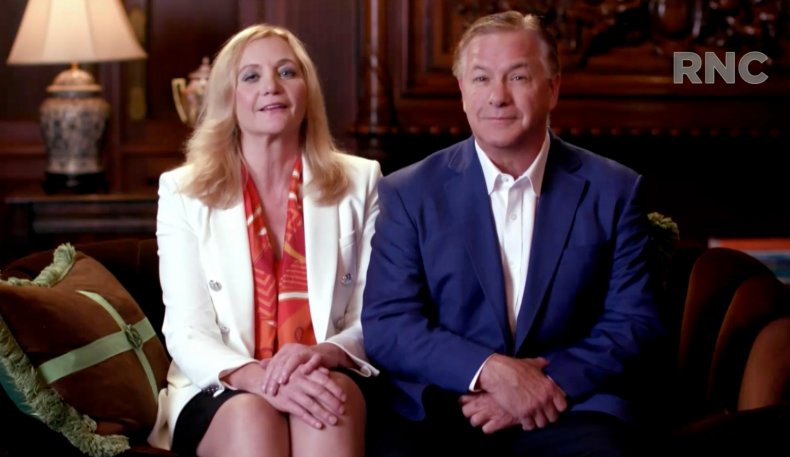 "What happened to us could just as easily happen to any of you who are watching from quiet neighborhoods around our country," Patricia said.
Mark added, "It seems as if the Democrats no longer view the government's job as protecting honest citizens from criminals, but rather protecting criminals from honest citizens."
In addition to saying their felony charges came from "daring to protect" their home, Mark spoke about BLM activist Cori Bush, who the couple described as a "Marxist, liberal activist" who led "the mob" to their neighborhood that day. Bush, who is running for the House of Representatives, won the Democratic primary in Missouri's 1st Congressional District on August 4.
In response, Bush later tweeted: "They can call me whatever they want—I'm used to it. People have called us everything you can imagine since we started protesting in Ferguson. It didn't stop us then & it won't stop us now."
Newsweek reached out to Bush for comment but did not hear back before publication.