The 'McConnaissance' of Matthew McConaughey: 'Mud,' Oscar Buzz & More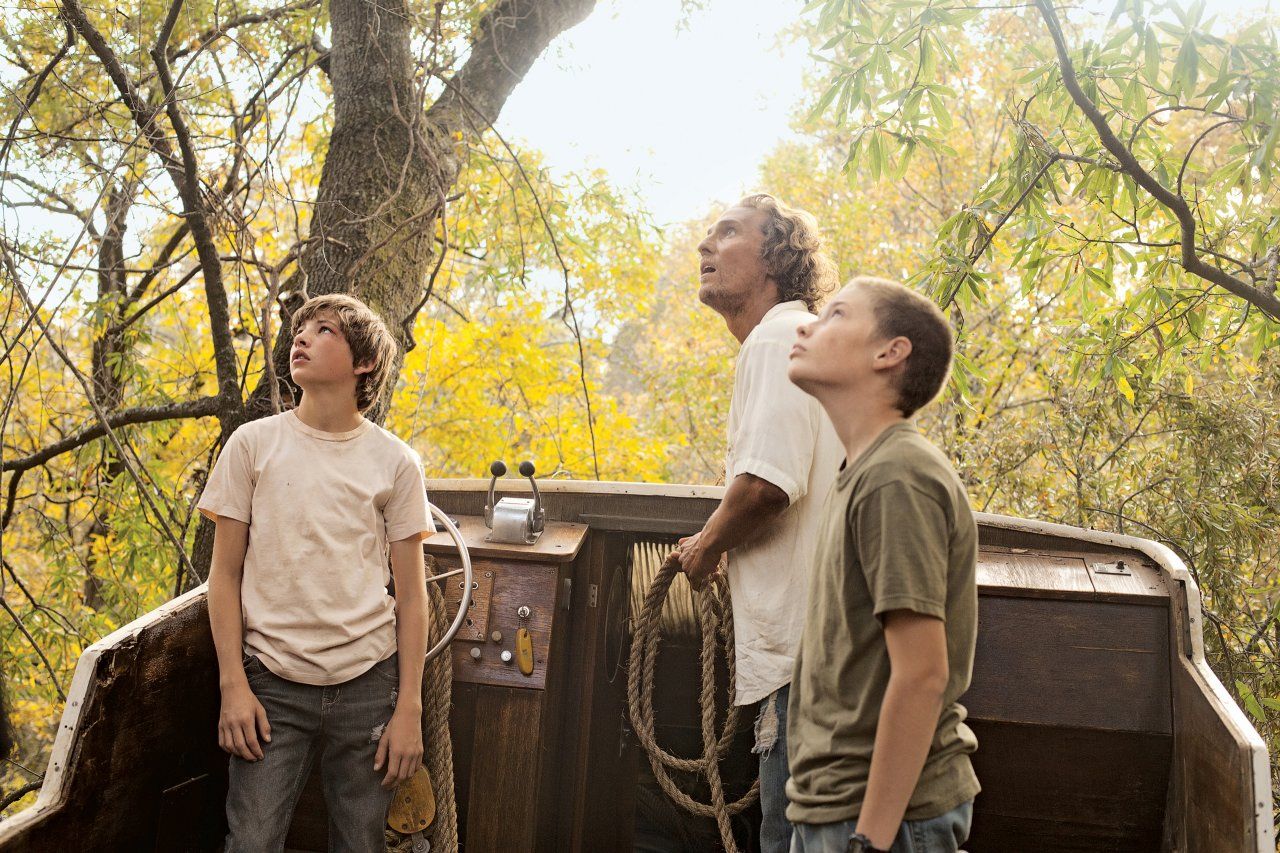 "WHAT HAPPENS when a man turns 40?" asks Matthew McConaughey, rocking back and forth in his chair at a hotel suite in downtown Manhattan.
The megawatt Texan grin and good ol' boy twinkle in his eye—A-list ammo that landed him a string of himbo roles in cookie-cutter romantic comedies like The Wedding Planner, How to Lose a Guy in 10 Days, Failure to Launch, and Ghosts of Girlfriends Past—has metastasized into a penetrating stare. McConaughey is getting existential, y'all. The rocking stops. He leans in.
"There's no more time to bulls--t yourself or anyone else," he answers. "You get a family, you get selfish." He pauses, adjusting his shoulders in his brown leather jacket and running his fingers through his tousled golden curls. "You look around and go, 'All right, I got mine's, and I'm responsible for all this. I was a prince, now I'm a king.' There's an honor that goes with that, where you're not just happy to be places anymore. You need to really choose your time wisely, because if you're going to be away from what's yours, which is your family, you need something that's going to be giving back."
If this sounds like unusually serious talk for the man who was once busted high, playing the bongos in the buff, and whose personal motto is "just keep livin'," well, it should.
The 43-year-old actor is in the midst of what some are calling a "McConaissance." Over the past year, he not only married the mother of his three children, Brazilian model Camila Alves, but also knocked four wildly diverse film roles out of the park: a psycho killer with a fried-chicken fetish in William Friedkin's Killer Joe; a law-abiding district attorney in Richard Linklater's Bernie; a closeted, rough-sex-having journalist in The Paperboy; and Dallas, the G-string-rockin' male stripper in Steven Soderbergh's Magic Mike, the last of which earned McConaughey an Independent Spirit Award and, some say, should have scored him an Oscar nomination as well. This sort of racy, challenging fare was a far cry from the banal Hollywood romcoms that had become his stock in trade.
"It became a little bit monotonous," he says. "So I said, 'You know what? Let me read some scripts I don't feel like I could do tomorrow morning, but [that] I really like.' I didn't go chasing it, but I just figured I'd sit down in the shadows for a minute and see. The target drew the arrow, and I started getting the calls—Friedkin wanted me, then Soderbergh." He pauses. "Would they have called five years ago? I don't know. But I thought, Whoa. This is kind of scary. This is turning me on."
McConaughey's latest award-bait turn is as the title character in Mud. Written and directed by Jeff Nichols (Take Shelter), Mud is a mysterious fugitive marooned on an island in the Mississippi River who enlists the aid of two Arkansas teenagers, Ellis (Tye Sheridan) and Neckbone (Jacob Lofland), to help him rebuild a boat so he can reunite with the love of his life, Juniper (Reese Witherspoon).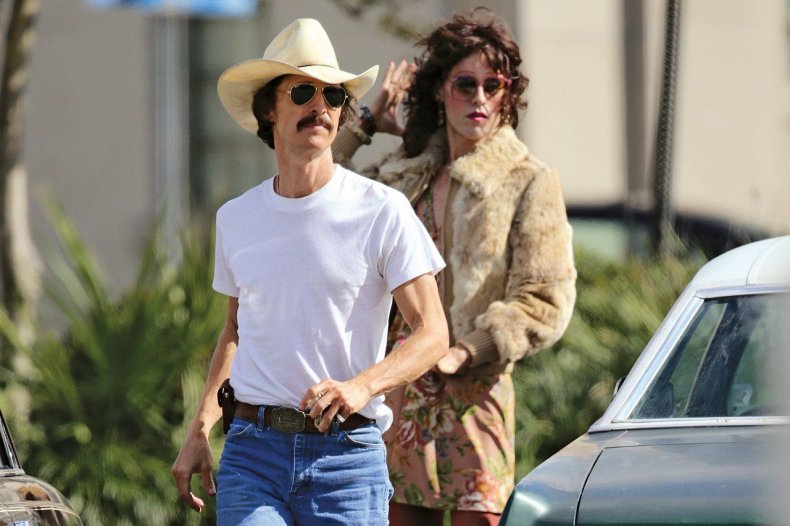 "I thought about where Mud gets his logic, and his compass to guide him through life," McConaughey says. "Here's a guy who's 40-whatever and has maintained the purity and innocence of that prepubescent heart before your heart gets broke, and taken it through adulthood. You don't maintain that living on earth; he lives up in the clouds. If he ever came down or got the girl, I think he'd die. That's when you love—before you get burned, you don't really have the ego that protects yourself."
McConaughey prepped by rereading the script while camping out for a night in a tent on an island in the Mississippi. He also offered to have his front teeth chipped if the prosthetic he had to wear wasn't convincing enough. (Thankfully, it was.)
For all the gravitas that McConaughey espouses now, it was his carefree affability that landed him his first film role 20 years ago. He was hanging out at a hotel bar in Austin, Texas, when he ran into Don Phillips, the casting director for a feature film about to shoot there.
"Top of the Hyatt, Thursday night!" McConaughey says with a laugh. "I went there because the bartender there gave me free drinks because he was in my film-school class [at the University of Texas at Austin]. We got kicked out! We were really drunk. We were talking about a golf hole that we had both played and we were just so loud that management told us to leave."
The drunken night out helped McConaughey land a meeting with director Richard Linklater, who thought he was such a breezy, likable dude that he cast him in the role of Wooderson—a postgrad, fun-lovin' slacker in the 1993 cult classic Dazed & Confused.
"I approached Wooderson in a way where there wasn't anything sad about his existence; these were his salad days," he says.
His first scene was filmed late one night at the Top Notch, a drive-in hamburger joint in Austin. Linklater pulled McConaughey aside and said, "It's the last day of school and Wooderson's already probably been with the cheerleader or the popular girl. Do you think he'd go for the redheaded intellectual?" "Sure," McConaughey replied. "And what if he tried to pick up on her?" asked Linklater. "Give me 30 minutes," McConaughey assured him.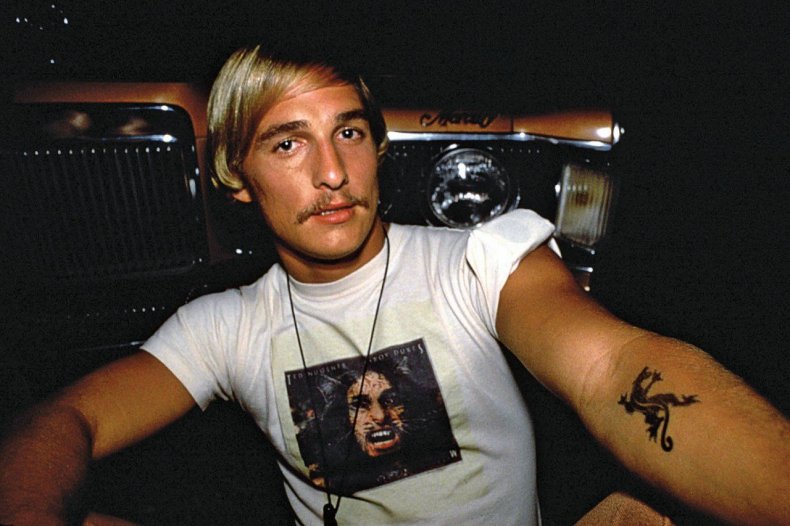 "I came back and he said, 'Want to shoot it?'" recalls McConaughey, who had simply spent the 30 minutes meditating. "So I was sitting in the car, nervous because I was about to have my first acting scene and I was improvising it. I thought, Who's my man? Who's my man? I'd been listening to this live Doors album where Jim Morrison barks out between two of the songs, 'All right, all right, all right, all right!' I didn't know what it meant. So I was like, OK, Wooderson: I'm about rock 'n' roll, weed, cars, and women. I'm in my car, I'm listening to Nugent's 'Stranglehold,' and I'm high. And there's the woman. I got three out of four. 'All right, all right, all right!' I figured I was batting .750, so that's what the three 'All right's' were about."
These days, McConaughey is batting closer to a thousand. After Mud, there's Martin Scorsese's The Wolf of Wall Street, opening this fall, in which he'll play "the big dog on the floor" that mentors Leonardo DiCaprio's stockbroker character. Then there's the upcoming indie drama Dallas Buyers Club, for which he is already earning Oscar buzz and which saw him drop a staggering 47 pounds to portray HIV-positive AIDS crusader Ron Woodruff. There's also the HBO series True Detective, where he'll star as a New Orleans cop alongside pal Woody Harrelson.And, last but certainly not least, the lead role in Christopher Nolan's sci-fi blockbuster Interstellar.
"I've tried to practice dissecting success because it's so easy to dissect failure," says McConaughey. "I still feel privileged to be doing what I'm doing. At the same time, I'm not doing stuff just 'cause I can anymore. I'm doing stuff 'cause I want to—I want to add something to it and go in there and not know what's going to be on the other side."
McConaughey leans back in his chair, the calculation falls away, and he unleashes that signature megawatt grin. "That's funnnn."