McConnell Accuses Dems of Bullying After Kentucky Gov Endorses $2,000 Stimulus Checks
One day after Kentucky Governor Andy Beshear endorsed increasing stimulus checks to $2,000, Senate Majority Leader Mitch McConnell (R-Ky.) vowed to continue blocking a vote on the matter while insisting that there is "no realistic path" to passing it and complaining that he is being "bullied" over the issue by Democrats.
McConnell defended his position, and the lower $600 stimulus checks, while speaking from the Senate floor on Wednesday, while Senator Bernie Sanders (I-Vt.) promised to block a vote on overriding President Donald Trump's veto of the annual National Defense Authorization Act (NDAA) until a standalone vote on the direct payments is held. Beshear, a Democrat, joined the movement to increase payments on Tuesday, saying that McConnell not allowing the measure to pass would deprive "our Kentucky families receiving an extra $5 billion."
"The Senate is not going to be bullied into rushing out more borrowed money into the hands of Democrats rich friends who don't need the help," McConnell said Wednesday. "We just approved almost a trillion dollars in aid a few days ago. It struck a balance between broad support for all kinds of households and a lot more targeted relief for those who need [more] help than most."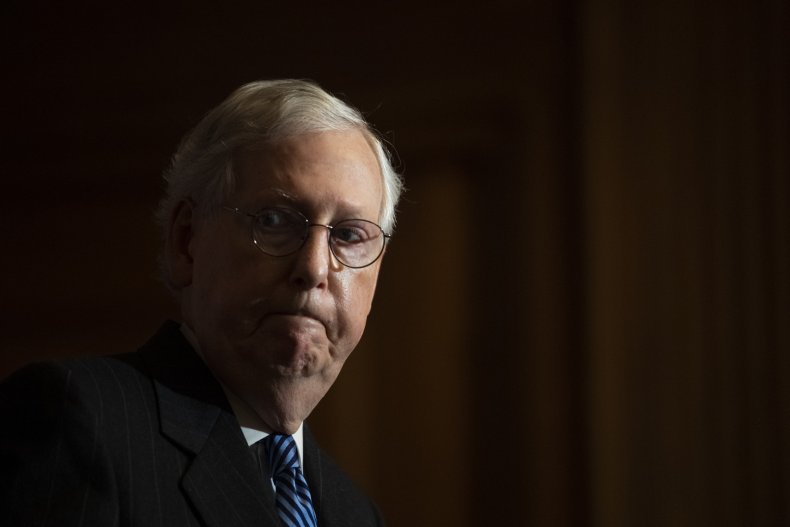 "We're going to stay smart, we're going to stay focused and we're going to keep delivering on the needs for our nation," he added.
McConnell claimed that the bill was aimed at getting money to "rich friends" of Democrats, but the proposed $2,000 checks would only go to individuals making under $75,000 per year. He blocked an attempt by Senate Minority Leader Chuck Schumer (D-N.Y.) to pass the increase by unanimous consent on Tuesday.
McConnell has insisted that the measure would not pass the upper chamber, although it appears that it could have passed if a vote were allowed since at least five GOP senators said they would support the increase when it was a standalone proposal.
Sen. Josh Hawley (R-Mo.) went as far as joining Sanders by vowing to block a vote on the NDAA veto until McConnell allows a vote on relief checks.
"[Sanders] says he will slow down this vital bill unless he gets to muscle through another standalone proposal from Speaker Pelosi that would add roughly half a trillion dollars to the national debt," McConnell said. "Which does not align with what President Trump has suggested, and which has no realistic path to quickly pass the Senate."
At a Tuesday news briefing, Beshear suggested that McConnell was doing his state a disservice by nixing the move for larger checks. The governor said that the Kentucky economy would receive more than twice as much money if the proposal were approved, adding billions that could help stimulate the economy while also providing relief for those in economic distress.
"If that effort is blocked, it's going to deprive our Kentucky families of $5 billion that could help them through this pandemic and could certainly help our economy, could help every small business in every location across Kentucky," Beshear said.
After blocking the standalone vote, McConnell offered a new bill that ties the checks to two unrelated issues pushed by Trump: repealing Section 230 of the Communications Decency Act and establishing a commission to investigate unsubstantiated claims of massive voter fraud, something that Beshear dismissed as "some political move."
The combined bill has little chance of passing the Democratic-controlled House, where the standalone bill passed by a vote of 275-134, with the support of 44 Republicans.
Trump vetoed the NDAA because lawmakers did not agree to his demand to include a repeal of Section 230 in the legislation. Although Trump has called for stimulus payments to increase to $2,000 and blasted Republicans on social media after the standalone vote was blocked, on Wednesday McConnell said that he would not hold a vote on the matter because he wants to make sure that the president is "comfortable" with the legislation. However, the majority leader is also in favor of overriding Trump's veto.
"To ensure the president was comfortable signing the bill into law, the Senate committed to beginning one process that would combine three of the president's priorities," said McConnell. "The Senate is not going to split apart the three issues that President Trump linked together just because Democrats are afraid to address two of them."
Newsweek reached out to McConnell's office for comment.