Mitch McConnell Under Bipartisan Pressure to Recall Senate Over USPS, Stimulus
Senate Majority Leader Mitch McConnell is facing bipartisan calls for the upper chamber's recess to be cut short so senators can vote on emergency U.S. Postal Service (USPS) funding and iron out the terms of a second coronavirus relief deal.
Lawmakers railed against the Kentucky Republican's plan to keep senators on holiday until September as American families struggled with their finances as the wait for further COVID-19 stimulus funding continued.
They also raised fears about the USPS' preparedness to deal with millions of mail-in ballots amid reports of Postmaster General Louis DeJoy leveling cutbacks on sorting machines and overtime.
Posting on social media, Sen. Elizabeth Warren (D-MA) said: "Bring the Senate back now to protect the USPS [Mitch McConnell]. And while we're at it, let's finally pass another COVID relief bill to help struggling families."
"Senators should be back—we never should have left—to do our jobs in DC, just like the House," Sen. Richard Blumenthal (D-CT) tweeted. "Destruction of the the Postal Service is unconscionable & un-American. Bipartisan action is necessary now."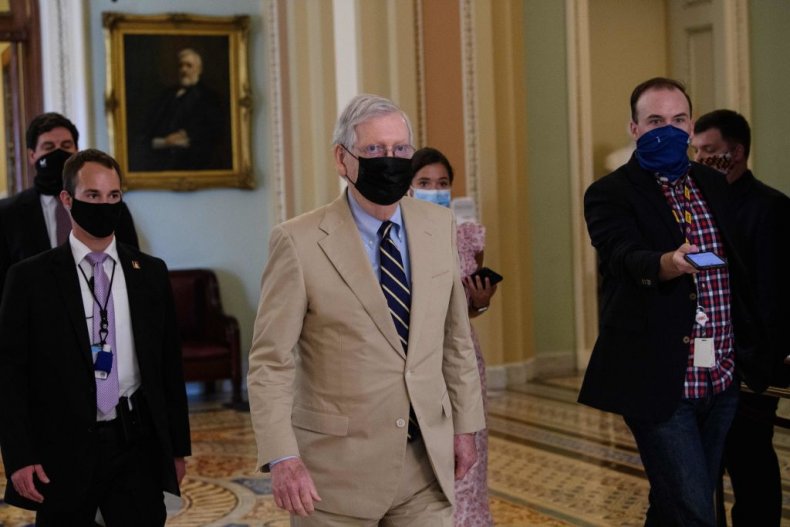 The former Democratic primary contender Sen. Michael Bennet (D-CO) also called on the upper chamber to return and "fully fund" the U.S. election through a USPS relief package.
Democratic Sen. Gary Peters (D-MI) said: "Leader McConnell should call the Senate back into session this week so we can work in a bipartisan manner to pass urgently needed COVID relief and postal legislation. This is about the well-being and livelihood of Michiganders."
Speaking to reporters on Sunday, Senate Minority Leader Chuck Schumer (D-NY) called for the upper chamber to return and pull DeJoy in front of a hearing.
"If Mr. DeJoy refuses to appear, he should be stamped return to sender," Schumer said. "He shouldn't be allowed to be postmaster general."
Sen. Susan Collins (R-ME) joined the Democratic calls for McConnell to recall the upper chamber from summer recess.
"The Senate should return this week to consider a COVID-19 package that includes the Postal Service Emergency Assistance Act—a bill I introduced [with Sen. Dianne Feinstein] in July—which would provide USPS [with] up to $25 billion to cover losses or operational expenses resulting from COVID-19," the Republican senator tweeted.
Newsweek has contacted McConnell's office for comment. This article will be updated with any response.
The bipartisan group of lawmakers called on the Senate to return from recess as White House Chief of Staff Mark Meadows indicated that he was open to the idea of a separate bill for USPS relief funding.
"I'm all about piecemeal. If we can agree on postal, let's do it," the administration official told CNN yesterday.
House Speaker Nancy Pelosi (D-CA) announced on Sunday that she was calling for lawmakers in the lower chamber to return for a vote on the "Delivering for America Act" bill later this week.
Under the terms of the bill, USPS management would be blocked from making changes to the level of service it was providing on January 1 of this year. House Majority Leader Steny Hoyer is expected to unveil a schedule for votes this week.