McConnell Breaks With Trump, Says He Is 'OK' With Renaming Bases with Confederate Ties
Senate Majority Leader Mitch McConnell commented for the first time Tuesday about the congressional effort to rename United States military bases with Confederate ties, telling reporters he was "personally OK" with implementing those changes. The comments contrasted with those expressed by President Donald Trump, who previously said his administration "will not even consider" renaming the bases.
"I can only speak for myself on this issue. If it's appropriate to take another look at these names, I'm personally OK with that, and I am a descendent of a Confederate veteran myself," McConnell said.
His remarks referred to terms included in an amendment to the annual National Defense Authorization Act (NDAA), which was introduced by Massachusetts Senator Elizabeth Warren and adopted by the Senate Armed Services Committee last week. Warren filed the amendment amid national conversations about systemic racism and its roots in U.S. history.
Multiple statues memorializing Confederate figures were vandalized or torn down during protests that followed George Floyd's death, as were structures that commemorated other historical leaders who committed acts of violence based on racial prejudice.
Although McConnell said he did not oppose renaming bases currently named after Confederate leaders, he told reporters on Tuesday that he does not support removing Confederate icons in the U.S. Capitol.
"What I do think is clearly a bridge too far is this nonsense that we need to airbrush the Capitol and scrub out everybody from years ago who had any connection to slavery," he said, pointing to the fact that eight U.S. presidents were slaveowners.
House Speaker Nancy Pelosi requested the removal of all Confederate symbols displayed throughout the U.S. Capitol in a June 9 letter to the chair and vice-chair of Congress' Joint Committee on the Library.
"Currently, 11 statues representing Confederate soldiers and officials are on display as part of the national Statuary Hall collection in the United States Capitol," she wrote. "While I believe it is imperative that we never forget our history lest we repeat it, I also believe that there is no room for celebrating the violent bigotry of the men of the Confederacy in the hallowed halls of the United States Capitol or in places of honor across the country."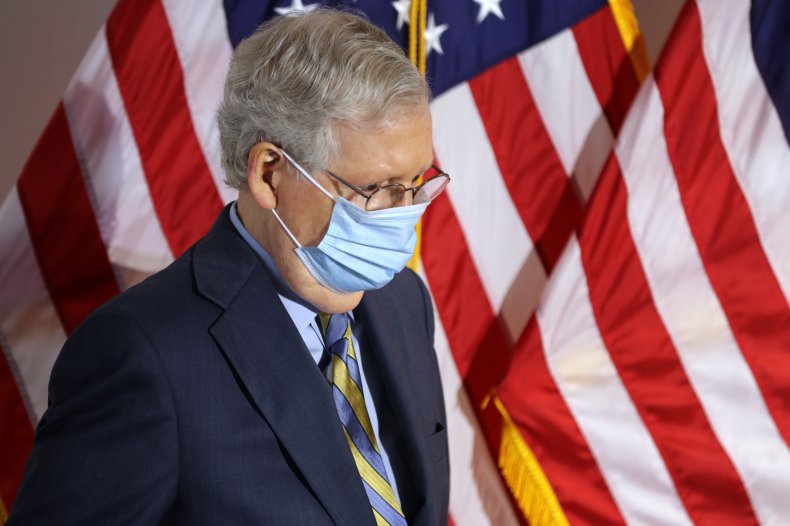 Trump spoke against renaming military bases in a series of tweets shared June 10. "These Monumental and very Powerful Bases have become part of a Great American Heritage, and a history of Winning, Victory, and Freedom," he wrote in part. "Therefore, my Administration will not even consider the renaming of these Magnificent and Fabled Military Installations."
Trump referenced his position on the renaming effort again during a Thursday news conference. "To go forward, we must seek cooperation, not confrontation," he said. "We must build upon our heritage, not tear it down."
Newsweek reached out to the White House for comment regarding McConnell's remarks but did not receive a reply in time for publication.