McConnell Compares Congress to His 'Last Visit to Kabul' as Republicans Call for Lessening of Security
Republican Senate Minority Leader Mitch McConnell of Kentucky has compared the Capitol's current security measures with his "last visit to Kabul." His comment referenced his 2011 visit to the then-heavily militarized capital of Afghanistan.
Since the January 6 Capitol insurrection, the federal building has had increased police and National Guard presence, metal detectors, severely limited public access and fencing topped with razor wire surrounding the federal building. Republican Congress members criticized the metal detectors after their installation.
"We've overdone it," McConnell said on Wednesday. "I'm extremely uncomfortable with the fact that my constituents can't come to the Capitol. There's all this razor wire around the complex. It reminds me of my last visit to Kabul."
"Do we need some changes? We probably do," he continued, adding, "it looks terrible to have the beacon of our democracy surrounded by razor wire."
McConnell's comments follow the Pentagon's recent approval of a Capitol Police request to keep thousands of National Guard troops in the Capitol for two more months. Federal authorities have said they are closely monitoring extremist threats leading up to President Joe Biden's congressional address.
McConnell's remarks also follow the unveiling of a security assessment report ordered by Democratic House Speaker Nancy Pelosi. The report, which Pelosi ordered shortly after the January 6 insurrection, recommended additional measures to protect legislators.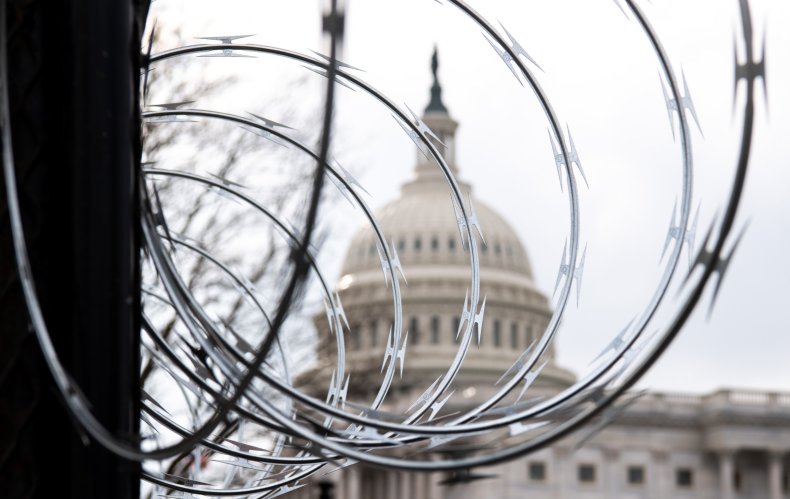 The assessment, which a task force completed under the leadership of retired Army Lieutenant General Russel Honoré, suggested background checks for all personnel, a quick response force on-site and enhanced intelligence-gathering capabilities for Capitol Police.
The report also called for retractable mobile fencing to replace the current temporary security fencing as well as security cameras and other details to protect Congress members' home district offices.
"This was not a bipartisan investigation, this was Nancy Pelosi's investigation," California Republican Representative Darrell Issa told CNN. Issa said that Honoré's task force made "a lot of requests for money" but didn't present "a really comprehensive plan at all."
Threats against Congress members during the last two months increased by 93 percent compared to the same period in 2020, acting Capitol Police Chief Yogananda Pittman told a House committee last week, according to USA Today.
Nevertheless, McConnell isn't the only Congress member to criticize the Capitol security measures. Both Republicans and Democrats have complained as well.
"I think there's a sense that it's a little too much of a fortress," Democratic Illinois Representative Raja Krishnamoorthi told CNN on Monday. "If we become a fortress and completely inaccessible to the public, in some ways I think that the insurrectionists win. And so we've got to out a different formulation at this point."
"No one likes seeing the fortress-like security around the Capitol," Democratic Michigan Representative Elissa Slotkin wrote in a March 4 tweet. "And no one wants to again have a security problem in and around this symbolic place."
Democratic House Majority Leader Steny Hoyer of Maryland told reporters on Tuesday, "The fencing is obviously a concern to many people, me included. Whether that ought to be permanent, I think most people think that ought not to be a permanent reality on the Hill. But we need to make sure that we can in fact secure the seat of government of the United States of America."
On Monday, Republican Colorado Representative Lauren Boebert posted a video on social media showing herself walking beside the Capitol's protective fencing. Calling the Capitol as "Fort Pelosi," Boebert said, "It's time to cut the crap and remember this is the people's House. Madam Speaker, tear down this wall."
In a February 15 letter to Pelosi, four top Republican House members blamed her for allowing the security breaches that facilitated the January 6 rioters. "The Speaker is responsible for all operational decisions made within the House," the letter stated.
However, the fact-checking website PolitiFact said the letter incorrectly blamed Pelosi. Capitol security is neither solely the responsibility of Pelosi nor does she control its day-to-day operations, the site said. Rather security measures are handled by the sergeants-at-arms of the House and Senate and by Capitol Police.
In response to the GOP letter, Pelosi's deputy chief of staff, Drew Hammill, accused Republican leaders of "trying to deflect responsibility for the Capitol attack from Donald Trump." He called the letter a "transparently partisan attempt to lay blame on the Speaker."
"As the target of an assassination attempt, the Speaker knows all too well the importance of security at the Capitol and is focused on getting to the bottom of all issues facing the Capitol Complex and the events that led up to the insurrection," Hammill wrote. "Clearly, these Republican Ranking Members do not share this priority."
Newsweek contacted McConnell's office for comment.