McConnell Condemns Democrats for Voicing Concerns About Election Security in Letter
Senate Majority Leader Mitch McConnell accused Democrats of "partisan hysteria" for expressing repeated concerns about election security.
McConnell sent a strongly worded letter to Senate Democratic Leader Chuck Schumer and made similar remarks from the Senate floor on Thursday, complaining that Democrats refuse to acknowledge Republican "progress on election security" as they voice concerns about potential foreign election interference and rhetoric attempting to baselessly discredit mail-in voting.
"Leading Democrats and prominent media voices have spent years downplaying our progress on election security, casting doubt on the legitimacy of elections that Democrats do not win, and abusing this crucial issue as a platform for partisan finger-pointing," McConnell wrote in the letter, according to The Hill.
"This endless parade of partisan hysteria has furthered our adversaries' goals to a degree that Putin, Xi, and mullahs in Tehran can scarcely dream of achieving themselves," he added.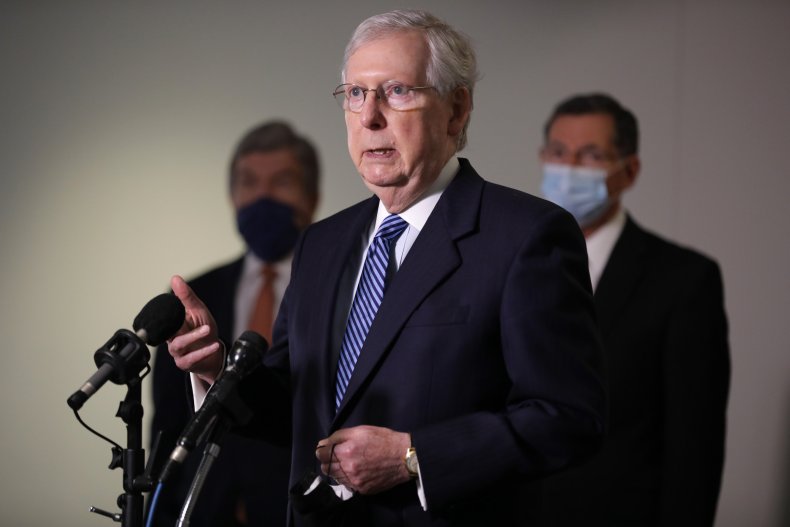 President Donald Trump has repeatedly claimed that mail-in voting is rife with widespread fraud, despite using it himself and most studies showing little evidence that the decades-old practice has resulted in any significant fraud. Record numbers of mail-in ballots are expected to be cast this year due to the COVID-19 pandemic.
Democrats have expressed fears that the integrity of the election could be compromised due to unfounded doubt being placed on the validity of mail-in ballots. They have also suggested that the U.S. Postal Service could deliberately attempt to delay or cancel the delivery of ballots, citing recent delivery delays and policy changes.
McConnell's letter was in response to a letter sent two days earlier by Schumer and Senator Bernie Sanders. The senators urged McConnell to join them in forming a special bipartisan committee on election security, focusing on voting by mail and planning for potential scenarios involving a disputed election outcome.
"Sadly, there are some who are systematically undermining public confidence in the voting process, and irresponsibly fanning suspicions and conspiracy theories about the legitimacy of election results," Sanders and Schumer wrote McConnell on Tuesday. "Let us come together, Republicans and Democrats, to ensure the security of our elections and assure Americans' confidence in the result."
McConnell refused, writing in his letter that "real Senate committees with actual jurisdiction have already been at this for four years."
"The Democratic Leader has attacked Republicans and basically questioned our patriotism because we did not rush to meet his latest demands for empty theatrics," he later said during a Thursday speech from the Senate floor.
FBI Director Christopher Wray, a Trump appointee, testified to Congress on Thursday that Russia is actively attempting to undermine Democratic presidential nominee Joe Biden's campaign. Software giant Microsoft said last week that hackers from China, Iran and Russia were targeting the campaigns of both Biden and Trump.
Newsweek reached out to McConnell for comment.