McConnell Says U.S. Needs 'More Testing, Not Less' After Trump Comments
Senate Majority Leader Mitch McConnell (R-KY) made clear on Thursday that he believes the U.S. needs to ramp up coronavirus testing, not reduce it, after President Donald Trump appeared to suggest it was time to scale back testing for COVID-19.
In an interview with Gray D.C.'s Kyle Midura, McConnell was asked to consider Trump's comments just days before, with the president suggesting on Saturday that the U.S. should begin to reduce testing.
The president made the comments during his rally in Tulsa, Oklahoma, telling supporters that he had told staff to "slow the testing down, please" for coronavirus in the U.S. to slow the number of cases being confirmed in the country.
If the U.S. did fewer tests, the president appeared to suggest, it wouldn't have such a high number of confirmed cases, with America having the highest number of positive test results in the world.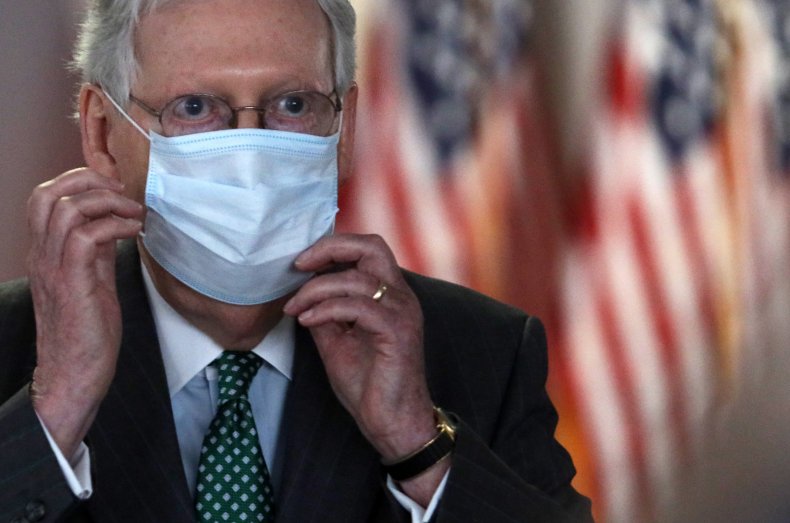 While it was later suggested that the president was kidding, on Tuesday, he doubled down on the comments, saying, "I don't kid."
"Aides said he was kidding. Then Tuesday, he said he doesn't kid, and aides said that was sarcasm," Midura said to McConnell. "Big picture, does the federal government need to scale up, hold stable, decrease? What are your thoughts on that front, sir?"
"We all need to scale up," the Kentucky senator responded plainly. "We need more testing."
"Kentucky's already received $100 million from the federal government again in a bill that was written in my office," he said.
"We need to do more testing, not less, and that's the key to getting us through this period," the McConnell stressed again. "When we find out people are positive, they need to be quarantined so they don't infect others."
McConnell said he was hopeful that a vaccine for coronavirus would be developed by early next year, if not sooner.
"Ultimately, we get on top of this, and we have a vaccine, and there's vaccine development going on at warp speed by a number of different pharmaceutical companies," he said. "We're hopeful we'll get a vaccine sometime later this year or early next year. That's the key to putting this whole pandemic in the rear view mirror so we get past it."
The interview came as positive coronavirus tests in the U.S. hit a single-day record high on Thursday, with the U.S. reporting 39,818 new cases of the virus as states continued to reopen and relax coronavirus safety measures.
The below chart from Statista shows the spike of coronavirus cases in the U.S.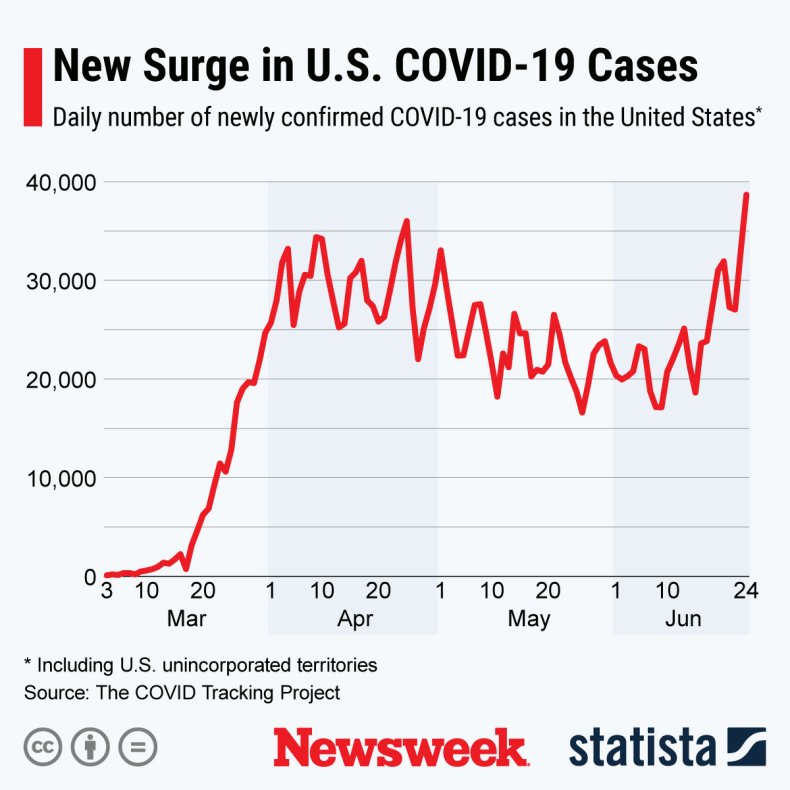 As of early Friday morning, the U.S. had a total of 2,422,312 confirmed coronavirus cases overall, with 124,415 people having died after contracting the virus.
Newsweek has contacted the White House for comment on McConnell's statements, as well as the Kentucky senator's office for further comment.