McConnell Defends Voting on Supreme Court Nominee, Says 'We Can't Pick' When 'Big Decisions' Have to Happen
Republicans have taken harsh criticism for supporting a vote on President Donald Trump's Supreme Court justice nominee, but Senate Majority Leader Mitch McConnell defended the decision based on precedent.
Democrats charged Republicans with hypocrisy for pushing for a vote on Trump's nominee when in 2016, they blocked President Barack Obama's nominee because it was an election year. McConnell argued the situation in 2016 was different from 2020 because the same party holds control of the Senate and presidency—a qualifier Fox News' Shannon Bream acknowledged on Thursday that some see as a "distinction without a difference."
McConnell told Bream the last time a seat on the Supreme Court was filled during a presidential election when the president wasn't of the same party as the Senate—as was the case in 2016—occurred in 1888. Therefore, Republicans' desire to wait for Obama's successor to choose the next justice was "entirely consistent" with how Supreme Court vacancies elections have been handled in the past.
"We can't pick and choose when big decisions are foisted upon us by things we didn't anticipate," McConnell said. "...But, the election is no reason to dodge our responsibility and not go forward with a well-qualified nominee."
Trump is expected to announce his choice to fill the late Justice Ruth Bader Ginsburg's seat on the Supreme Court on Saturday. He's promised to select a woman to fill the position, and Republicans face a race against the clock to confirm the nominee.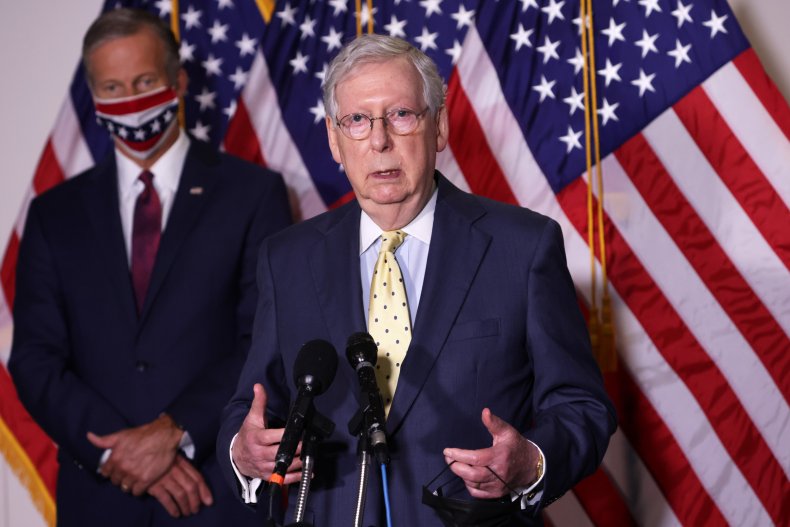 With Republicans controlling the Senate, there's nothing Democrats can do to stop Trump's nominee from being confirmed if 50 Republicans vote for her confirmation. However, a number of legislators are facing tough reelection battles, and confirming a nominee before Election Day could be a tall order based on the average time the process has taken in the past.
McConnell is committed to bringing the nominee to the Senate floor for a vote, and told Bream that Trump's choice will be judged "on her own merits by the American people."
"I'm confident he's going to make an outstanding nomination," McConnell said. "The American people are going to take a look at this nominee and conclude, as we're likely to conclude, that she well deserves to be confirmed to the U.S. Supreme Court."
Although Democrats have little power to stop the confirmation from going forward if Republicans are united, they're exploring their options, including threatening to change the number of justices who sit on the bench.
McConnell told Bream he understands "they don't like what happened," but said there was nothing "inappropriate" with filling the seat left open after Ginsburg's passing.
Newsweek reached out to Senate Minority Leader Chuck Schumer for comment, but did not receive a response in time for publication.