McConnell Says Pelosi's 'Fantasy' to Have Role in Impeachment Trial Is a 'Nonstarter,' Vows Senate Will Continue With 'Ordinary Business'
Senate Majority Leader Mitch McConnell labeled Democrats' demands for impeachment trial witnesses a "nonstarter" Friday, calling it a "fantasy that the speaker of the House [would] get to hand-design the trial proceedings in the Senate."
The Kentucky Republican's comments came as the standoff over how to proceed with the Senate trial of President Donald Trump stretches on, with House Speaker Nancy Pelosi (D-Calif.) continuing to withhold the impeachment articles from the upper chamber. She's vowed to do so until McConnell comes to an agreement with Senate Minority Leader Chuck Schumer (D-N.Y.) regarding the rules for the impending trial and allowing witnesses.
McConnell showed no intention of conceding to Democrats. And both of the Senate leaders signaled they were no closer to reaching an agreement than the day the lawmakers met before Christmas recess.
"So, for now, we're content to continue the ordinary business of the Senate while House Democrats continue to flounder," McConnell said on the Senate floor Friday. "If they ever muster the courage to stand behind their slapdash work product and transmit their articles to the Senate, it will then be time for the United States Senate to fulfill our founding purpose."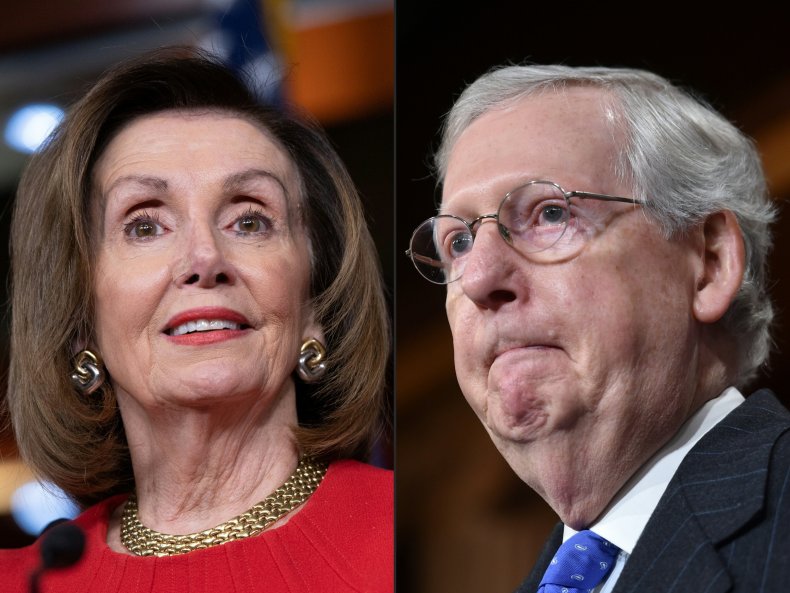 Pelosi responded in a statement, accusing McConnell of "doubling down on his violation of his oath" to office.
"Leader McConnell made clear that he will feebly comply with President Trump's cover-up of his abuses of power and be an accomplice to that cover-up," she said.
Schumer has demanded that four current and former Trump administration officials believed to have direct knowledge of Trump's controversial dealings with Ukraine be subpoenaed to testify in the Senate trial. Those four are former national security adviser John Bolton, acting White House chief of staff Mick Mulvaney, Office of Management and Budget official Michael Duffey and Mulvaney senior adviser Robert Blair.
Meanwhile, newly revealed unredacted emails illustrate the extent to which Pentagon officials were concerned about the legality of withholding congressionally appropriated military aid to Ukraine and show that the directive clearly came from Trump. Schumer said the evidence further underscored the Senate trial's need for the witnesses, who were directed by the White House to not cooperate with House impeachment investigators.
McConnell reiterated that he intends to conduct the trial in the same fashion as President Bill Clinton's. That means considering whether witnesses will be called only after evidence is presented by House impeachment managers and the administration provides its defense.
Schumer said that scenario is unacceptable because he believed McConnell would claim that lawmakers had heard enough and should vote. Also, McConnell would accuse Democrats of trying to prolong an inevitable acquittal, Schumer said.
"If we don't get a commitment up front that the House managers will be able to call witnesses as part of their case, the Senate will act as little more than a nationally televised meeting of the mock trial club," Schumer said on the Senate floor. "The vital question of whether or not we have a fair trial ultimately rests with the majority of the senators in this chamber."
This story was updated to include a statement from House Speaker Nancy Pelosi.