McConnell Doesn't Want Mask Mandate for Senators Despite Gohmert Testing Positive for COVID-19
Senate Majority Leader Mitch McConnell said Wednesday that a mask mandate in the Senate was not needed, even though Texas Representative Louie Gohmert recently testing positive for the coronavirus.
Appearing on PBS NewsHour, McConnell was asked about House Speaker Nancy Pelosi's recent decision to require masks on the House floor and if he would consider doing the same in the Senate.
"It appears not to be necessary since everybody seems to be doing it," McConnell said. He also noted that the Senate has "had good luck without a requirement," as many members have been wearing masks voluntarily.
"I believe just about every one of my members is wearing a mask, and we have since the first of May when we resumed," McConnell said. "I think we've been following the guidelines of the Capitol physician—properly socially distanced, wearing a mask, which I've had on till I stepped up to the microphone to talk to you."
He added, "We've had good compliance with that on the Senate side, without a mandate. And so we're getting compliance the voluntary—in the old-fashioned way. Everybody is doing it."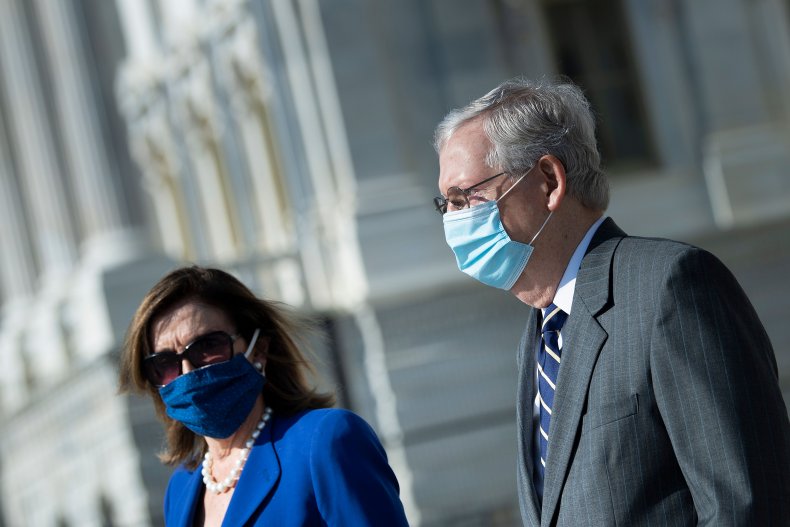 Speaking on the House floor Wednesday, Pelosi said, "Members and staff will be required to wear masks at all times in the hall of the House, except that members may remove their masks temporarily when recognized."
She added that the new mask mandate is "a sign of respect for the health, safety and well-being of others present in the chamber and surrounding areas." Those without masks will not be permitted inside the House chamber and could be removed by the sergeant at arms if they fail to comply, she noted.
Pelosi was prompted to impose the requirement after Gohmert confirmed on Wednesday that he had tested positive for the new virus, which causes the respiratory disease COVID-19.
In a video posted to Twitter, Gohmert said he was planning to fly to Texas with President Donald Trump but was tested for the virus at the White House.
"I don't have any of the symptoms that are listed as part of COVID-19, but apparently I have the Wuhan virus," Gohmert said in the video, referring to the Chinese city where the virus originated.
Before his positive test, Gohmert was repeatedly seen on the House floor without a mask. He then started wearing one and suggested this week it might have been one of the reasons he contracted the virus.
Newsweek reached out to McConnell's office for comment but did not receive a response in time for publication.