McConnell Expects Senate Impeachment Trial Will Start Next Tuesday, Suggests Hunter Biden Could Be Called to Testify
Senate Majority Leader Mitch McConnell told reporters on Tuesday that he expects the impeachment trial of President Donald Trump to begin next Tuesday. The Republican also implied that Hunter Biden, son of former vice president Joe Biden, may be called as a witness.
In April 2019, Trump asked Ukrainian President Volodymyr Zelenskiy to begin an investigation into Biden's employment with Ukrainian gas company Burisma Holdings in exchange for military aid. That alleged quid pro quo request became a central issue in the impeachment proceedings against Trump.
"Our understanding is that the House is likely to finally send the articles over to us [Wednesday]," McConnell said, "and we believe if that happens in all likelihood go through some preliminary steps here this week, which could well include the Chief Justice coming over and swearing in members of the senate and some other kind of housekeeping measures."
"We hope to be able to achieve that by consent, which would set us up to begin the actual trial next Tuesday," he added.
When asked by reporters about Republicans wanting Biden to testify, McConnell expressed openness to both Democrats and Republicans calling in witnesses for the trial.
"We'll be dealing with the witness issue at the appropriate time into the trial," McConnell said. "I think it's certainly appropriate to point out that both sides would want to call witnesses that they wanted to hear from. So when you get to that issue, I can't imagine that only the witnesses that our Democratic colleagues want to call would be called."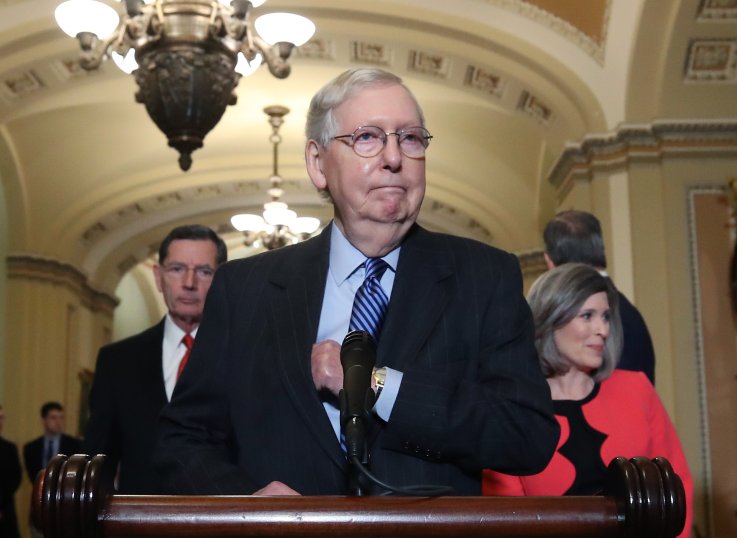 Senate Minority Leader Chuck Schumer told reporters Tuesday that he couldn't be sure if they would be able to call witnesses during the impeachment trial.
"I can't predict whether we'll have witnesses or not," Schumer said. "At first everyone said no. McConnell seemed to rule the roost. Now we're having some people entertain it, but you don't know what's going to happen."
"We're in better shape than we were a few weeks ago," the Democrat added, "but there's no certainties here at all."
Newsweek reached out to McConnell and Schumer for comment but did not receive a response in time for publication.
Schumer told National Public Radio last month that Biden should not testify during the impeachment trial because he would not possess enough relevant information.
"We want witnesses who will focus on what the facts that the House presented are," Schumer said. "I haven't heard of a single fact that Hunter Biden might know that are relevant to the House charges. You know, if the senators, Lindsey Graham or others, want to go do their own independent hearings, fine. But don't besmirch a very solemn proceeding."
Trump himself has repeatedly stated that he would like to hear testimony from Biden, often asking his supporters at rallies, "Where's Hunter?"
"I said that we have to have 'Where's Hunter?' as a witness," Trump said Thursday during a campaign event in Toledo, Ohio. "They said, 'What do you mean, where's Hunter? I said that's his first name. I have now made his first name 'Where's.' Where's Hunter?"
McConnell Expects Senate Impeachment Trial Will Start Next Tuesday, Suggests Hunter Biden Could Be Called to Testify | Politics