Mitch McConnell Faces Backlash Over Bid To Force Senate Votes On Anti-Abortion Laws: 'The First Thing We Do Is Go After Women?'
Senate Majority Leader Mitch McConnell is facing a backlash over his decision to set up two separate votes on anti-abortion bills for this month in a move likely to spark division in an already deeply divided Senate.
On Thursday, McConnell arranged votes on a bill seeking to ban abortions after 20 weeks, as well as the "Born-Alive Abortion Survivors Protection Act," which seeks to extend protection to infants born alive after failed attempts at induced abortions.
Both bills have so far been unsuccessful in Senate over recent years. However, with a Republican majority, anti-abortion GOP members may be hopeful that the legislation will be pushed through this time, despite opposition from Democrats and and abortion rights advocates.
President Donald Trump has previously spoken out in favor of the "born-alive" bill, accusing Democrats of having such an "extreme" position on abortion "that they don't mind executing babies AFTER birth." However, the bill has been widely rejected by abortion rights activists, who say it ignores the fact that infanticide is already a crime and appears aimed at conflating abortion with a wholly different act.
While Democrats are generally opposed to the 20-week abortion ban proposal, both Sens. Joe Manchin and Bob Casey have previously given it support. Meanwhile, the plan has not been popular among all Republicans either, with Sen. Susan Collins also previously opposing the bid.
Democrats and abortion rights advocates were quick to condemn McConnell's efforts to see both bills brought to a vote, with Sen. Patty Murray, the lead Democrat on the Senate health committee, questioning the senate majority leader's priorities.
"The first thing we do is go after women?" Murray asked in an interview with The New York Times. "I find it really offensive. If Senator McConnell really wants to get things done in the Senate and show people he wants to get things done, we have a long list for him."
Vanita Gupta, the president and CEO of The Leadership Conference on Civil and Human Rights also condemned the decision, imploring Twitter users to "understand what [McConnell] is prioritizing."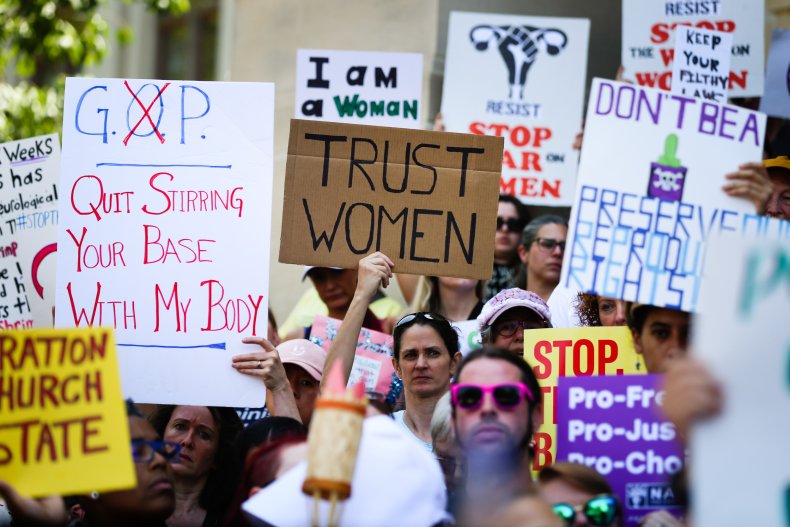 "He's moving forward on two partisan anti-abortion bills & more lifetime federal judges instead of holding votes on all of the important civil & human rights legislation already passed by the House," she said, before adding: "We won't forget."
McConnell's fresh bid to put anti-abortion laws on the table comes as states across the country push forward their own anti-abortion laws in the hopes that Roe v. Wade, the Supreme Court's landmark 1973 decision enshrining a woman's right to abortion care, might be overturned.
With the appointment of Justice Brett Kavanaugh, the Supreme Court was brought to a five-justice conservative majority, giving anti-abortion lawmakers and advocates hope they might see the bill rescinded.
The graphic below, provided by Statista, illustrates how legal abortion numbers are on the decline in the U.S.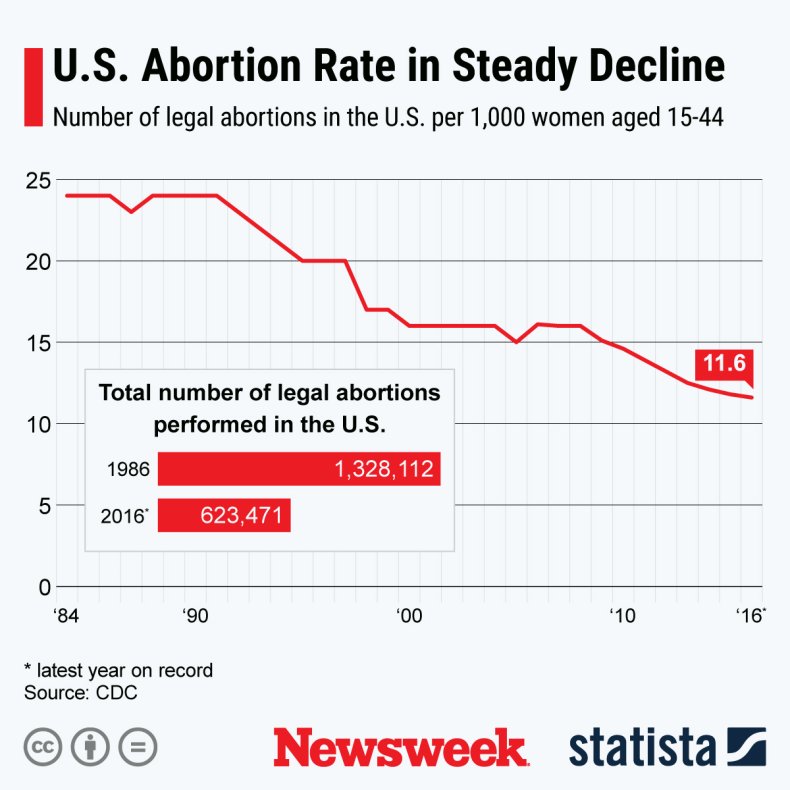 This article was updated to include an infographic.