McConnell Faces New Pressure for Big Stimulus After Grim Unemployment Report: 'Political Games Costing Lives'
The Labor Department's grim unemployment report has placed new pressure on Senate Majority Leader Mitch McConnell to take a larger stimulus deal so that Americans struggling to pay for food and rent can receive quick relief, as coronavirus cases surge across the country.
In November, the U.S. saw its slowest month of growth since spring, according to the department's Friday report. Employers added just 245,000 jobs last month, and while the unemployment rate decreased from 6.9 to 6.7 percent, it was largely due to a flood of people leaving the labor force.
"This is an ugly report," said Diane Swonk, chief economist for Grant Thornton. "It will go negative next month."
McConnell has rejected a new $908 billion bipartisan stimulus proposal, which House Speaker Nancy Pelosi, Senate Minority Leader Chuck Schumer and President-elect Joe Biden have supported. Instead, the Republican leader is holding out for a slightly tweaked, $550 billion version of his previous GOP proposal. But the new unemployment report has given his critics, Democrats and economists further ammunition to demand he accept the larger deal.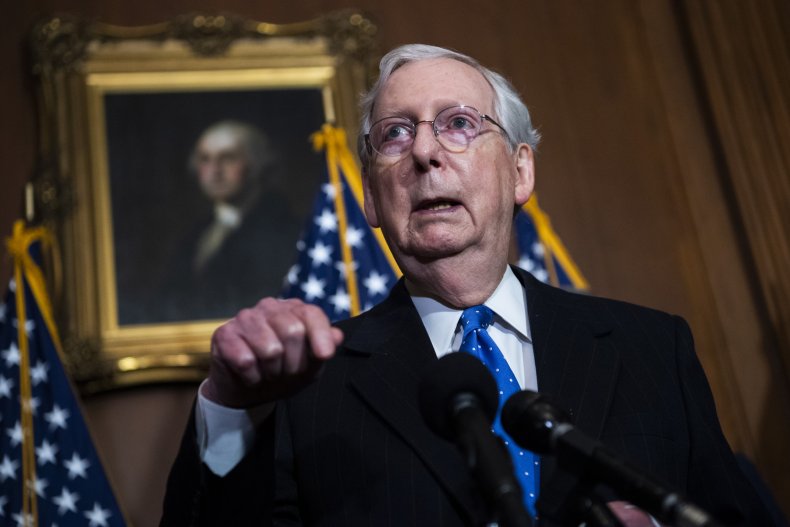 "This latest jobs report shows the need for strong, urgent emergency relief is more important than ever. Senator McConnell must hear the pleas of the millions of struggling American families," Schumer tweeted on Friday.
Democratic Senator Ron Wyden accused McConnell of blocking relief legislation. "Congress knows how to help workers and families. It knows how to prevent the looming recession," he tweeted. "One person is standing in the way. Mitch McConnell's political games are costing lives and livelihoods."
Elise Gould, a senior economist at the nonprofit Economic Policy Institute, warned that "millions of workers and their families are in for an even harsher winter" if Congress doesn't provide relief quickly.
"The unemployment rate edged down to 6.7%, but for the 'wrong' reasons as 400,000 people left the labor force," Gould said, citing the latest unemployment figures. "The number of workers unemployed 27 weeks or more—the long-term unemployed—shot up to 3.9 million in November. Now, over one-third [36.9%] of the total unemployed are long-term unemployed."
Jeremy Funk, a spokesperson for Accountable.US, a non-partisan government corruption watchdog, condemned McConnell for dismissing the bipartisan proposal.
"Mitch McConnell is apparently ready to ruin the holidays and the economy for working families and small businesses unless he gets his way," Funk said in a statement. "McConnell must pass a serious relief bill to provide help where it is actually needed, like the communities of color that were left behind during previous pandemic relief efforts."
McConnell has said he won't support a bill that includes aid to state and local governments, but a number of Republican senators—including Senators Lisa Murkowski, Kevin Cramer, Bill Cassidy, Chuck Grassley, Joni Ernst, Marco Rubio and Thom Tillis—have gravitated toward the compromise proposal.
With the remaining benefits of the COVID-19 stimulus package set to expire at the end of December, Biden expressed confidence on Friday that a bipartisan agreement will pass soon.
"All I can say is I'm confident there are a sufficient number of Democrats and Republicans in the United States Senate, along with significant votes coming out of the House of Representatives, to put together a serious package that will keep us from going off the edge here, provide the kind of resources that are needed immediately," the president-elect said.
Pelosi and Schumer urged McConnell to break the stalemate on Tuesday. "In light of the urgency of meeting the needs of the American people and the hope that the vaccine presents," the top Democrats said in a statement, "it's time for Leader McConnell to sit down with Democrats to finally begin a true, bipartisan effort to meet the needs of the country."
Newsweek reached out to McConnell's office for comment.