McConnell Ignores Question of Whether GOP Coronavirus Bill Could Pass As Senate Prepares for Thursday Vote
House Majority Leader Mitch McConnell would not tell reporters on Tuesday whether the scaled-down Republican coronavirus had a chance of passing the House during an expected Thursday vote.
Democrats and Republicans have been at an impasse since August over the next coronavirus economic relief bill. The proposal up for vote on Thursday is expected to cost less than $1 trillion. Democratic lawmakers have said that the GOP bill does not go far enough to meet the needs of Americans affected by the coronavirus.
"Republicans are making yet another overture," McConnell said during a speech Tuesday on the Senate floor. "Today we're releasing a targeted proposal that focuses on several of the most urgent aspects of this crisis, issues where bipartisanship should be especially possible."
In order for the GOP's version of the bill to pass, it must receive 60 votes. Some Democrats have already stated they would not vote for the proposal. When asked by reporters on Tuesday if he felt the proposal could obtain enough votes, Speaker McConnell did not answer the question.
Newsweek reached out to Leader McConnell's office for comment.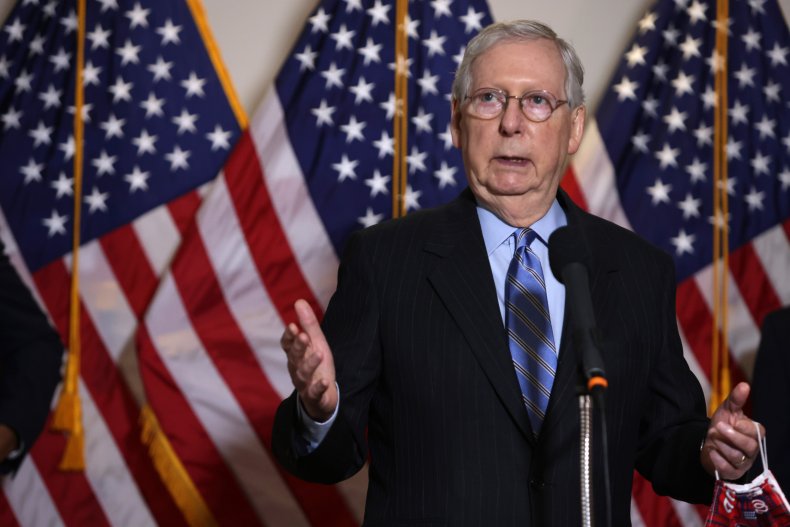 In a Tuesday statement, McConnell said the GOP plan "does not contain every idea our party likes. I am confident Democrats will feel the same. Yet Republicans believe the many serious differences between our two parties should not stand in the way of agreeing where we can agree and making law that helps our nation."
Democrats are not expected to support the GOP proposal. House Speaker Nancy Pelosi and House Minority Leader Chuck Schumer said Tuesday that the GOP proposal was "emaciated" and was being presented for the political reason of providing some Republican Senators with a "'check the box' vote to maintain the appearance that they're not held hostage by their extreme right-wing that doesn't want to spend a nickel to help people."
If passed, the GOP's plan would provide an extra $300 payment for individuals receiving unemployment benefits as opposed to the $600 beneficiaries had been getting until the end of July. Funding for coronavirus vaccines was listed at $29 billion.
In August, President Donald Trump said he was in support of another round of stimulus checks up to $3,400 for a family of four. No provision for such payments exists in the GOP's latest plan.
President Trump has attempted to enact some short-term economic relief with a series of executive actions, including a proposed deferral of payroll taxes. Some critics say such a plan would undermine the Social Security fund. Others worry that employees would receive smaller paychecks in 2021 when they would be expected to repay the taxes.
Democrats have been at odds with Republicans over what should be included in the next economic relief package. Before breaking for the previously scheduled Labor Day holiday, Democrats proposed a bill that would have cost $3 trillion. Legislation proposed by the GOP cost $1 trillion. No agreement was reached between the two parties.
House Speaker Pelosi said the disagreement on the bill centered on different opinions on how greatly Americans had been affected by the spread of COVID-19. In September, Pelosi said in a statement that "Democrats and the White House continue to have serious differences understanding the gravity of the situation" that Americans faced because of the coronavirus pandemic.