McConnell 'More Optimistic' About Relief Package Deal as Dems Oppose Fed Limitations
Senate Majority Leader Mitch McConnell says he's "more optimistic" about reaching an economic relief package deal this week, but last-minute differences between Democrats and Republicans may cause yet another likely delay for a bipartisan agreement.
GOP Senator Pat Toomey of Pennsylvania introduced a condition to the $900 billion congressional proposal on Thursday, indicating that he will only back the stimulus bill if it includes language that limits the Federal Reserve from restoring its emergency lending programs after December 31.
Republicans, who hope to pare back the Fed's emergency lending authority as part of a stimulus deal, say that the Fed may use programs introduced through the CARES Act that'll make it a lender of "first resort" rather than "last resort," according to Toomey during a conference call Thursday.
"What this does is it says that nobody can revive or create a duplicate of the programs that received CARES Act money," Toomey told reporters on the call, according to Bloomberg. "We are not changing the role of the Fed at all. The 13(3) legislation remains on the books, and the Fed's 13(3) authority will continue."
Section 13(3) of the Federal Reserve Act allows the creation of emergency lending programs with approval from the secretary of the treasury during "unusual and exigent circumstances." Republicans argue that these programs were only temporary measures.
"It is not the role of our central bank, the Fed, to engage in fiscal policy, social policy or allocating credit," he added.
Democrats, however, don't agree with limiting the Fed's broader authority and contest that Republicans are attempting to impede the Biden administration just weeks before the inauguration.
The new conditions, along with several other policy disagreements, puts a holdup on Congress' race to finalize the coronavirus relief package.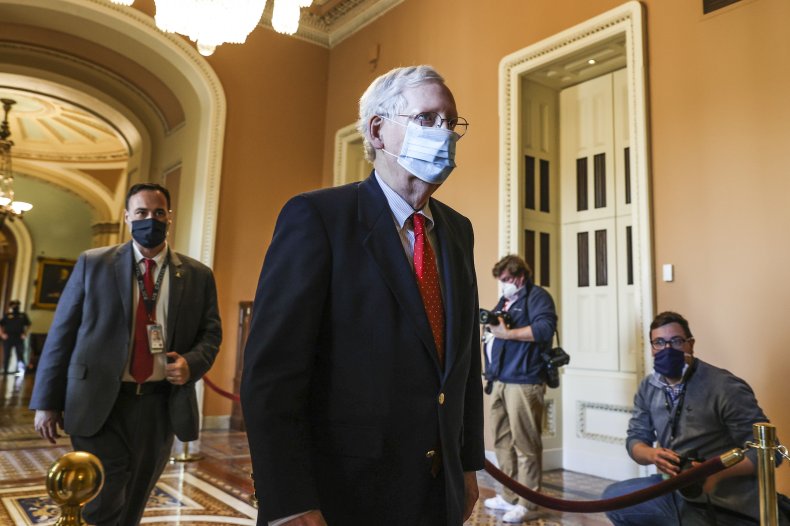 In a joint statement following Toomey's proposal, Democratic Florida Representative Donna Shalala and Bharat Ramamurti—both members of the CARES Act congressional oversight commission—said that it "limits the ability of the Biden Administration to address our current economic crisis and it undermines the Fed's ability—not just now, but indefinitely—to respond to future financial crises."
"What's happening here is a rewriting of the Fed's emergency powers at the last minute, without any hearing, without any debate of what the implications are," Ramamurti told The Washington Post on Friday, arguing that there would be "a significant reduction" to the authorities of the Fed and the Treasury before the CARES Act.
"Tying the hands of the Fed and Treasury to combat not only the remainder of the current crisis, but future crises as well, would be a terrible mistake," Senator Mark Warner, a Democrat from Virginia, said in a Friday statement to The Financial Times. "It would undermine confidence in our ability to respond to economic shocks and set a troubling precedent that eroding the independence of our central bank."
McConnell said Thursday that it's "highly likely" relief talks would go into the weekend.
"We're going to stay right here until we're finished, even if that means working through the weekend, which is highly likely. And if we need to further extend the Friday funding deadline before final legislation can pass in both chambers, I hope we'll extend it for a very, very short window of time," he said on the Senate floor Thursday.
The Senate majority leader said that he's optimistic of an approaching resolution, a phrase that congressional leaders have repeated in recent weeks. However, lawmakers will need to pass at least a spending bill by Friday night to avoid a government shutdown on Saturday, while they can continue to negotiate the stimulus bill over the weekend.
"I'm even more optimistic now than I was last night that a bipartisan bicameral framework for a major rescue package is very close at hand," McConnell told CNN on Friday.
Senate Minority Leader Chuck Schumer told reporters outside of Capitol Hill on Tuesday that leaders are "making progress, and hopefully we can come to an agreement soon." Schumer, House Speaker Nancy Pelosi and Secretary of the Treasury Steven Mnuchin spoke on Wednesday night until around 10:30 p.m. about COVID relief negotiations, according to Pelosi's spokesperson on Twitter.
Republicans and Democrats are still clashing over a number of issues, including the length of time of unemployment benefits, eligibility for the one-time stimulus check for millions of Americans (most likely $600), and allocating of funds for struggling theater and performance venues.
Democratic lawmakers are also seeking to provide disaster relief funds for state and local governments through the Federal Emergency Management Agency (FEMA). Republicans are opposed to these efforts, arguing that there aren't enough restrictions for how the funds should be spent and wary of using money reserved for natural disasters.
Newsweek reached out to the offices of McConnell and Pelosi for comment.