McConnell OK's Biden's SCOTUS Vow in Break From Cruz, Others in GOP
Senate Minority Leader Mitch McConnell (R-KY) said Tuesday that he does not believe President Joe Biden's vow to nominate a Black woman to the Supreme Court is "inappropriate," marking a break from other GOP lawmakers who recently criticized the decision.
"I heard a couple of people say they thought it was inappropriate for the president to announce he was going to put an African-American woman on the court. Honestly, I did not think that was inappropriate," McConnell said at an event in Lexington, Kentucky.
"President Reagan promised to put a woman on the Supreme Court, Sandra Day O'Connor. President Trump promised to put a woman on the Supreme Court when Justice Ruth Bader Ginsburg passed away, so I'm not complaining about that," he added.
McConnell's remarks come in contrast to several other GOP members who have spoken out against Biden's pledge to only focus on Black female nominees to replace outgoing liberal Supreme Court Justice Stephen Breyer.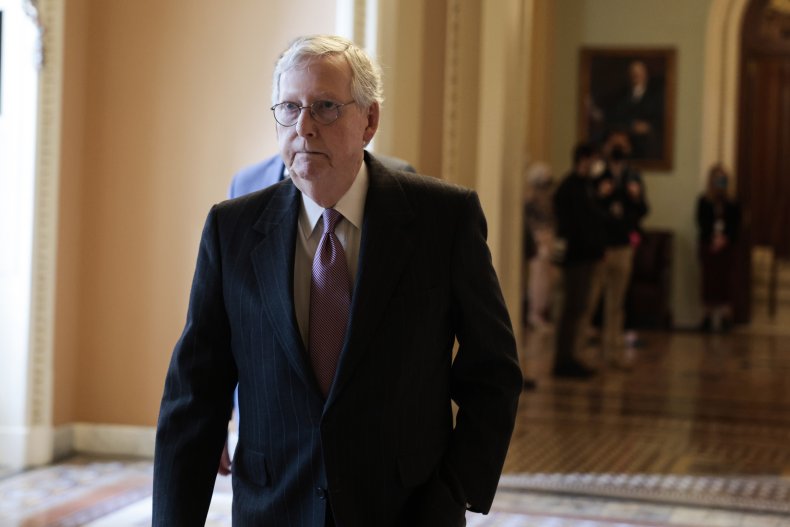 Last month, Republican Texas Senator Ted Cruz claimed that Biden's vow was "actually an insult to Black women."
"The fact that he's willing to make a promise at the outset that it must be a Black woman, I got to say that's offensive. You know, Black women are, what, 6 percent of the U.S. population? He's saying to 94 percent of Americans, 'I don't give a damn about you, you are ineligible,'" Cruz said during his podcast Verdict With Ted Cruz.
"If he came and said, 'I'm gonna put the best jurist on the court and he looked at a number of people and he ended up nominating a Black woman, he could credibly say, 'OK, I'm nominating the person who's most qualified,'" the senator added.
Senator Roger Wicker of Mississippi also criticized Biden by stating that whoever the president chooses will be a "beneficiary" of affirmative action who will "misinterpret the law."
Meanwhile, Senator Susan Collins of Maine said that while she would "welcome the appointment of a Black female to the court," she believes Biden's pledge to do so instead "helped politicize the entire nomination process."
However, alongside McConnell, other Republicans appeared to be supportive of Biden's promise. South Carolina Republican Lindsey Graham said late last month that he does not believe nominating a Black woman constitutes affirmative action, while adding that he supports "making sure the court and other institutions look like America."
In announcing Breyer's retirement, Biden said that nominating a Black woman to the high court was "long overdue" and that he hopes to have a finalist ready by the end of February. Those reportedly on his shortlist include U.S. Circuit Judge Ketanji Brown Jackson, South Carolina District Judge J. Michelle Childs, and California Supreme Court Justice Leondra Kruger, per Politico.
Breyer, who has served as a justice on the Supreme Court after being nominated by President Bill Clinton in 1994, is set to retire this summer.