McConnell Plays the Long Game with Trump | Opinion
Senator Mitch McConnell titled his autobiography The Long Game. It is a tale of his perseverance in overcoming personal, medical and political obstacles to become the leading Senate Republican for an astounding 15 years. As such, he is a major force shaping the modern Republican Party. McConnell speaks and acts deliberately and with purpose—unlike the former Republican president, who speaks impetuously and acts impulsively. McConnell's searing condemnation of Trump's role in the January 6 Capitol insurrection was deliberate, while the ex-president's angry rebuttal was not.
It is noteworthy that such a Republican heavyweight has stepped forward to challenge Trump's hold on the party. Trump and his allies are eyeing 2022 and threatening retribution on anyone who showed any degree of independence. Kevin McCarthy and other GOP leaders remain so consumed with not offending the 45th president that they will do most anything to keep him happy—including normalizing QAnon and tolerating the fantasy that he won the 2020 election in a "landslide." Senator Lindsey Graham fears that McConnell's words will only anger Trump and render him unwilling to help with winning 2022 elections.
McConnell has it right. He realizes that normalizing crazy theories and excusing Trump's behavior are not in the best interests of the GOP in the long term. His "long game" involves constructing a party broad enough to compete for votes in states where Trump was never popular, and diverse enough to win constituencies Trump never cared about. McConnell's political organization will be a safe haven for Republicans, centrists and business organizations who still want to be involved in an outward-looking Republican Party.
McConnell's big tent does not include QAnon or conspiracy theories. That avenue—at best—only reinforces the current Republican coalition, which is not competitive in many large states. McConnell can support movement conservatives as well as moderates like Susan Collins, Mitt Romney and Lisa Murkowski. He remembers Republican Senate nominees of yesteryear who lost very winnable seats in Nevada, Delaware, Indiana and Missouri, to name a few, because they were out of the mainstream and therefore not competitive statewide.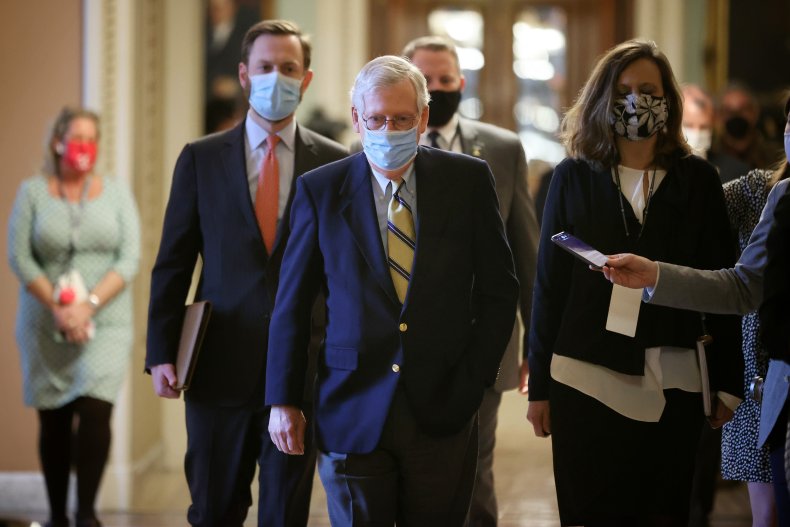 The Senate minority leader also knows that the 2022 electoral map will be tough for his party. Republicans will be defending far more seats than Democrats, and many of those seats are in states Biden won. The Trump vote, however large, won't be enough to win in many places. If the GOP were to pick right-wing congressional candidates in places like Pennsylvania and Arizona who had voted to overturn their states' 2020 election results, the road to victory would be an uphill one.
The long game also looks to 2024 and beyond. Republicans don't want to notice it, but Joe Biden's brand of center-left pragmatism is popular. Numerous surveys find Biden's approval in the mid-to-high 50s, with disapproval in the mid-to-high 30s. These are numbers that Trump never attained, so a GOP that attracts only Trump voters is bound to fall short. Trump's grievance-based populism is likely to recede as the ex-president becomes less of a factor in America's political life. His policy ideas will be few and far between. Trumpism will fade as new legislation is considered and enacted, and new problems arise to dominate the national agenda.
For would-be Trump clones, 2024 will be make or break. Someone like Sen. Josh Hawley (R-MO)—who is all in as Trump's successor—had better win now, as he will only become marginalized as the years go on. Unless, of course, the former president decides to try again himself. It's always about him.
McConnell's long game involves constructing a GOP broad enough to respond to America's needs and desires in the coming years. It would encompass cutting-edge ideas and a regionally and ethnically diverse candidate pool capable of speaking to a center-right coalition of Americans. It is difficult to tell what a winning policy portfolio might look like, but McConnell is smart enough to know that it won't be found looking to the past.
Frank Donatelli served as assistant for political affairs to President Ronald Reagan and as deputy chairman of the Republican National Committee during the 2008 presidential campaign of John McCain.
The views expressed in this article are the writer's own.