McConnell Quoted Me But Left Out Part Where I Blame Him for Blocking Stimulus, Ex-Obama Economist Says
Former President Barack Obama's chief economist denounced Senate Majority Leader Mitch McConnell for quoting him on COVID-19 stimulus bill efforts but failing to mention that he believes McConnell is blocking further relief.
Austan Goolsbee, who served as chairman of the Council of Economic Advisers under Obama, said that McConnell's recitation of his quote was strategically edited during a CNN interview on Tuesday. McConnell recently quoted Goolsbee urging Congress to "agree on something soon" as he blamed Democrats for the stimulus deadlock.
"Somebody told me that he had quoted me and I was going to applaud him for good taste in who he was listening to," Goolsbee said. "But then I saw what he was quoting, and he left off the critical part of the sentence where I said, 'Start with half a loaf. Then get another half a loaf.'"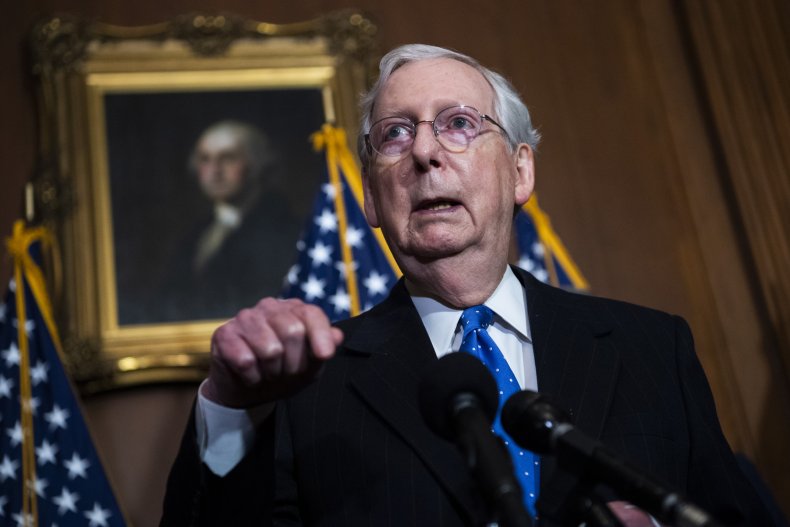 "And I highlighted that the reason I think we haven't been able to get anything is that he, Mitch McConnell, is blocking it," added Goolsbee. "I think he's decided that he would do better, and the Republicans would do better in the Georgia elections, if they don't have anything that demoralizes the base."
McConnell had quoted Goolsbee from an earlier appearance on CNN, where he encouraged Democrats to accept a smaller relief package. He said that the party should also try to pass a larger bill when President-elect Joe Biden takes office on January 20. Democrats will have full control of Congress if they win both of Georgia's runoff elections on January 5.
"There is a great risk that we could stall out or even have a double-dip recession if we continue to let this virus rage out of control," Goolsbee said Sunday on Inside Politics. "So, if they have to accept half a loaf, then they should accept half a loaf. And then let's try to get another half of a loaf. But right now, it's really touch and go and I wish both sides could see that."
After a stimulus bill following the 2007-2009 recession, "the mistake we made was... assuming that, well if the economy was suffering, then the Republicans and Democrats would be able to get together and pass more," he added. "They didn't, for whatever reason. Mitch McConnell was already there and was already opposed to everything they did."
Congressional Democrats and Republicans have remained deadlocked over a new relief bill as the COVID-19 pandemic continues to cause massive economic and health damage throughout the country. Legislation resembling the $2.2 trillion Coronavirus Aid, Relief, and Economic Security (CARES) Act—which passed both chambers and was signed by President Donald Trump over eight months ago—seems unlikely in the current political climate.
House Democrats have attempted to move forward a bill that roughly matches the CARES Act in size, but McConnell has resisted. The Republican is pushing for a far smaller $500 billion package that does not include the $1,200 direct payments that many Americans received after the first relief package passed.
A bipartisan effort at a $908 billion compromise, which also did not include direct payments, was rejected by McConnell on Tuesday.
Newsweek reached out to McConnell's office for comment.