McConnell Remains Stuck on Mini-Stimulus that Excludes Checks as Trump, Democrats Inch Toward Deal
Negotiations over more pandemic relief are the closest they've been in months. Yet the prospects of another stimulus package becoming law anytime soon remain as bleak as ever.
Even as Nancy Pelosi and Steven Mnuchin inch toward a deal, major disagreements persist, while Senate Republicans double down on their push for legislation that is less than one-third the cost of either proposal pushed by the House speaker and Treasury secretary.
Pelosi and Democrats remain at $2.2 trillion, a measure they passed last month. Mnuchin, speaking for the White House, has come up to $1.8 trillion. But GOP senators will vote again next week on a previously failed measure worth only about $500 billion.
When asked by local reporters Thursday in his home state about the chances of reaching an agreement within the ball park of the price ranges from Pelosi and Mnuchin, Senate Majority Leader Mitch McConnell (R-Ky.) had a simple answer.
"I don't think so," he said.
McConnell indicated there remains a big gap between what the Trump administration and the Senate Republicans are willing to accept, as GOP lawmakers maintain their opposition to more large spending bills.
"That's where the administrator is willing to go," McConnell said. "My members think what we laid out—half-a-trillion dollars, highly targeted—is the best way to go. So, that's what I'm going to put on the floor."
To characterize the state of negotiations using McConnell's favorite sport: Democrats and the White House are rounding third base while Senate Republicans are stuck on first.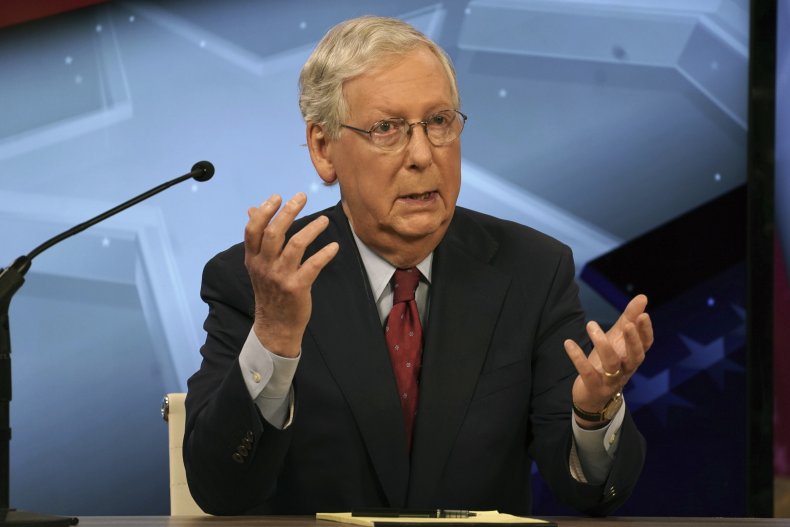 The gridlock among these three major players is one that's played out for roughly the past six months, despite Americans pleading for more federal assistance as businesses reel from the recession. Another 898,000 Americans filed for unemployment benefits last week.
Still, Washington's leaders are unable to accomplish anything related to coronavirus, with plenty of blame to go around on all sides.
If McConnell could muster at least 50 votes between his members and maybe a few Democrats for the White House proposal, holding a vote on it would place enormous pressure on Pelosi to accept the $1.8 trillion. Moderates, and even some liberals, continue to press the California Democrat to take the administration's deal, as it appears to be one of the only viable paths for Congress to approve pandemic aid in the next few weeks.
The White House offer, which includes a second stimulus check, jobless aid, small-business relief and money for schools to reopen, is President Donald Trump's highest proposal yet. Democrats' $2.2 trillion contains similar provisions, though it provides more unemployment insurance and funding for state and local governments.
On the unemployment boost that expired at the end of July, Democrats want to continue the weekly $600 installments, while Trump has offered $400.
McConnell's $500 billion plan primarily targets small-business aid and schools while offering some money for jobless benefits, but excludes stimulus checks and state and local funding.
After initially killing another stimulus before the Nov. 3 election, Trump has reignited the debate by pushing Republicans to "go big or go home." He even told Fox Business on Thursday that he authorized Mnuchin to go above $1.8 trillion and make a deal. But "so far," Trump said, "he hasn't come home with the bacon."
In another promising sign, Mnuchin told CNBC that he's willing to cede ground to Pelosi on her demands for coronavirus testing funds. Pelosi had previously labeled Democrats' desire for $75 billion in contact tracing and testing a major sticking point.
"When I speak to Pelosi today, I'm going to tell her that we're not going to let the testing issue stand in the way," Mnuchin told CNBC. "We'll fundamentally agree with their testing language subject to some minor issues. This issue is being overblown."
The two spoke by phone for 1 hour and 22 minutes Thursday afternoon, according to Pelosi Deputy Chief of Staff Drew Hammill. On McConnell's unwillingness to move forward with a comprehensive measure, Hammill said that Mnuchin "indicated that the President would weigh in with Leader McConnell should an agreement be reached."
But still standing in the way is unemployment insurance and money for local and state governments, in addition to a few minor issues.
Democrats want more than $430 billion in state and local money, more than double what Trump has so far been willing to provide. The president reiterated his opposition in his Fox Business interview.
"[Pelosi is] asking for all sorts of goodies," Trump said. "She wants to bail out badly run Democrat states and cities. She wants money for things that you would never—you just couldn't—just your pride couldn't let it happen."
This story was updated to include information about a phone call between Mnuchin and Pelosi.