Senate Majority Leader Mitch McConnell and other top Republicans flatly rejected President Donald Trump's suggestion Thursday that the November elections should be delayed amid unsubstantiated claims of mail-in voting fraud.
McConnell, a Kentucky Republican, told local TV station WNKY that the election date is set in stone. More than a half-dozen of his GOP colleagues echoed that sentiment and were quick to bat down the notion the election could be changed by any president.
Trump cannot simply "delay the election," as he implied, because it would require congressional action. The date is set by an 1845 law and would require a constitutional amendment to postpone past December. And the president's assertions about vote-by-mail fraud are unfounded, given the little evidence in the past few decades.
"All I can say is, it doesn't matter what one individual in this country says, we still are a country based on the rule of law and we want to follow the law," said Senator Chuck Grassley (R-Iowa), chair of the Finance Committee.
Senator Lindsey Graham, a Trump confidant, said that while he feels the president's concerns about mail-in voting are "valid," he believes "delaying is not the right answer."
"Delaying the election probably wouldn't be a good idea," the South Carolina Republican continued. "I think we can be able to safely vote in person in November."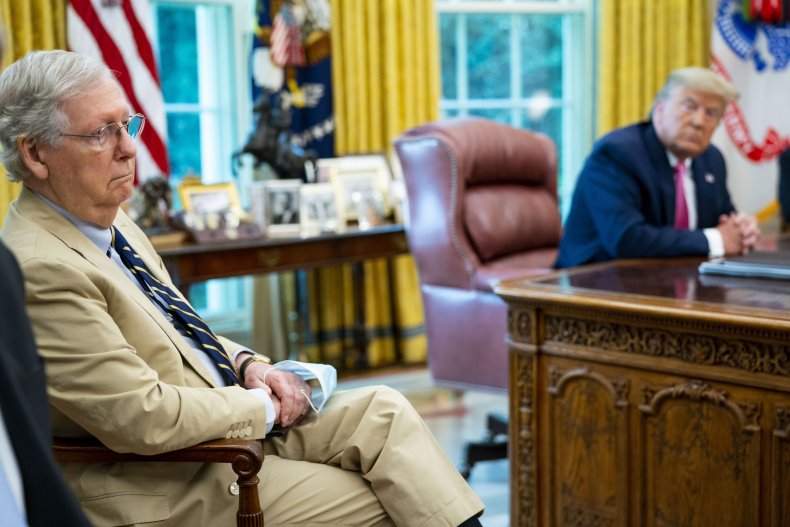 Senator Ted Cruz (R-Texas), although he was also sympathetic to Trump's view on vote-by-mail fraud, said, "No, we should not delay the election."
"Since 1845, we've had an election on the first Tuesday after November 1, and we're going to have one again this year," said Senator Marco Rubio (R-Fla.). "We're going to have an election, it's gonna be legitimate, it's gonna be credible, it's gonna be the same as it's always been."
"People should have confidence in it," added Rubio, the acting chairman of the powerful Senate Intelligence Committee.
"Never in the history of federal elections have we ever not held an election, and we should go forward with our election," said House Minority Leader Kevin McCarthy (R-Calif.).
Senator Lisa Murkowski (R-Alaska) also derided Trump's claim. "There is absolutely no reason to delay this election, and it is not going to happen," she wrote on Twitter. "It's incumbent on us to ensure safe and secure elections, and that's exactly what the Congress has been doing."
Senator Mitt Romney (R-Utah) said, "The election will be held on the date set by Congress."
The swift rebuff of Trump from so many of his fellow Republicans on Capitol Hill came in the aftermath of a morning tweet in which he made false claims that mail-in voting and absentee voting (which is the same thing) are rampant with fraud. The president, along with other Republicans, has repeatedly claimed without evidence that voting by mail succumbs to wide-spread fraud.
"With Universal Mail-In Voting (not Absentee Voting, which is good), 2020 will be the most INACCURATE & FRAUDULENT Election in history," Trump wrote. "It will be a great embarrassment to the USA. Delay the Election until people can properly, securely and safely vote???"
Secretary of State Mike Pompeo testified to lawmakers Thursday that while Trump would not make such a decision, it would be left up to the Department of Justice.
"The Department of Justice and others will make that legal determination," Pompeo said in response to a question from Senator Tim Kaine. "We all should want—I know you do, too—an election that everyone is confident in."
Graham, along with Democrats, rejected that notion, saying it could only be changed with the will of Congress. Experts have also said the president cannot unilaterally alter the date.
Kaine was unsatisfied by Pompeo's response.
"Shocking, is my reaction, that a trained lawyer who's fourth in line of succession to the president of the United States would be equivocal about whether a president could move the electron," the Virginia Democrat said. "I was stunned."
Senator David Perdue (R-Ga.) declined to comment while Senator Todd Young (R-Ind.) dodged the question of whether he thinks Trump could delay the election. "I support free, fair and secure elections," Young said.
Trump's push to postpone the election amid the coronavirus pandemic acted as an I-told-you-so-moment for liberal activist groups and the presumptive Democratic presidential nominee, Joe Biden, who have suggested for months that Trump may try to delay the election as his poll numbers have dithered.
"Mark my words: I think he is going to try to kick back the election somehow; come up with some rationale why it can't be held," former Vice President Biden said April 23.
Trump responded several days later. "I never even thought of changing the date of the election," he said. "Why would I do that?"
This is a developing story and will be updated with additional information as it becomes available.