McConnell Says Bevin's Last-Minute Pardons of Violent Criminals 'Completely Inappropriate': 'Honestly, I Don't Approve'
Friday, Senate Majority Leader Mitch McConnell voiced his disapproval of former Kentucky governor Matt Bevins' pardons of criminals, calling it "completely inappropriate," according to the Lexington Courier-Journal.
After Bevin conceded a hotly contested race for office against Democratic opponent Andy Beshear, Bevin pardoned hundreds of people during the last few days of his governorship, including convicted murderers.
"Honestly, I don't approve," McConnell told reporters. "It seems to me it was completely inappropriate. I expect he has the power to do it, but looking at the examples of people who were incarcerated as the result of heinous crimes, no, I don't approve of them."
Newsweek reached out to McConnell for comment but did not receive a response in time for publication.
Included in Bevin's list of over 400 pardons was Micah Schoettle who was sentenced to 23 years in prison after raping a nine-year-old child. Bevin absolved Schoettle of his crimes by saying in the pardon and commutation that the case was "not supported by any physical evidence."
"In fact," Bevin wrote, "any and all evidence that is available, refutes the allegations that were made. This case was investigated and prosecuted in a manner that was sloppy at best. I do not believe that the charges against Mr. Schoettle are true."
Kentucky Senate President Robert Stivers called for an investigation into Bevin's pardons, asking the U.S. Attorney General's office to get involved.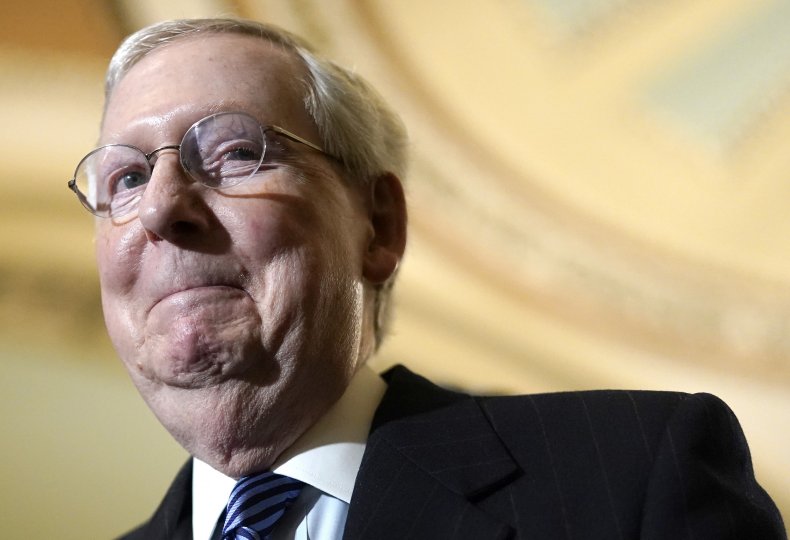 "From what we know of former Governor Bevin's extreme pardons and commutations," said Stivers in a statement, "the Senate Republican Majority condemns his actions as a travesty and perversion of justice. Our citizens, and especially the crime victims and their families, deserve better."
Bevin's pardon of Patrick Brian Baker, convicted of homicide during a 2014 home invasion, has drawn criticism as being a potential political favor. Baker's family held a fundraiser for Bevin which raised $21,500 which could have gone directly to Bevin.
McConnell's comments about Bevin came on the same day he filed paperwork in Frankfort, Kentucky to run for a seventh term in Congress.
"Because the gulf between Washington Democrats couldn't be wider," McConnell said in a statement provided to WAVE, "the gravity of the 2020 election couldn't be greater. I look forward to continuing the fight against the socialist agenda adopted and adored by all entrants of the growing Democrat primary."
McConnell is expected to coordinate President Donald Trump's impeachment defense in a Senate trial but told Fox News contributor Sean Hannity on Thursday that there was "zero chance" Trump would be removed from office.
"Everything I do will be coordinated with the White House's counsel," McConnell said. "There will be no difference between the president's position and our position as to how to handle this."
"The case is so darn weak coming over from the House," McConnell added. "We all know how this is going to end."