McConnell Says Democrats Were 'Anxious to Defend the Filibuster' When Trump Was in Office
Senate Minority Leader Mitch McConnell defended the filibuster on Friday, noting Democrats were "anxious" to keep the rule in place while the Republican Party and former President Donald Trump were in charge.
Speaking at an event in Kentucky, McConnell said both parties have been tempted to do away with the chamber's 60-vote threshold while they hold the majority.
"That's what we had on full display this past week," McConnell said. "Fortunately—even though many, many Democrats who, when the previous president was in office, were anxious to defend the filibuster all of a sudden lost their zeal for it and flipped their position— we had a pretty narrow victory. The two Democrats stood up for the Senate as an institution."
McConnell was referring to Joe Manchin and Kyrsten Sinema, the only two Democrats to join with the GOP in striking down an attempt from Senate Majority Leader Chuck Schumer to change the filibuster rules this week.
Schumer wanted to nix the 60-vote rule in order to pass the Freedom to Vote Act and the John Lewis Voting Rights Advancement Act, bills that would standardize and expand voting practices across the U.S. President Joe Biden, traditionally an institutionalist, also gave his support for changing the filibuster to get the legislation through Congress.
McConnell threatened a Senate shutdown earlier this month if Democrats were successful in altering the filibuster, stating the GOP minority could start demanding lengthy debates and stop giving unanimous consent for housekeeping items.
"A post-nuclear Senate would not be more efficient or more productive. I personally guarantee it," McConnell warned Democrats at the time.
In 2017, 32 Democrats joined more than two dozen Republicans in signing a letter in support of the filibuster. The group of lawmakers said at the time that "regardless of our past disagreements on that issue, we are united in our determination to preserve the ability of Members to engage in extended debate when bills are on the Senate floor."
Newsweek has contacted Schumer's office for a response to McConnell's remarks.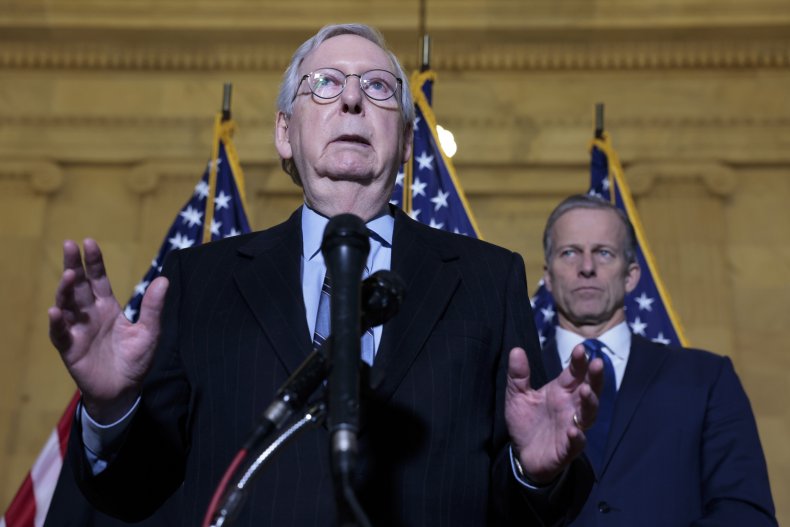 Trump called on Senate Republicans to gut the filibuster several times during his presidency, but the request was always rejected by then-Majority Leader McConnell.
"I always had a one-word answer: No," McConnell said, "which generally subjected me to a lot of unpleasant tweets. So I tell that story only to make the point that impatient majorities are frequently tempted to try to break the Senate in order to achieve short-term advantage."
Even after Trump left office and Democrats took over the House and Senate, the former president continued to needle McConnell on the issue
"He's a stupid person," Trump said in a Vanity Fair interview published last September. "I don't think he's smart enough."
"I tried to convince Mitch McConnell to get rid of the filibuster, to terminate it so that we would get everything, and he was a knucklehead and he didn't do it," Trump said.